After the Australian GP, ​​the ghosts of the past have returned to knock on Fabio Quartararo's door. From World Championship leader the Frenchman has become the pursuer, 14 points behind Francesco Bagnaia, ready to fight for his first match point for the title in Sepang, after having recovered 105 points on the reigning World Champion. The same collapse experienced by Fabio in 2020, when he lost a world championship battle against Mir for which he was put as favourite.
When the world title seemed to be on its way to Iwata, from Aragon something ended up being irreparably jammed: Quartararo stopped winning. Indeed, worse: he stopped getting on the podium, putting together only twelve points in the last five races of the season. A disastrous ending, in which the Frenchman passed from the leadership to eighth place in the championship, also outclassed by team mate Franco Morbidelli, 2020 runner-up, behind Mir.
When the spotlight was on him, the talent of the then Petronas team had let himself be weighed down by mistakes and problems with the tyres of the M1, giving way under the weight of the pressure. A very different dynamic from the one we witnessed in 2021, the year of the consecration in MotoGP of the then 22-year-old Frenchman. Although the end of the season was once again difficult for Fabio, overwhelmed by an overwhelming return of Bagnaia in a state of grace, El Diablo did not collapse and kept his grip on the title, winning with a 26-point advantage.
Not quite what we are seeing this year, in which Pecco's rise since mid-season (in eight races he has scored four consecutive wins, a second place, a DNF and two thirds) is matched by a noticeable drop by the Yamaha rider, who after victory at the Sachsenring stopped winning, picking up only one podium and three DNFs in the last eight GPs, along with a fifth and two eighth places. 47 points, against 152 of Bagnaia. Thus, at Phillip Island, the man being pursued has once again returned to being a pursuer and is one step away from losing a title that already seemed his.
Fabio keeps his motivation high: "Mentally I don't feel like in 2020"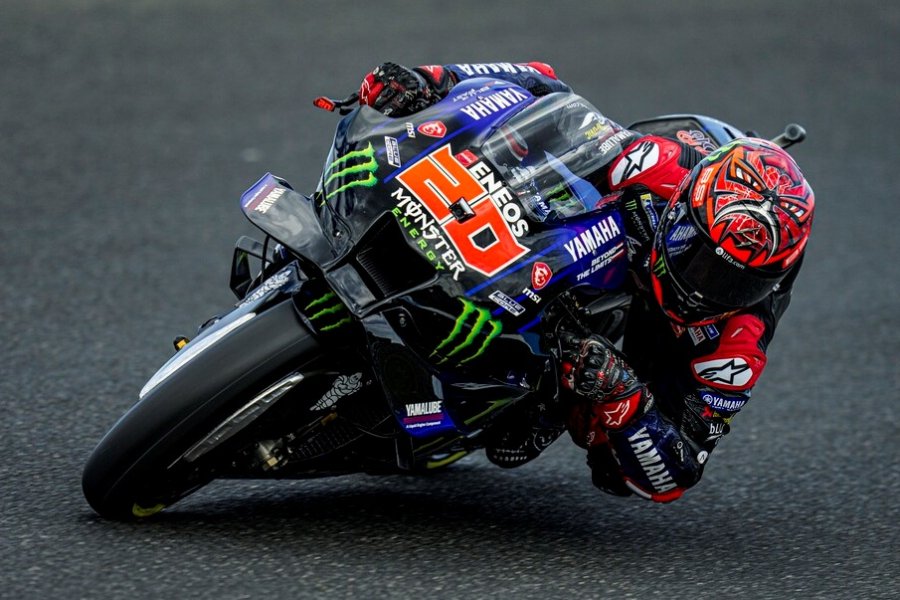 Reminding us of 2020 is not so much the clear drop in results, but also the double mistake made by the Frenchman in Australia, which brought to mind the dynamics of his retirement in the Valencia GP in 2020: a crash while trying to make up lost ground going wide, as he struggled in the middle of the group.
Quartararo, however, doesn't agree with that and explains why he is convinced that this is not a remake of the nightmare he experienced two years ago. "Actually in 2020 there were problems from a mental and technical point of view. Mentally I don't feel like I'm in 2020, like I'm thinking too much or too little. I'm just trying to do my best" he pointed out post-race at Phillip Island
To make up for Yamaha's technical and top speed deficiencies, the Frenchman found himself forced to push himself to the limit, taking risks that he can no longer afford, having scored only eight points in the last four races. "If I get carried away a little too much, the risk of making a mistake is really high. And that's what happened" explained Fabio, whose motivation is still high in view of Malaysia: "We have to turn the page. And we have only one task: to try to win. It will be the hardest job of my career, but I'm ready to fight" El Diablo continues to believe it, but will it be enough to prevent another meltdown?