by Piersalvo Patanè
On the fantastic Portimao track, the weekend just ended concluded with Alvaro Bautista's extraordinary victory in Race 2 after a good scrap with Razgatlioglu while Quartararo triumphed on the same track in April, grabbing his first success of the season. The comparison between prototypes and production-derived bikes has always divided and inflamed their respective "fans", so much so that we will try to give answers to the many questions from armchair warriors!
We are talking about 280/300 horsepower for 157 kg against 230/250 horsepower for 168 kg: these cold numbers characterize the prototypes and production-derived bikes respectively. Added to this are the carbon brakes, seamless gearbox, lowering devices, mass dampers and other "wizardry" allowed in MotoGP and which SBK cannot have. On the other hand, suspension and electronics, also according to the riders who raced in both categories, are very similar. Tyre chapter: Michelin prototypes for the MotoGP bikes and Pirelli with a road spirit but with very high performance for the derivatives. Well, with these premises the comparison would seem (and in part is) impossible. But actually, the Portuguese SBK round that has just ended throws up this topic again, with ... surprising results.
The question that enthusiasts often ask themselves is: in a hypothetical race together, how much time would Bautista, winner of SBK Race 2, have lost to Quartararo, winner of the MotoGP race? And how would he have finished in the race?
SBK vs MotoGP: is a comparison possible?
Let's have a look at some numbers but before we have to state the necessary conditions: Race 2 SBK (we consider this, as Race 1 was shortened to 14 laps) was run in October, with air and asphalt temperatures respectively of 25 and 41 degrees, while the 2022 MotoGP race was held at the end of April with air and asphalt temperatures of 18 and 26 degrees respectively. In the graph below the comparison between the two respective winners: Bautista and Quartararo, to which we add other MotoGP competitors such as Marquez (6th at the finish line), Vinales (10th at the finish line) and Dovizioso (11th at the finish line). The comparison ends on lap 20, given the shorter duration of the SBK race compared to the MotoGP race which lasts 25. The various curves indicate the gap between the two cumulative race times, where the positive numbers indicate that Quartararo is obviously faster than about 22 seconds at the end of the "race" compared to Bautista.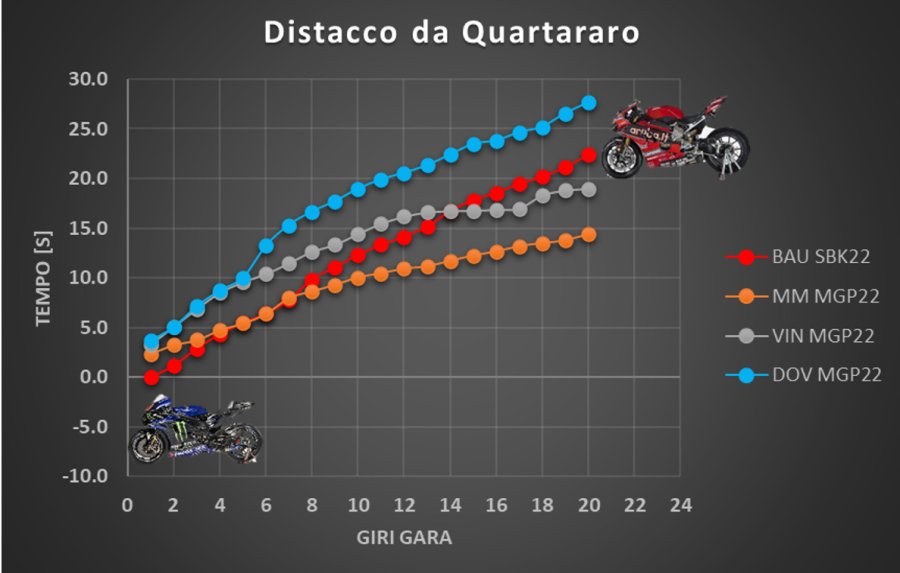 Bautista in Top 10 in MotoGP ... with the Panigale V4R
The surprising fact is that if hypothetically Bautista had raced together with his MotoGP colleagues, with his race pace he would not have finished last, but 10th behind Vinales, leaving Dovizioso trailing by about 5 seconds! Not only that, as we can see from the table, both Razgatlioglu and Rea (with a gap of 4.7 seconds at the end of the race) would still have finished ahead of Dovizioso.

The conditional is a must as in reality Bautista would have found himself battling faster bikes on the straight than his Ducati Panigale V4R (sounds strange, right?), which would have made it difficult to set his pace without being disturbed in the curves.
Also, having to run for 25 laps instead of 20 in SBK, Bautista would probably have had to handle the tyres differently. However, there is no decline in Alvaro's times, so it is likely that he could have maintained the same pace for another 5 laps as can be seen in the next graph where we removed the first and last laps. His featherweight (66 kg with overalls and helmet!) surely helps him make his Pirellis last longer.
Bautista as fast as a MotoGP, but not on the straight
Unfortunately, the different division in sectors between MotoGP and SBK does not help us to understand in which part of the circuit Alvaro was so fast compared to his MotoGP colleagues as well as the Top Speed ​​figure.
While Razgatlioglu hit 318 km / h in the speed trap, both Rea and Bautista stopped at 315 km / h. Bautista, although clearly outpacing all his opponents well before his braking point, does not appear at the top of the standings. Probably Alvaro was coming in so much faster that he had to slightly anticipate his braking, passing through the speed trap when he had probably already come off the gas. The MotoGP riders, during the GP, passed in a range between 340 km / h of Mir and almost 352 km / h of Bastianini.
But then, if we consider that Bautista, winner of Race 2, was about 2 tenths faster per lap on the pace than Dovizioso, who finished 11th, and if we consider that Dovizioso was by default faster in acceleration, top speed and with deeper braking thanks to the carbon brakes, where did Bautista gain time? Well, there are still the curves! It would have been interesting to analyse the telemetry data of a race lap of Bautista superimposed on that of a MotoGP colleague to answer this question but it would be very complicated to have such data given the secrecy involved.
Ultimately, the comparison between the "two worlds" is always to be taken with a pinch of salt but if we consider the design, development and production costs of a MotoGP bike compared to that of a production-based machine, there is probably a little extra in favour of the prototypes. which makes it difficult to justify such a small difference in performance without having to praise Pirelli for the quality of a product that even Sunday geeks can buy. The difference between the two bikes is amplified or reduced according to the circuit and the weather conditions encountered. Tracks characterized by heavy braking, strong acceleration and long straights show a more marked difference while tracks full of curves to be joined up and straights not too long like Portimao can bring out the excellent chassis performance of the SBK bikes as well as the quality of the Pirelli product. Another interesting comparison can be made shortly on the Philip Island track, in some ways similar to Portimao, where both championships will race shortly.
We can conclude with a provocation: due to the economic crisis that is causing more and more difficulties for homes everywhere, what do you think about the idea of a low cost MotoGP made up of SBK bikes (or slightly more) and a Superbike made up of true production bikes (Bagnaia showed us at WDW in Misano what modern super sports bikes are capable of) racing in the same championship?