After two victories at Portimao, Toprak Razgatlioglu tried to leave Portugal with a hat-trick, but in Race 2 he had to surrender to Bautista (Ducati), who took the win, taking his advantage over the Turk to 56 points.
"He was a bit faster on the straight, but I kept fighting for the win. I tried to attack on Turn 13, but then on the straight he overtook me earlier than expected and I was unable to pass him again at the first corner. Either way, a second place isn't bad to finish the last European round. I thank my team because this weekend we started very strong and we got two victories and a second place" said the Yamaha rider at the end of the weekend, however drawing a more than positive balance of the Portuguese trip.
"I am very happy with my bike, but in the last and first corners Bautista was half a tenth faster than me. He opened the throttle at the last corner and pulled away. During the lap I got back close to him, but I could not overtake him in the last sector because of the long curve. I tried, but in the last three laps I realized that I couldn't do it, also because the front began to slide, as I was pushing at every corner - added the Turk - In any case, I am happy with the bike, we worked well and felt better and enjoyed this weekend. We didn't win the last race, but the fact that we fought for the win is great motivation for me ".
A duel, the one with Bautista, which also characterised the sprint race, which went to Razgatlioglu with a sprint finish.
"I think the Superpole Race was my best race this year - said Toprak - We duelled with Alvaro and I enjoyed it. He was faster on the straight, but I tried to catch him. My strategy is usually to stay in the front, but in that race it wasn't possible because it's not easy for me to pass him. This morning I was waiting for him to pass me on the straight and I was wondering if he would do it from the right or the left. He always did it from the left, I braked hard in Turn 1 and went back to the front again. I enjoyed it, but not in Race 2 because it's difficult to fight with him. We know they are fast on the straight, but we will continue to fight ".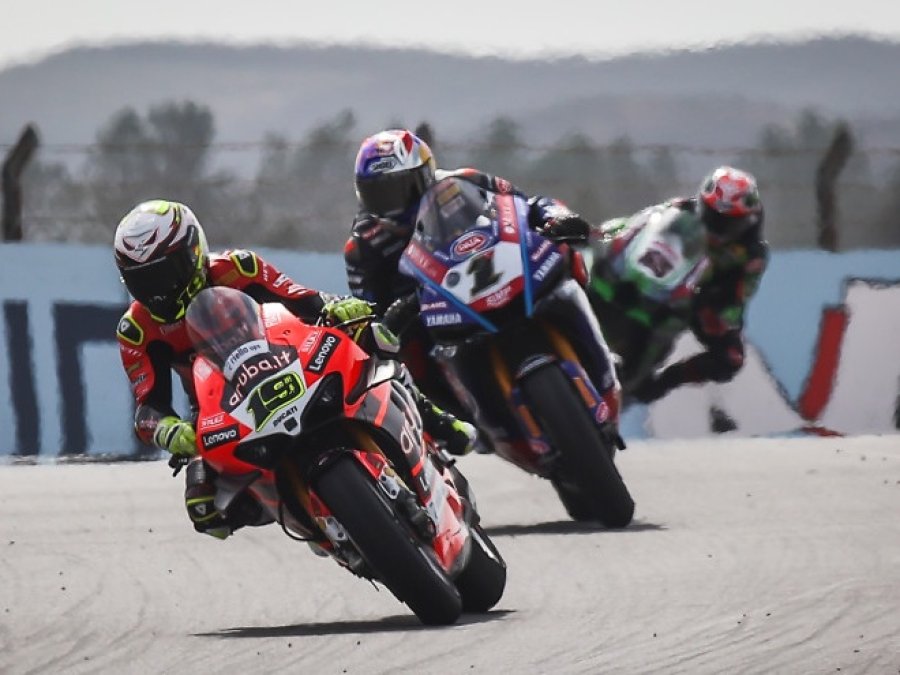 Ducati too fast on the straight: Toprak wants the same power for everyone
The 25-year-old is happy with his Yamaha, but did not hide the fact that next year he would need a bit more horsepower to be able to fight on equal terms with the Panigale V4: "the Yamaha is an excellent bike in corners and in carrying corner speed, but we need more speed. Next year we need more horsepower to fight, because Ducati, Honda and BMW are improving and Kawasaki's speed has also increased this year. We need the same speed as the Ducati, because their bike is really fast. I'm not whining, I'm just a rider and I think about fighting to win. In my opinion, it would be good for the SBK paddock to have the same power. Ducati has too much advantage on the straight. Bautista is an excellent rider, but we are at the limit in every corner, while the Ducati doesn't push in corners, it waits for the straights to do so and overtakes me easily there. With the same power I think everyone could fight harder and it would be more fun ".
How can this be done? There are only two ways to go: taking revs away from the Ducati, or building a new engine for the R1. "Yes, there are only two possibilities. I don't know. I am open to any option, be it a better Yamaha, or a new rule from Dorna" Toprak replied.
Before thinking about next year, however, the focus is on the trip to El Villicum, where the Turkish rider will have to contend once again with a very fast Bautista: "I had fun this morning but now I'm looking at Argentina, because I know they won't be easy races for anyone - he explained - Ducati will still be strong on the straight, because there is a very long straight, but we'll see. We will still be there fighting, because the championship is still long. I don't look at the classification, but I think race by race and I'll try to win again ".