There is no doubt that this championship is the most uncertain ever in MotoGP history. With 3 races to go, there are 5 riders separated by just 40 points. Quartararo, albeit with difficulty, is still in the lead, but Bagnaia is 2 points behind him, Aleix Espargarò is just 20 away, then there are Bastianini and Miller, respectively at -39 and -40. Everything is still possible.
The turning-point of the season came about dramatically after the summer break. Fabio's crash at Assen, his first mistake of the year, already changed the balance, but at that moment the Frenchman still had everything going for him. Quartararo went on vacation with a 21-point lead over Aleix, 66 over Bagnaia, 67 over Bastianini and 81 over Miller. From Silverstone onwards, the wind has continued to change.
Summarized in the table below, you can see the results (points, podiums and victories) of the top 5 riders in the standings in the last 6 GPs.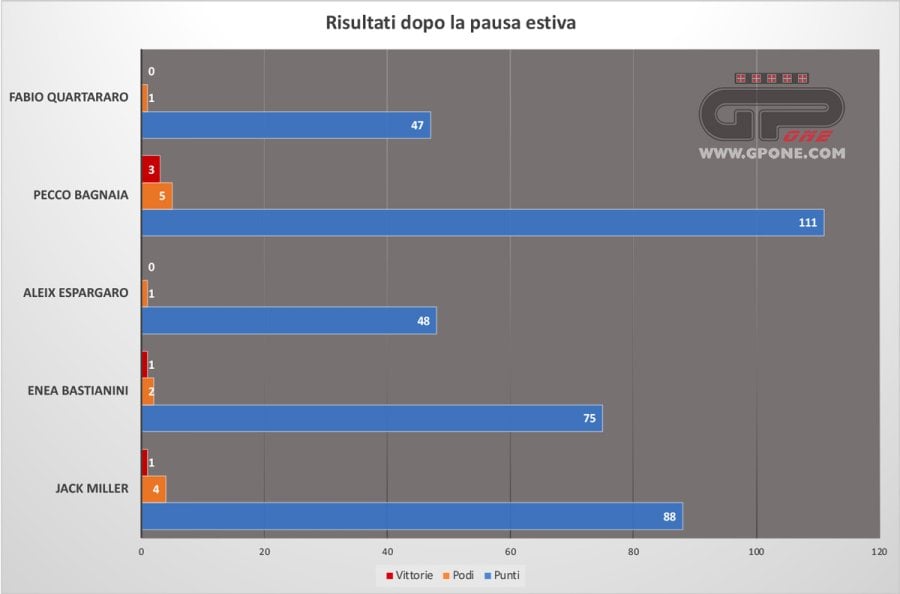 Quartararo, out of all of them, is the one who has scored the least: 47 points, with an average of 7.8 points per Grand Prix. He hasn't won anymore and has only been on the podium once, at Assen. Espargarò has fared little better, making up just one point on Fabio, sharing with him a lack of victories and one podium (in his case, Aragon). Of course, the team's mistake in Japan weighs heavily on Aleix's standings (the only zero of the year for him) but it's part of the game.
The spoils, for both of them, are however very meagre, and their decline has corresponded to the irresistible growth of Ducati. Bagnaia, Miller and Bastianini, in that order, have scored 111, 88 and 77 points respectively in 6 races, winning a total of 5 (the only exception was the success of KTM in Thailand).
A surprising result, especially for Pecco, who has averaged 18.5 points per GP since the summer and that would have been better without the error of Motegi. To understand his roadmap even better, Ducati's Italian rider has scored more points in the last 6 races than in the first 11. A decisive change of pace that has brought him close to Quartararo.
It hasn't just been Pecco who has shone, but Ducati in general. In these last six rounds, there have always been 2 Desmosedici on the podium every Sunday. Bagnaia's 5 times out of 6, Miller's 4. Even Jack has been the protagonist of an incredible improvement, considering that before the summer break he had only been on the podium 3 times without ever winning. From Silverstone on, however, he has only missed out at Misano and Aragon.
Bastianini, finally, has found some consistency, as well as victory. Compared to his two brand mates, he has less consistency, but before the holidays he seemed to have fallen into a negative spiral and has shown that he knows how to get out of problems.
Bagnaia's results have been much better, but Enea has managed to make up a lot of points on Quartararo (28) and especially on Espargarò (27), who is his direct rival for 3rd place in the World Championship, the realistic goal for the Beast, barring surprises (which can never been ruled out in MotoGP).
The numbers, however, clearly show that Ducati and its riders have been in much better shape in this second part of the season. An extra headache for Quartararo, as if he didn't have enough.