Ducati wins, Ducati loses. Miller turns out to be a dominator and Bagnaia falls back on old mistakes. Lights and shadows at Motegi, in a race in which Marquez (almost) comes out of the tunnel, while Quartararo has confirmation that his Yamaha is still inside.
It was a Sunday of passion for many, even for Aleix Espargarò who had to surrender to human fallibility. Nobody is perfect (except Jack) and in Japan we realised that.
THE GOOD - Marc Marquez is back and this time he wants to stay. Fourth place in the dry is a great result for those who have spent the last three months watching the races on TV, but above all it is his arm that gave him the most precious of prizes. It no longer hurts him, it allows him to ride as only he knows how and he took care of the rest. Good news for everyone.
THE BAD - Gravel traps are full of hindsight. Should I or shouldn't I have tried, if so when and where and why… What cannot be argued is that Bagnaia crashed at the wrong time when he was in the (almost) right place. He has already placed himself behind the blackboard, on his knees chickpeas and with the donkey hat on his head, hoping that he does not have to pay a much higher price for his mistake.
THE UGLY - A broken wheel, a flambé motorcycle, the only thing missing was for a meteorite to hail down on the garage. Suzuki is not winning anything this season, but the friendship award belongs to it. The last catwalk in its home GP was an ordeal it didn't deserve.
THE DISAPPOINTMENT - When a man with a Yamaha meets a man with an Aprilia or a Ducati, the man with a Yamaha is a defeated man. Even Fabio Quartararo cannot escape the law of the West, by  not giving up and trying, but good will does not produce any extra horsepower.
THE CONFIRMATION - Give Brad Binder a fast KTM, because then things will be fun. Finally the South African started without the usual view of his opponents' backs in front of his eyes and finished his Sunday on the podium. Much deserved for all the work done this season and for his talent.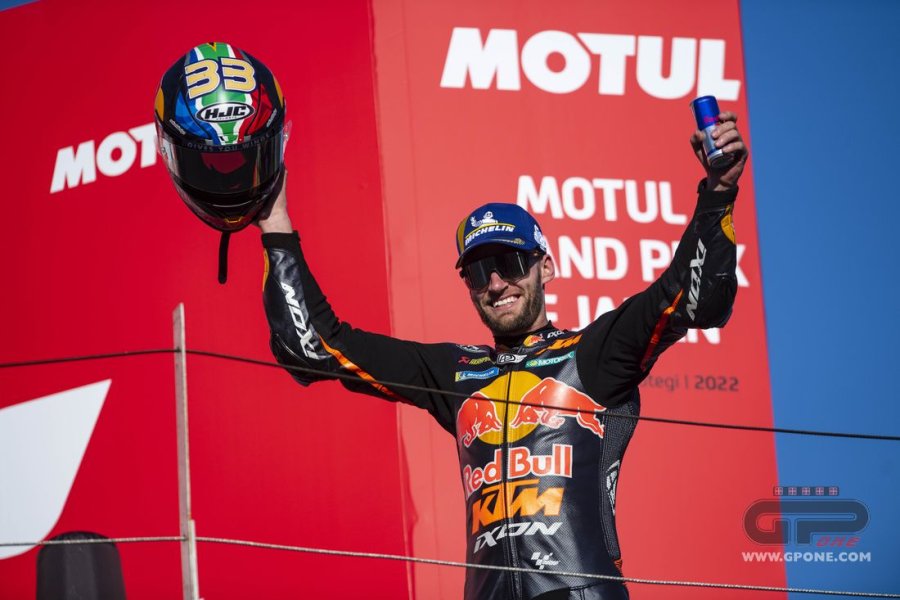 THE MISTAKE - With the price of petrol these days, in Aprilia they have decided to save. The eco map of the RS-GP promises moped consumption, making the MotoGP bike an excellent urban commuter. For the GP of Thailand, coordinated cases, top box and a more protective windshield in case of rain will be introduced on the bike.
THE SURPRISE - He decided to give himself a victory for his wedding and he produced his best race ever. Ruthless in overtaking and in setting his pace, without even a smudge. If marriage does this to Jack Miller, he should consider getting married once a month.
THE PASS - On Miller's day, his was also the best overtaking move: a double-whammy on Marquez and Oliveira. Hats off!
THE CURIOSITY - The Japanese officials have a taste for the show and perform in choreographies so ugly that they seem beautiful. In a MotoGP where there is no show, they do everything they can to excite the public.
I TOLD YOU SO - "I will start by attacking, my target is to try to win". Bagnaia discovered that where there's a will, there isn't necessarily a way.