A feat or something very similar was needed. Danilo Petrucci tried, but failed to steal the championship scepter from Jake Gagne. In fact, for the second year in a row, the Yamaha rider won the star-studded MotoAmerica title at the end of a ride that proved triumphant, to say the least.
In Race 2 the American took second place behind teammate Cameron Petersen, winner of the last round of the season. So hats off to a framed 2022 for Jake, who in just two weeks will be back on track in Portimao to participate in the Portuguese Superbike round as a wildcard.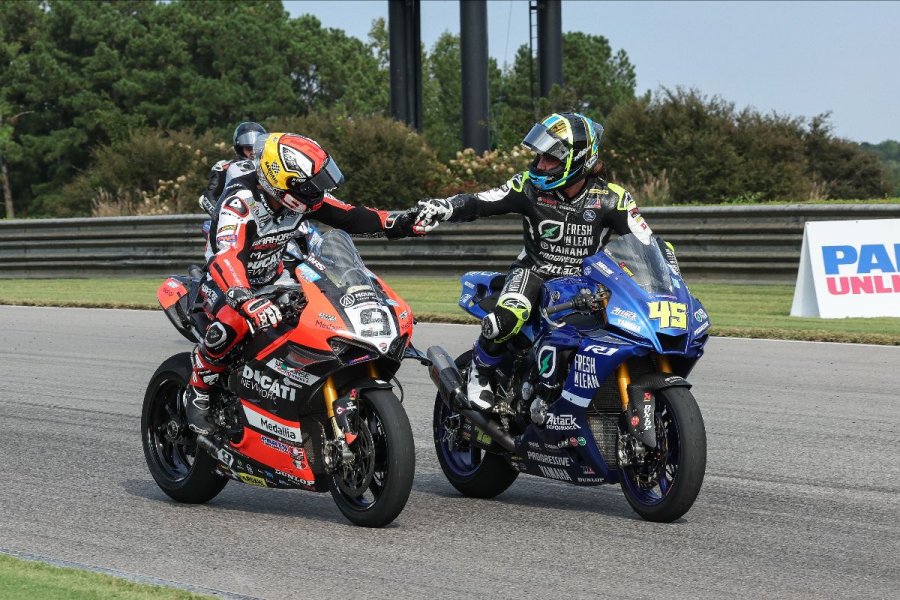 For his part, Petrux is left with nothing but the honor of arms. In a Championship unknown to him until a year ago, Danilo was able to hold high the tricolor flag overseas, keeping the games for the title open until the last race. For him a lot of applause and a goodbye to 2023 where we will see him again engaged with the Panigale V4 in the States.
In the last heat of the weekend, Danilo took fourth place after being mocked in the final round by PJ Jacobsen.Gagne: "I had a hard time falling asleep the night before."
Gagne: "I had a hard time falling asleep the night before"
"After yesterday's win, having a little bit of a gap going into today, I did sleep a little. It still took me a while to fall asleep last night, honestly - said Gagne - Just running over what could happen and hoping that it was dry. Until the last second. Thirty minutes before the race it was like, wet or dry? It was kind of nerve-racking. I'm stoked we got it done. I wouldn't have asked for a better year. Last year was cool winning all those races and taking home the championship, but this one feels good to bring it all the way down to the last race. It was just incredible. It was amazing being able to race with Danilo (Petrucci). That guy is a world-class racer. Like I said down there, I don't think there has ever been anybody that I wanted to beat more, just because of his resume. He's a MotoGP guy, a MotoGP winner. I don't know how many of those we've had here in the States, so I wanted to do right and protect the home turf here and bring this MotoAmerica championship home with an American. Thanks to the team. It was crazy. Today's race was kind of crazy, but we made it to the finish."
Photo courtesy MotoAmerica by Brian J. Nelson