The MotoGP has experienced another unfortunate event. WithU is withdrawing its sponsporship. As of today, at least according to what was published by the Verona newspaper, L'Arena, Matteo Ballarin anticipated that WithU is leaving the queen class of motorcycling. After Petronas left when it was still the Yamaha satellite team, Razlan Razali and Aprilia now have to face another sponsor backing out.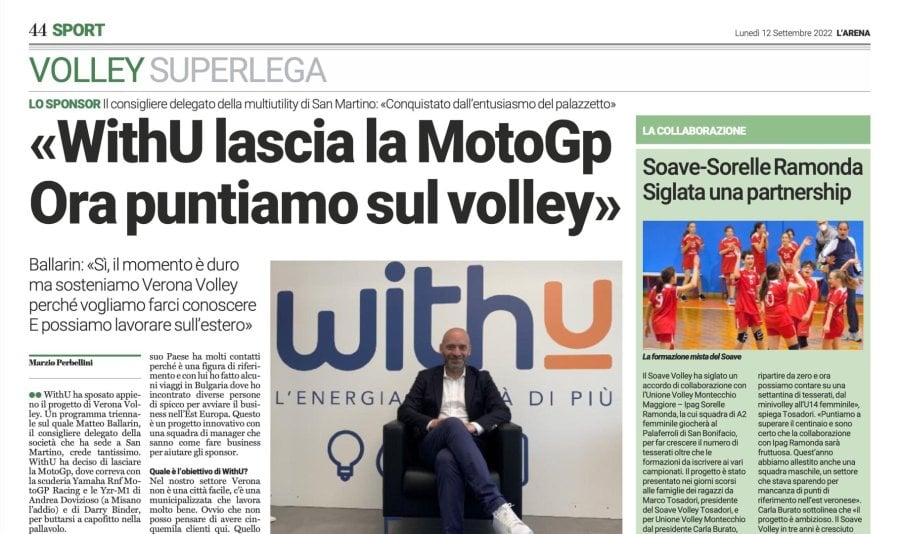 "We're experiencing a double crisis. Europe Energy Spa, which is my all-time company, has made a request for an agreement," Ballarin told L'Arena, and then continued: "WithU is a separate branch, but one that's strongly connected. I think that, at a time like this, it's important to make our peculiarities known, otherwise, people don't know we exist. The Italians, and those in Verona, don't know that there's an alternative to Enel or Agsm. We offer an operator that makes life easier for our clients and saves them time. But we need to get people to know us. We've given up many sponsorships, some of which we're strongly questioning."

Like the one with the MotoGP?
"It's very challenging, and the market situation to date doesn't offer visibility. With volleyball, we want to explore options and move forward because we're very involved. We feel like a role player."

But will you leave the MotoGP to focus on volleyball?
"Yes, but that doesnìt mean we're going increase volleyball sponsorships. However, yes. No more MotoGP."
The company from the Veneto region will, therefore, no longer be sponsoring the RNF Aprilia team in 2023. Instead, it will focus on Verona Volleyball, a volleyball team that competes in the top Italian championship.
Another can of worms, not only for Razali and Aprilia, but also for Dorna that is ending up with another team at risk.