A riot of flags, hugs and laughter. There was the party that Andrea Dovizioso wanted at Misano, indeed it exceeded his expectations. The sentiment put a strain on reason, but as the final titles of his career passed by, Dovi realized how much he had given to MotoGP. Until the very end he fought and above all enjoyed himself. There is no better way to leave the stage, with a final bow for all his fans.
Andrea, what surprised you the most these days?
"I didn't expect all this warmth. You realize when people do something for you because they care, it is the confirmation of what I was able to convey, especially at the end of my career with Ducati, my character. People may like me or not, but I'm different from the usual showmen. This weekend could not have been better and I want to thank everyone: the fans who came to the race with banners, the people I met in the paddock, the people I worked with".
Did you underestimate people's affection for you?
"When you are not fighting for the championship it is normal, you are not that important, but when you decide to retire people look at you differently. They start to focus on what you've done and not what you're doing, but I didn't expect so much".
What did Marquez say to you on the grid?
"Nothing in particular, but it made me happy because, if he came to me, he means that there is respect between us".
What did you think on the last lap?
"As the rational rider that I am, I was undecided whether to make my fastest lap of the race, because I had Fernandez attached to me, or to enjoy it. With each sector I changed my mind, I didn't do my fastest lap and I enjoyed it a bit: it was in line with my character (laughs). It was nice because there were all the friends waiting for me ".
Last night, however, you were moved when they showed you the greetings from the other riders ...
"Because they said to me things that weren't banal. Even everything the team did was not a facade and this touched me".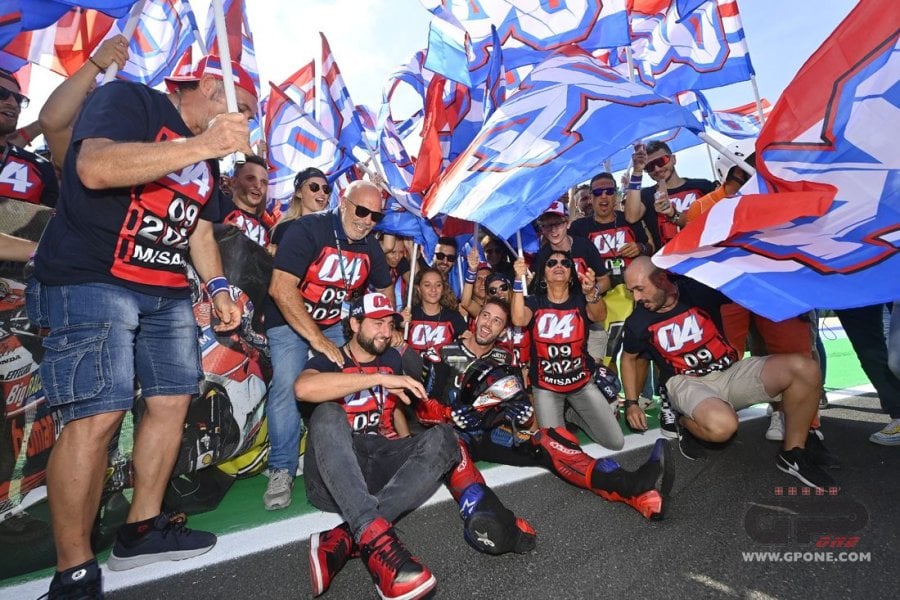 If you had a magic wand, what would you change about your career?
"I would do some things differently, because afterwards it would be easy to improve them, I would be a hypocrite if I didn't say it. However, I have no big regrets, I am serene, even in this moment when I retire. I don't see anything particularly wrong on my part, but you always have to behave differently to get more, they are small details".
What is the thing that gave you the most satisfaction?
"The victories have been exhilarating, but being able to fight for the championship with the Ducati, knowing how it was when I arrived, was a huge satisfaction on a personal level. We are not talking about suffering for 3 or 4 races, but I had to adapt and improve a bike, it took years. It means that inside me there was a great drive, a great energy and the knowledge to achieve certain results ".
In your 21 years of career you have never missed a race.
"It is in line with me, but it also takes a little luck, when you crash you never know how it will end. The approach to GPs is the result of the rider's mind. Even if it is a record that does not matter ... it is nice ".
What will you miss most of this world?
"When you are a MotoGP rider, the attention on you is enormous. I have never looked for it but it is there, and this will change. I will have to adapt and I know it. Most of all, though, I will miss the chance to work with professionals, it's something I loved".
What won't you miss?
"The headlines about me in the papers (laughs)".
What will you do now?
"I have a project in mind that will change my life, I want to create something myself, while until now it was others who did it for me. I will definitely return to motocross racing, I really like it".
Bagnaia said that if the Ducati is so competitive the merit is yours.
"It's a sign of maturity on his part and I thank him, he said a nice thing and he didn't have to. Being aware of what has been done is a help to achieve your goals".
If a manufacturer called you as a tester, what would you say?
"I'm keeping every door open because I've learned that you don't have to close them a priori. In this moment I am relaxed, if interesting proposals are made to me I will evaluate them ".
How do you see the current MotoGP?
"If we are talking about battles, the rules should be changed to increase them. As for the level of characters, there are some very talented riders, but in the media they try to be very calm in their behaviour, so there is less rivalry. However, I am convinced that this happens because there is not much possibility of overtaking".