Before taking 5 weeks of vacation (thanks to the cancellation of the Finnish GP), the MotoGP world championship reached the turnaround mark at Assen. With 11 races already run and 9 still to be held, the ranking has now taken a clear shape with Quartararo in command, Aleix Espargarò chasing at -21 points, Zarco in 3rd place (58 points from the leader), then Bagnaia and Bastianini, the last with 3-digit points, but a long way from Fabio (66 and 67 points to be precise).
If seeing the Frenchman, the reigning world champion, in front of everyone else is not a surprise, there are other surprises in the standings. We made a comparison between the results of the various riders between 2021 and 2022 after 11 races and the results are interesting, also because only a handful of riders have improved compared to a year ago.
Let's start in order, with a clarification: last year the calendar was still heavily affected and in the first 11 rounds there were 2 double races (in Qatar and Austria) and no overseas GPs were held. Below you will find the summary table.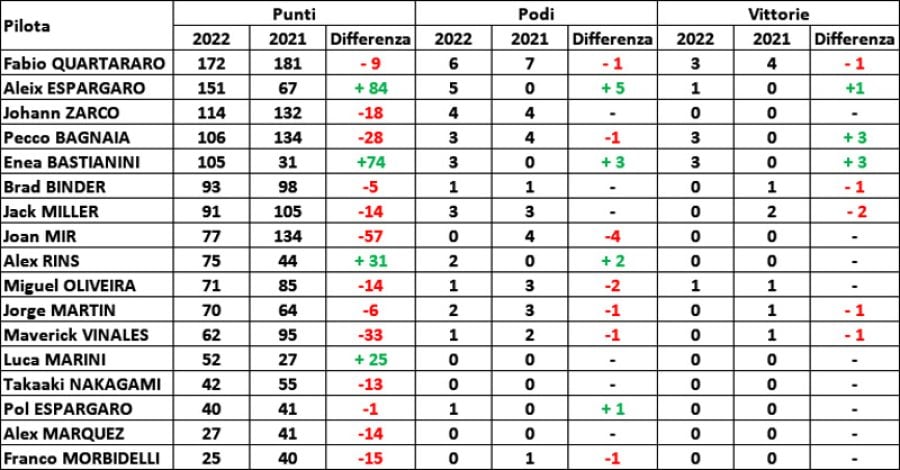 Quartararo is not surprising, Espargarò is, Ducati fast or consistent
Having said that, Quartararo's roadmap is very similar: he has 9 points less than last year, the result of his recent Dutch mistake. Actually, even in 2021 he was the victim of bad luck on two occasions (at Jerez the worsening of his compartment syndrome and in Barcelona his open leathers) but he always reached the finish line.
If Fabio is not surprising, Espargarò is. Needless to say, the numbers are impressive: he has more than double the points compared to a year ago (151 against 67, an impressive difference of 84), as well as 5 podiums and a win. This is thanks to his Aprilia which has evolved to reach the level of the best competition, but above all to the Spanish rider who is not only fast but also consistent (the only one to have always reached the finish line).
And the Ducatis? Zarco, the best placed in the standings, is in line with last year: 18 points less, the same number of podiums and one more crash this year. Pramac's French rider has proved to be consistent but without any high points. Exactly the opposite of Pecco Bagnaia, very fast but too irregular. Last year the rider from Piedmont had not won even one race, while this season the number of victories is already 3, but crashes exceed it with 4 (including the one caused by Nakagami). His 28 points less than 2021 is all there and certifies what could have been but was not.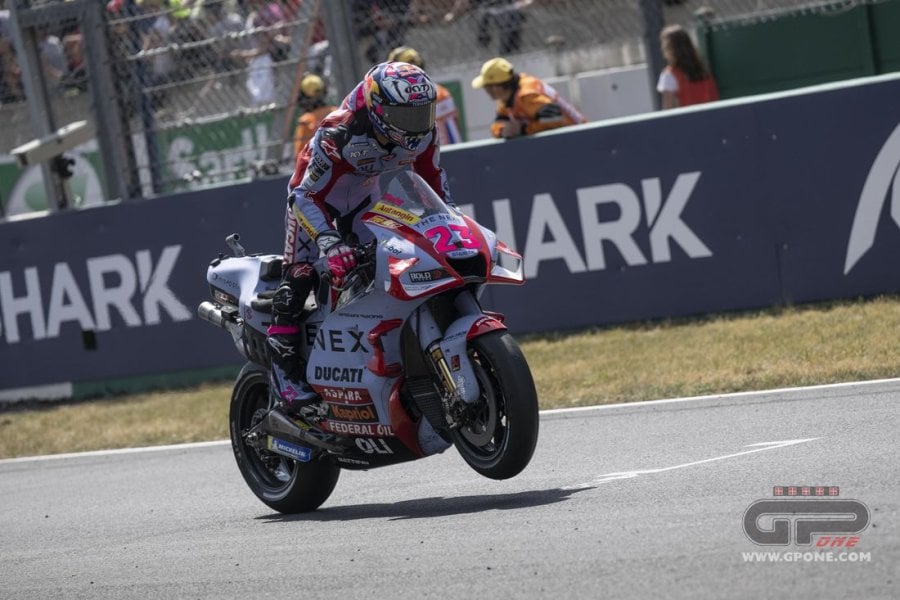 The same goes for Bastianini, but with a few more extenuating circumstances, being only in his second year in the top flight. Enea has more than three times the points, three wins, but in the last four races, between crashes and under-par performances, he has changed his course. Worse is Martin who has 6 points less than in 2021, but last year he had to miss 4 races due to the terrible accident in Portimao and was affected by the injury for at least two more. This season he has had problems on his bike and in his carpal tunnel, he has been on the podium several times but he has missed a high point. Miller, who has not yet managed to repeat his victories of 2021, has not had many high points either. On the other hand, Luca Marini, who needs a podium to prove his growth, is having a positive season.
Suzuki between highs and lows, Binder saves KTM, Honda collapses
At Suzuki, Mir stands out but in a negative way. The news of the retirement of the Japanese manufacturer has undoubtedly had an effect on the riders and Joan is 57 points and 4 podiums down on 2021. To make the balance better there is Rins, who has made a good start to the season, he is in the black, both for points (+31) and for podiums (+2) but the accident caused by Nakagami in Barcelona that broke Alex's wrist weighs a lot.
Brad Binder is missing a win, but given KTM's problems, the South African rider is doing a half miracle to keep up with last year's results. Five points less is not much, while Oliveira (who won a race) has 14 less.
We know Honda's difficulties and the classification says they are the same as last year. Without Marc Marquez on the track (still the best in the standings with 60 points despite not having been there in the last 3 races), the performances of the other riders only confirm the difficulties of the new RC213V. The only icing on the cake is a podium by Pol Espargarò.
We end with Franco Morbidelli. There is no good news here either, if last year he had a bad start with an outdated bike and leg problems, this one is turning out to be worse. Fifteen points less and no podium, despite having missed 3 races in 2021.