Fausto Gresini's legacy continues to bear fruit in MotoGP. While the start of this championship has accustomed us to the talent of Bastianini who with his three victories in his ongoing fight for the championship, the success and surprise pole position at Mugello by Fabio Di Giannantonio can only fill Italian fans and the Gresini team itself with pride. It is the first pole in MotoGP for the Italian rookie, who placed his Ducati at the top of the starting grid for tomorrow's race at Mugello.
"At the beginning I wasn't sure if I would be able to take pole - Fabio confessed - I knew I knew the circuit well and had a good pace, this gave me a lot more motivation so I said to myself let's wait, let's give it our all and see what happens. After a crazy Q1 the Q2 was just the same. I was very focused until the last lap and in the end here we are, my first pole in MotoGP. It is the result of the work of the whole team, I feel comfortable on the bike and tomorrow we will exploit this advantage".
What else makes your first pole special?
"Mugello is my favourite circuit, it is for all the Italian riders after all. Taking pole here, with your fans and with your family is a unique experience. It is an all-Italian pole, three out of three Italian riders. Italian bikes on an Italian circuit. I also have a good relationship with the guys in the team, we celebrated the success of AS Roma in the Conference League, it would be nice to continue the trail of Roman successes with a good result here in MotoGP ".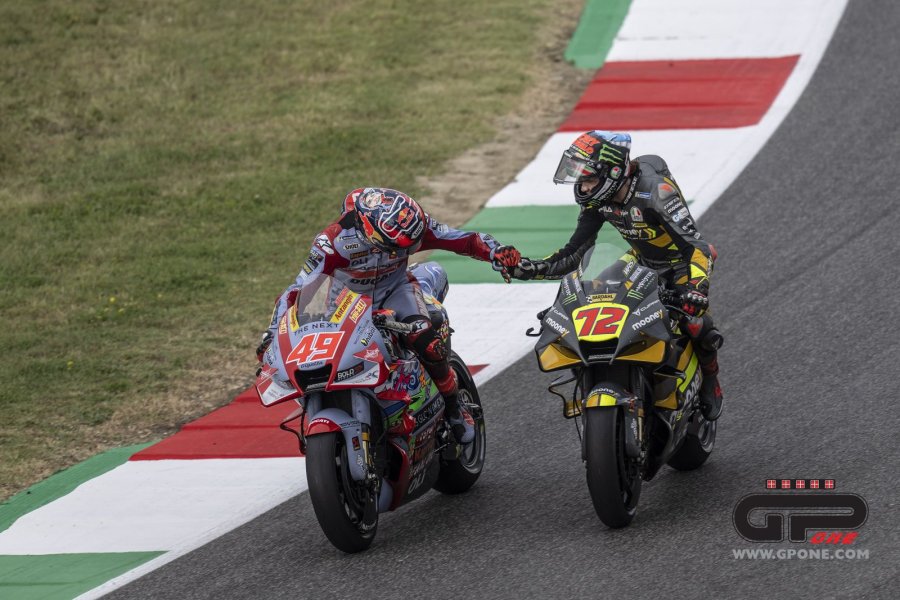 What rapport do you have with the other young Italian riders?
"It's nice to be all here in MotoGP. We have a great relationship, we started together, from minibikes, we grew up together, and now we're all here, with our different fluorescent colours, it's cool."
Did going through Q1 give you more energy during Q2? What kind of race do you expect tomorrow?
"In Q1, following Marc and Jack helped me a lot. Coming from Moto2, the tyres behave differently there. In MotoGP, with the dry tyre, you can lap better even if the track has wet sections, but observing two veteran riders helped me to better understand the limits. For tomorrow's race it is difficult to make predictions, the important thing is to be here and keep improving race after race. Unfortunately, due to the weather, we weren't able to work much on the race pace in FP4, so tomorrow's warm-up will be important. It will certainly be an important opportunity to grow as a rider, but if I manage to finish in the top 10 it would already be a good result ".
Could market rumours have somehow affected the possibility of losing your place on the team?
"Actually no, I only thought about racing and giving my best".
A few weeks ago you said you started the MotoGP season slowly in Malaysia. Do you think you have reached the level of the other rookies now?
"The start of the season was not easy, food poisoning made me miss the chance to run a few more kilometres to sort out the setup at the start of the championship. Then race after race we made up ground and with the team we figured out which was the right direction to take. At the Jerez tests we tried some new things that worked well, so we kept them both at Le Mans and here at Mugello. I think so far we have taken the right steps to grow in this championship and always be closer to the best ".
Quartararo pointed out that perhaps qualifying in Q2 in those weather conditions was not the safest decision, do you agree?
"It is clear that with the rain at these speeds the safety is less than in the dry, but I think that being among the best riders in the world it was more than manageable for us in the end. When the track has these uncertain conditions it is always a gamble between choosing a wet or dry compound, but if there is a risk or you want to be safer, just choose the wet tyres. During qualifying I didn't see the lightning strikes, they were far away, and apart from Marc's crash, there were no other accidents. I think the conditions in Portimao were much worse than those in Mugello. "
Marc has just announced that he wants to have surgery on his shoulder again, what do you think?
"I'm sorry about that, we have an excellent relationship, he's a very calm guy. Seeing him suffer like this isn't nice, from rider to rider I understand his suffering and I think he doesn't deserve what he's been going through in recent years, I hope he gets better soon", concluded the Roman driver.