Max Biaggi became a MotoGP Legend at Mugello. In the conference room of the Mugello circuit there was not a free seat, all the people who worked with him and many riders, in addition to his two sons Leon and Ines, were there.
"We had decided 3 years ago to give him this honour, but with Covid it was not possible to celebrate it in the right way" recalled Carmelo Ezpeleta, boss of Dorna.
The right moment arrived in the home Grand Prix of the Roman Emperor.
"Twenty years ago I never expected it to happen - said a clearly emotional Max - This is a special day for me, I want to thank all the people who made it possible, like the manufacturers I raced with, Aprilia, Honda, Yamaha. Many supported me, in good times as well as in dark ones, starting from my family that always pushed me not to give up. Today my children are with me and they can say that their dad is a legend ".
If Biaggi looks back, he has no regrets.
"I wouldn't change anything - he continued - I don't want to have regrets, on certain occasions I could have done better, but that's life and I have to accept it. What I did allowed me to be here, it's something great ".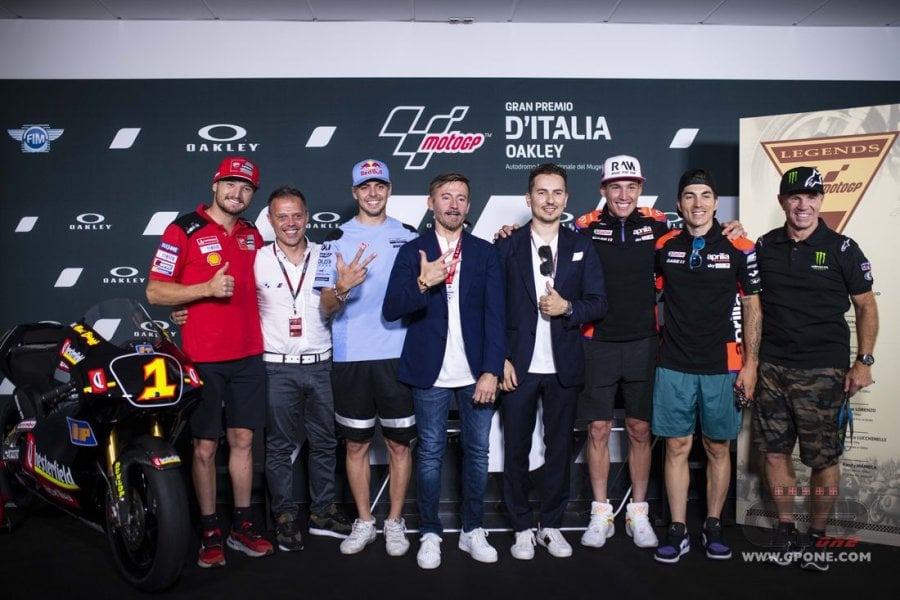 The Roman Emperor dominated in 250, before moving on to 500 and MotoGP, to finish his career (by winning) in SBK. What was the bike of his heart?
"Today all the riders want to get to MotoGP quickly, but in my day it wasn't like that - he explained - We were afraid of the 500s and I too wanted to wait before moving on. Then, when I tried it, I found that it was simpler than I expected. I won my first race in Suzuka, in qualifying I was one second and 7 tenths faster than Doohan. I didn't understand how I could be so fast, that weekend was magical, but then Mick recovered and I realized it was complicated ".
Max hasn't abandoned the paddock, now he has his team in Moto3.
"I try to use my experience to help young riders grow. Maybe one of them will become a champion, who knows ".