There was nothing doing against Jake Gagne at the Virginia International Raceway in Alton. Like yesterday, the reigning MotoAmerica SBK champion dominated Race 2, maintaining a pace that was impossible for everyone else. Suffice to say that after 4 laps his advantage from his pursuers was already over one second, which became 3 after 7 laps, at which point Gagne simply controlled the race and crossed the finish line alone to score a double win.
Danilo Petrucci was unable to do anything against Gagne, but he did manage to put on a show together with Scholtz and Petersen, finishing the race on the podium in 3rd place, and then running into a crash once across the finish line. Let's go in order: at the start Petrux conquered a position at the first corner, putting himself in the slipstream of Scholtz who he attacked on the 7th lap; on the 8th, however, Mathew's response arrived at the first corner. At that moment Danilo made a small error under braking and had to leave room for Petersen as well.
At that point the Ducati rider got in the wake of the two Yamahas, up to 3 laps from the end, when he overtook Petersen. He then targeted Scholtz and with two laps to go he went on the attack, but the American immediately responded and closed all the doors on the last lap.
Petrucci had to settle for third place but, not framed by the cameras, he crashed at the first corner when the race was over. Danilo immediately got up, but was still taken to the medical centre for checks, and was thus not able to participate in the podium ceremony.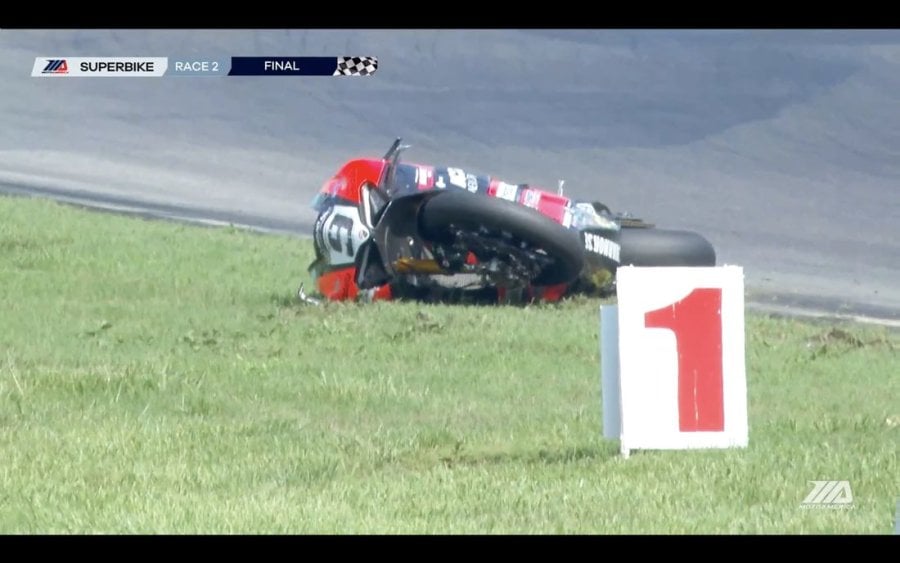 Danilo, thanks to his third place, is still leading the championship, followed 4 points adrift by Scholtz and then by Gagne.
Petersen was just off the podium, with Jacobsen fifth ahead of Escalente, Lewis and Yates, ninth place for Hector Barbera.
RESULTS