Welcome back BSB! More than 150 days after the finale at Brands Hatch in which Tarran Mackenzie crowned his dream of becoming champion following in the footsteps of father Niall, today the curtain officially went up on the 2022 season at the first preseason tests at Snetterton. On a day that saw the return of Leon Haslam and Tom Sykes, with a total of 52 riders (!!) present in collective practice with British Superbike, SuperSport and SuperStock 1000, however, it was unquestionably Danny Buchan who took centre stage, dominating day 1 right from the morning.
Buchan in control
For a second consecutive year in the BMW Motorrad SYNETIQ team, albeit on a track that has recently given him more pain than joy, Danny Buchan (cover photo) put in the best performance of the day in 1m47.380s. This might only be the first day of MSVR official tests of the year, but the M1000RR confirmed its excellent speed, which was confirmed by third place for Peter Hickman (FHO Racing) just over 3 tenths of a second behind his brand mate. Bradley Ray was in the middle of a BMW sandwich, just 0.091s behind, apparently regenerated by Rich Energy OMG Racing switching to the Yamaha R1.
Haslam in top-6
Youngster Rory Skinner did not disappoint either on the FS-3 Racing Ninja ZX-10RR, fourth despite a harmless crash in the morning session. The class of 2001 rider finished ahead of 2020 runner-up Jason O'Halloran (McAMS Yamaha), having his first contact with new chief engineer Les Pearson, who spent a lot of time in World Superbike with both PATA and GRT Yamaha. Now back with Kawasaki, Leon Haslam was the focus of a lot of attention. On his return to BSB with Lee Hardy Racing, the 2018 Champion finished in sixth place, half a second off the top.
Sykes makes his V4-R debut in BSB spec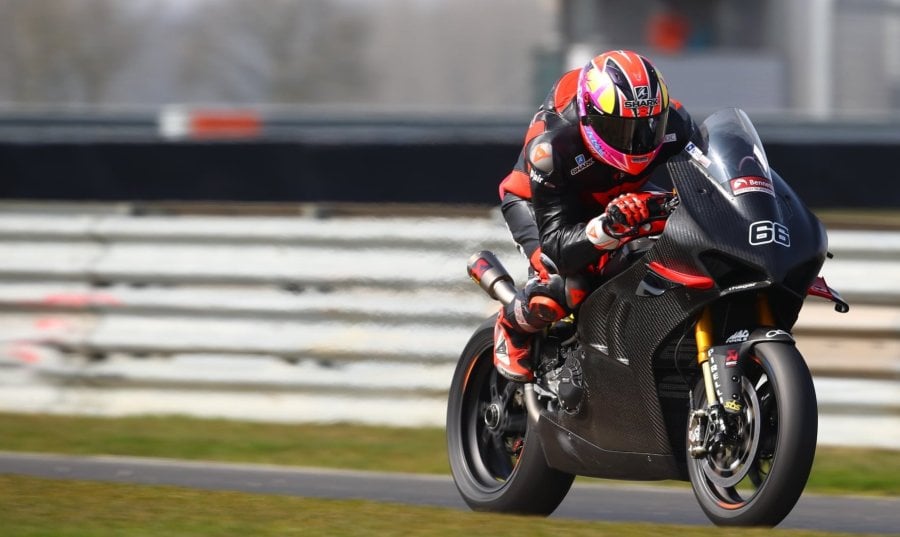 With reigning champion Tarran Mackenzie (McAMS Yamaha) 13th and still not at his best physically after his recent winter injury (only 20 laps to his credit), the first Ducati rider was Tommy Bridewell (Oxford Racing MotoRapido) in eighth place, behind Danny Kent's GSX-R 1000 and immediately ahead of Tom Sykes. After having tasted the power of the Panigale V4-R in recent tests at Misano, today the 2013 SBK world champion finally tested the four-cylinder MCE Ducati in BSB configuration, stopping the clock in 1m48.046s six tenths from Buchan. Team-mate and 2015-2020 Champion Josh Brookes was some way off in 14th position, but he and the others will have two more days of testing at Donington Park (March 31) and Silverstone National (April 6-7) prior to the start of the season.
Photo credit: Double Red Photographic.