First in the constructors' championship, first in the teams' championship, second in the riders' championship: no one would have bet that KTM would have been in these positions after two races. The Austrian manufacturer has amazed everyone, both in the dry (with Binder's 2nd place at Losail) and in the wet (winning with Oliveira at Mandalika). If a good start bodes well, 2022 could bring a lot of satisfaction. Francesco Guidotti, at the head of the Austrian team, knows it well, but at the same time he doesn't want to have too many illusions.
"Honestly, with the type of work we did in the winter it was difficult to understand what to expect, even on our part - admits the team manager - After the tests we had the idea of ​​having a decent base but, also seeing the others, it was difficult to understand what to expect in the race. We didn't want to be too optimistic but not too pessimistic either, as we know that races have a different rhythm and cadence from the tests, which hadn't gone badly. From there to get a second place and a win… it was something unexpected ".
But you did…
"There were also some particular circumstances, those who had done very well in the tests did not reconfirm [their potential] in the race while we made the most of the potential we had. Beyond having a more or less good bike, taking advantage of every opportunity is an important quality of a rider, a team, of all those who have contributed to these results. That said, there are 21 races and we have only done two, there's still a long way to go. KTM has never lacked the single performance, but continuity, this is what we need to improve compared to the past ".
Playing the devil's advocate, it can be said that Losail is a track that is a story in itself and that at Mandalika the race was in the wet. How reassuring are these performances?
"Not at all, as I said, they are two races out of 21, even if we had done them in normal conditions they could not give me any kind of peace of mind. In one we were second and in the other we won, but we had a good group of riders around us, we didn't totally dominate the races. You have to keep your feet on the ground ".
In Indonesia Binder had a technical problem, he did the whole race with the lowering device activated. Without that problem he could have been leading the World Championship ...
"The fact remains that we had that problem, it was a failure on our part, so the standings reflect the form factor. The fault was ours and this is the reason why we are not first, with 'ifs' you don't make the standings, you need facts. Brad did a great race anyway, but it's too early to count on the points lost or gained ".
Before leaving, you said that KTM's goal for this year would not be the title, haven't you changed your mind?
"After two races there are 9 riders in 10 points, it is a very tight ranking and we must not be under any illusions. We are enjoying the moment because KTM had never had such a start to the season, after all the doubts about our package at the end of 2021, the prospects are good. It makes you work with the awareness that everything doesn't have to be redone, you have to take small steps forward. These results help to refresh the spirit and motivation, even that of the riders ".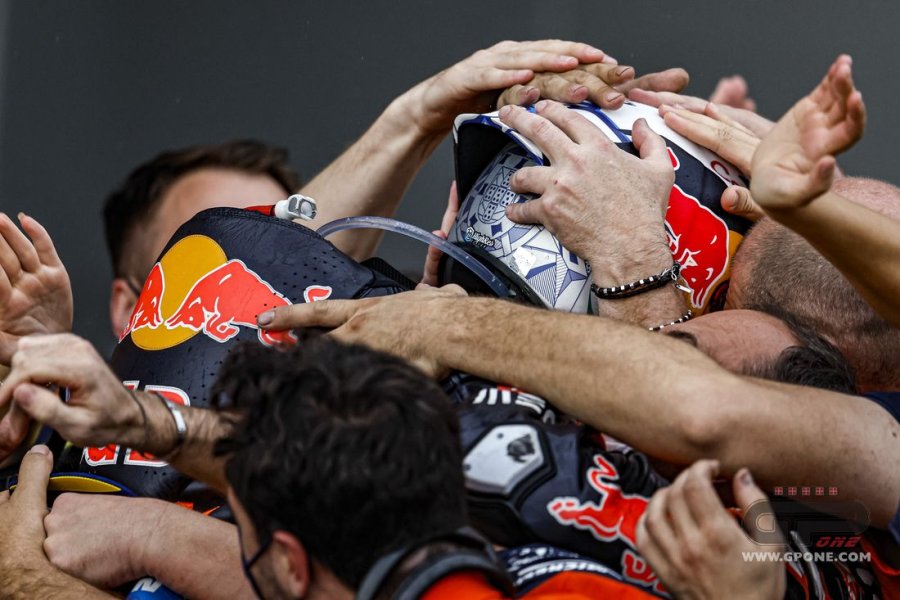 "Solamente positiva. Miguel aveva iniziato un po' sottotono nella prima gara ma ha reagito in maniera incredibile già alla seconda, grazie anche al risultato di Binder. Brad era partito subito all'attacco, come è la sua indole, è un pilota da gara, fa poca strategia e dà sempre il massimo. Il primo risultato è stato uno stimolo per tutti, anche per i due rookie che devono ancora interpretare bene la moto e la categoria. Brad ha fatto un grande lavoro, Miguel è molto riflessivo e riesce a interpretare bene prove e gare, non è solo veloce ma sa usare la testa. Fernandez e Gardner, secondo me, tornati in Europa inizieranno a carburare, con un po' più di esperienza. Siamo ben assortiti come qualità di piloti".
You didn't know Binder and Oliveira, what impression did you have after these first two races?
"Only positive. Miguel started a little undertone in the first race but reacted in an incredible way already in the second, thanks also to the result of Binder. Brad had started immediately on the attack, as is his nature, he is a race rider, he does little strategy and always gives his best. The first result was a stimulus for everyone, even for the two rookies who still have to interpret the bike and the category well. Brad did a great job, Miguel is very thoughtful and manages to interpret well the tests and the races, he is not only fast but he knows how to use his head. In my opinion, Fernandez and Gardner will start to dial themselves in when they return to Europe, with a little more experience. We have a good match in terms of rider quality".
And where are you in your 'rookie' season with KTM?
"It's up to the others to say so (laughs). I feel very comfortable, I immediately got in tune with the environment and with the people, both in the company and on the track. I didn't find it difficult to adapt, other than getting to know everyone, but it was a quick process ".
What idea have you made of your opponents?
"Quartararo also finished 5th in the first race last year and then won the second, so he did a similar course, in Indonesia he could have fought better if he had settled down before in the wet. For me Fabio remains one of the candidates, nothing has changed. Suzuki, compared to what it had shown in the tests, has vanished a bit but I expect to see it again soon, it is a handful of points separating them from those in front. There was no one who did particularly well, so they are all there, even Morbidelli may still be in the game. "
And Ducati?
"Perhaps the less well-placed one is Bagnaia, he has only one point and thirty to recover, but they are not many as 19 GPs still remain. I don't give him up for dead, on the contrary he is one of the most dangerous opponents. About Marquez, however, there isn't much to say, except that we are sorry about it. He's going through a period in which nothing is going right ".
Who is missing?
"Aprilia, for the moment can only count on one rider. It's difficult to assess, but in Qatar they came within a second from the podium and less than two from the winner ".
Who was the surprise?
"We are, we did not show anything special in the winter tests and we hope to be more than a surprise".
In a few days you will leave for the Argentina and Texas double-header, what are the objectives?
"The usual: try to do our best, attacking right from the start. Miguel made the difference with the conviction that you must always be in front, in every session, to be able to be incisive in the race. You have to start with a clear mind and go straight on the attack, for ten years now every practice session has been like a qualifying session. Concentration should be held from day one to the end. We have not raced at Termas de Rio Hondo for two years, Brad has never done it in MotoGP, so he will be a bit disadvantaged in that respect. We will see how the track will be, we have always found it in critical condition and now we have not been there for a long time. At Austin, KTM has always suffered quite a lot, it could be a good litmus test to understand where we are. We want to continue the positive streak, we must find the continuity that we have lacked in the past. Continuing with first and second places will be tough (laughs) but we start with the desire to do the best we can ".