Honda reports that Kunimitsu Takahashi, one of the last 'samurai' of the Japanese manufacturer, has passed away at 82 years of age.
He had come to the Assen Grand Prix in 2019, meeting Freddie Spencer, Jim Redman, Jorge Lorenzo, and Marc Marquez and had told us all about his exploits at the Tourist Trophy. The image you see at the start of this article was taken when he, while recounting his exploits, was mimicking his driving position. A true legend.
It was the legendary race on the Isle of Man that brought an end to his career on two wheels after a serious accident that led him to motor racing.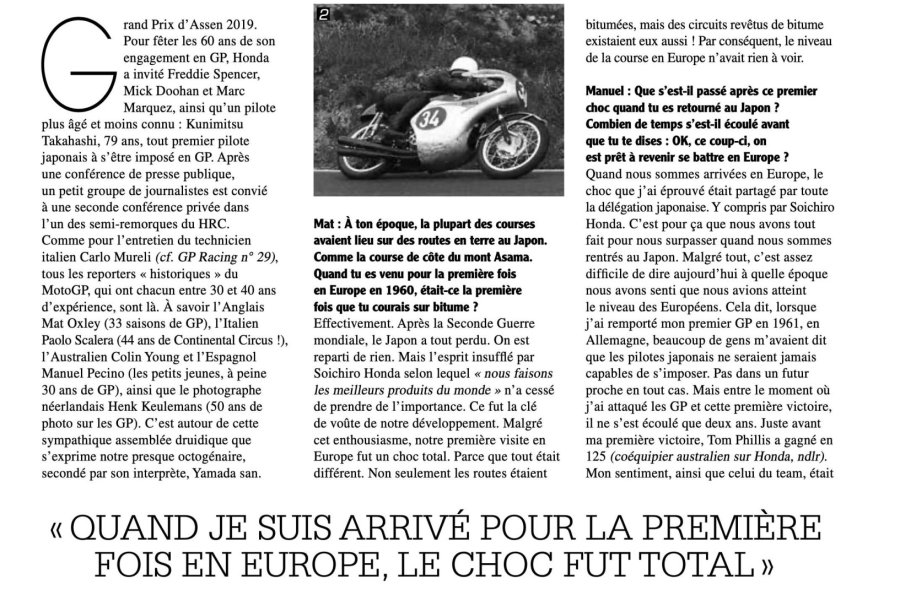 Takahashi joined Honda in 1960 as a test rider, making his debut that year in Grand Prix as well. The following year he won his first race, not only giving Honda its first world championship win in the 250cc class, but becoming the first Japanese rider to win a motorcycle GP.
Takahashi later focussed on four wheels in various Japanese national categories and in 1977, he raced in the Formula 1 Japanese Grand Prix as a wildcard, finishing ninth.
In 1995, Takahashi won the 24 Hours of Le Mans GT2 class driving a first generation NSX-based car with teammates Keisuke Tsuchiya and Akira Iida. He then continued his racing career in the upper class until 1999.
Since 2020, he concentrated his efforts on managing Team Kunimitsu, competing in the Japanese GT category with the NSX-GT and HSV-010 GTs. In 2018 and 2020, he led his team to victory in the GT500 class of the SUPER GT series.