The time has also come for Suzuki to show its bike for 2022. The GSX-RR, alongside its now traditional blue and silver, sports a touch of black on its livery, which makes it more elegant. While the eye also plays its part, in MotoGP it is the lap times that have the last word. Last year, the Japanese bike showed itself to be very well-balanced, but it lacked horsepower and some innovations, such as the rear lowering device, which arrived a bit late.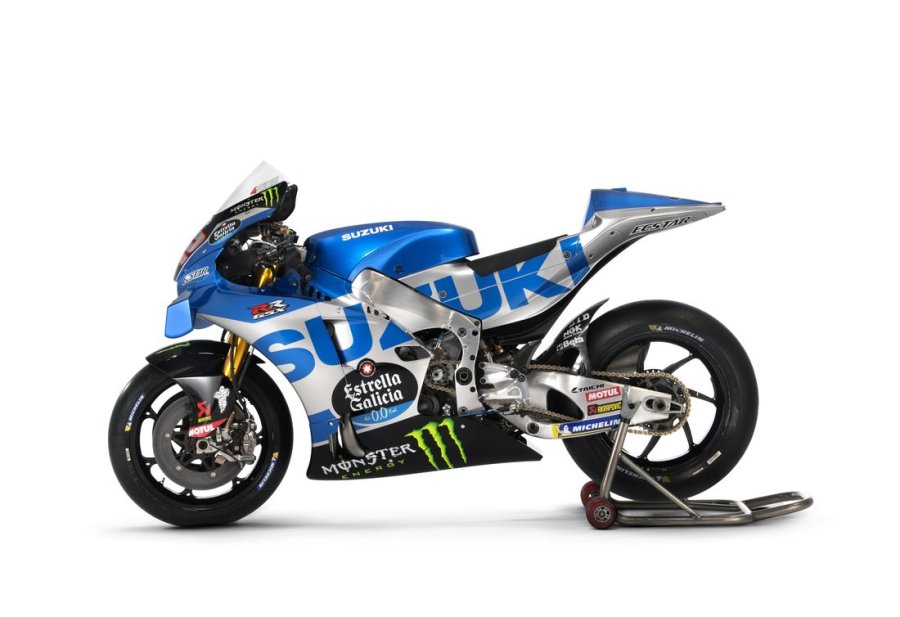 The Hamamatsu technicians did not want to be caught unprepared and they worked a lot on the in-line 4-cylinder engine. The first tests, which will start tomorrow, will have the job of confirming or not their work.
The riders are energized and raring to go. Starting with Joan Mir, who after losing his crown wants to get it back.
"I took some time during the winter to relax and shut off after a tricky 2021 season. I was happy to finish 3rd in the championship but I'm hungry for more, and it was important to reset so that I could focus 100% on achieving my maximum. My pre-season training has gone well and I'm feeling fit and ready to attack. I'm looking forward to getting back on my bike, the tests that took place at the end of last year showed an improved performance that I'm happy with, so now it's time to show the new livery and put more laps in ahead of the season start in around one month's time."
In 2021, Alex Rins had a disappointing season. His sheer speed is not in doubt, but he must learn to be more consistent:
"The new GSX-RR looks amazing, and it also performs well! I'm really happy to be nearing the start of a new season. I've done a lot of training during the break, not only in the gym but also on my GSX-R1000R street bike. However, nothing compares to our race bike at the circuits. It's nice to reunite with the team, we are all focused on the same goal and I trust in them, we've all shown that we're ready to achieve great things. The test days will be important, but we can't wait for the first race in Qatar!"
Shinichi Sahara, Capo Progetto e Direttore del Team, è sicuro che il lavoro svolto porterà frutti.
"L'inverno è stata molto impegnativo con tanto duro lavoro, sia in Europa che in Giappone. Tutti si sono impegnati a fondo per preparare la nuova stagione in cui speriamo di essere più competitivi - le sue parole - Abbiamo molta fiducia nel nel nostro progetto e nei nostri due piloti e siamo ansiosi di iniziare, non solo i test ma anche le gare. La nostra GSX-RR sembra impressionante e con il supporto dei nostri sponsor, dei fan e del team vogliamo metterla sul gradino più alto il più presto possibile. Durante l'ultimo test a Jerez avevamo visto un grande potenziale nei nuovi componenti e i commenti del nostro collaudatore Sylvain Guintoli, così come quelli di Joan e Alex, erano stati piuttosto positivi. Per questo motivo abbiamo iniziato la pausa invernale con delle belle sensazioni e di buon umore. Vediamo cosa possiamo mostrare in questa eccitante nuova stagione".
Shinichi Sahara, Project Leader and Team Director, said he was sure the work done would bring good results.
"The off-season has been a very busy one with a lot of hard work, both in Europe and in Japan. Everybody has been putting in a huge effort to prepare for a new season where we hope to be more competitive. We have a lot of trust in our project, and in our two riders, and we are keen to get started – not only in testing but racing. Our GSX-RR looks impressive and with support from our key sponsors, fans and team members we want to put it on the top step as soon as possible. During the last test in Jerez we saw great potential in the new components, and the feedback from our test rider Sylvain Guintoli as well as Joan and Alex, was pretty positive. Because of this we started the winter break with some nice vibes and in good spirits. Let's see what we can show in this exciting new season."
Technical Manager Ken Kawauchi is also optimistic.
"I must start by thanking the entire team and factory for the work they've done during this short winter break. Our 2021 machine was balanced and competitive, but it was important to take a big step forward in 2022 to meet our goals. As we've seen, MotoGP is incredibly close with many fast riders and teams, and we want to secure our place on the podium. The 2022 GSX-RR has a similar base to last year's bike but with a few crucial updates, especially in the area of engine performance. We wanted to maintain the manageability of our bike, which has always been strong in cornering and stability, while improving the power delivery. With help from all the engineers in Japan and Europe we feel we've achieved this, so now it's time to test it on track with our riders."