Francesco Guidotti in 2022 will face a completely new challenge. The manager who has run Team Pramac for years has accepted KTM's challenge and 2022 will be a sort of year zero for his career. Guidotti will in fact be the top man in the box of the KTM Factory Team, a manufacturer whose ambition is to enter the Olympus of MotoGP and to carve out a role as a challenger for the riders' title. After an exciting 2020, the RC16 partially disappointed last season and Guidotti's task will be to help the team grow to continue a path started in 2017.
The manager who accompanied riders such as Iannone, Petrucci, Bagnaia and Miller on their journey towards the official Ducati bike, will now be grappling with a slightly different task, an undoubtedly fascinating but also very complex challenge. Francesco brings to KTM all of his enormous experience which over the years has led Pramac to constantly become a thorn in the side for all the official teams in MotoGP. It is not exactly a debut in orange for Guidotti, who already wore the KTM colours in 2006 when he found himself running the 250s with Mika Kallio and Julian Simon. This morning Francesco made his official debut in KTM colours.
"I feel very comfortable with these colours - said Guidotti - I enjoyed meeting again so many people I had worked with in the two-stroke era, the new factory is incredible, there was nothing like it at the time. I can't wait to get back to work on the track, which is my real job. Now we go to Sepang and I can't wait, even if there will be difficulties because Covid is making everything more difficult. But we will do everything to be there at 100% ".
Guidotti: "Leaving Pramac was like leaving a second family"
Was it difficult to leave Pramac for this challenge in KTM?
"It was difficult to leave something that I helped grow, but returning to a factory team is something special. For me to work in this way is fantastic, because I am a great enthusiast and feel involved in many aspects, and in addition it's something special in points of view. I did not leave Pramac because there was something wrong, but from my point of view this is a new professional challenge. From the human side, everything remains the same with the guys I left. Before Pramac I'd always worked in factory teams, like Aprilia and KTM too, so returning to a factory team was something I wanted and missed. It was the best opportunity I could have wished for. "
Will you also take some technical secrets with you after so many years with Ducati?
"I'm not a technician, even if I had a bit of experience as a mechanic in motorcycle racing. I certainly can't bring anything particular from this point of view to Ducati, but rather my sporting experience. In KTM nothing was lacking, but in these five years they have made some incredible steps forward that no one in history had ever done, we could say. I just have to do my job and support this project with my experience and see where we will be able to go ".
Did Ducati offer you a counter-proposal to stay ?
"There was a particular relationship with Ducati, linked to the topic of Pramac. However, as the two entities were clearly close together, there was also direct work with Ducati. There was no counter-proposal because there was no way to make one to me, when I talked to KTM, I immediately found myself in tune with them. They offered me a type of job that I really liked, a position I could not have aspired to at Ducati. So it was a very quick thing, we already knew each other well and we got right to the point. We spoke the same language and I knew I could trust them. Maybe with others, I would have had some more doubts, while with them we immediately engaged because there has always been mutual trust and esteem ".
You have only recently joined KTM, what idea do you have about the differences with Ducati?
"From what I have seen so far, in these few days, KTM and Ducati are two completely different worlds. Ducati has been in MotoGP for almost twenty years, KTM only for five. It is difficult to quantify the difference, but KTM has been very aggressive in recent years. and they have grown a lot. I think that even with the arrival of Fabiano Sterlacchini things can change again, so I think now is the right time to grow further as they were already doing here ".
Guidotti: "In KTM there are many valid and motivated people, I will not revolutionize things "
Will you change any of the men in the box?
"I haven't changed anything yet, I've found a great group. We spent some time together at Mattighofen but I'm not here with the idea of ​​changing everything, this is not the way I will work. There are many very good and motivated people, there are no particular things to change but there is to coordinate everyone's work better. There are so many right people in the right places, you just have to push everyone in the same direction and the results will come. "
You are always a Team Manager, but can you now call yourself the KTM boss on the track?
"I'm not the boss, the kind of person who can do whatever he wants. If I think I can find something that needs changing, I'll take it back to Pit Beirer and we'll evaluate it together. But as I said, for now I think there are a lot of very good people in the right place, you just need a job to organize everything in the best possible way. I have not yet spent a day on the track with them but I think it is more necessary for me to adapt to the working method, rather than asking everyone to adapt to mine. It's a completely different story, but KTM's is the most important one, I'll do my best to push everyone towards the goal. "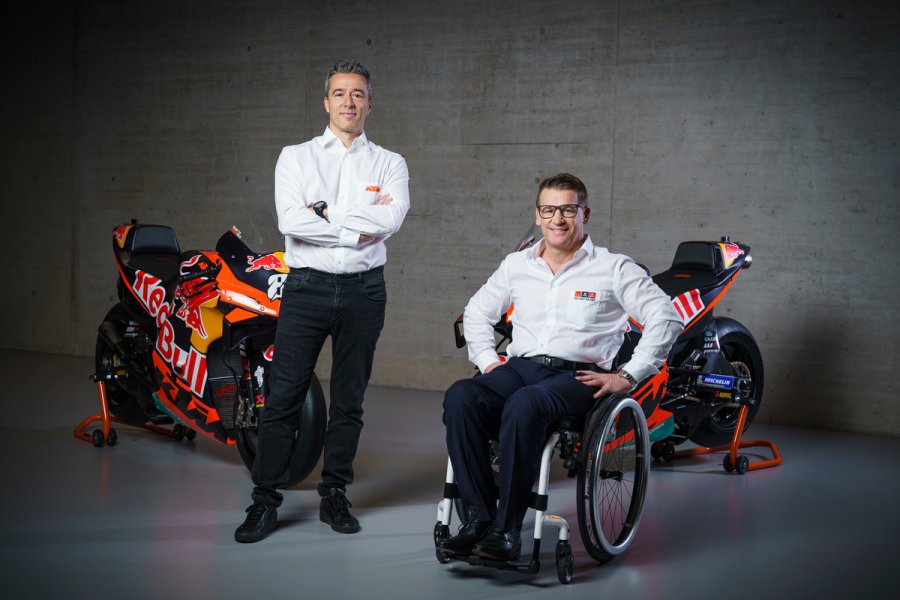 What has KTM asked you for, what will your mission be with them?
"They asked me to keep the group together. There are more than 40 people in the pits, you need a job to organize everything well and that's what KTM asked me to do. We all travel a lot, everyone has their problems and the pressure is there. It always is. The riders have to focus only on the track, on the results to be obtained and it is important to help them in this. In the past the teams were made up of three people including the rider and it was easier. Now there are ten times as many and we need someone who can manage the potential to get the best out of everyone. The priority is to get the best and you need to pay attention to a lot of details. I'm not Superman and I don't want to be, but this challenge gives me a lot of motivation. "
Will you be involved in the choice of riders for the future?
"The future of the riders is one of the topics we will have to talk about. I will be the point of reference for KTM on the track, I will have to take a look at everything. But as I said, I haven't done a day on track yet so it remains to see what I can do ".
Do you feel more pressure now that you are in a factory team?
"The structure that exists in a factory team is completely different, the pressure is greater but the support you have from the company is also greater. There are many more things to do, but also fewer things. Let's say that I will be responsible less for the small details and more of the 'macro' issues. There is a team made up of several people, the work is so different, although there are points of contact due to the similar role".
Guidotti: "I have white hair and have been in racing for many years. I will bring all my experience"
What is your idea of ​​the working group that will be in the box and how do you think you can help them?
"I met the guys of the team and it was a nice surprise because it is a big group but there is a good harmony, they have been together for many years. The automatisms are right, it is a really nice working team. As I have white hair, I can bring my experience gained in many years of racing. They did the first five years in a certain way and they became a big surprise especially two years ago, but when you climb the various levels, the details also count. Removing one second a lap off your time is divided between two phases, the first seven tenths you can take them off quite easily, while the last three often require years of work ".
Do you think there is room for a further leap in quality?
"I have always seen them very focused on their program and when they approached me I was really intrigued a lot. Since I have been here I have seen little, let's say that I imagined some things more organized and others less. Let's say that I see wide margins of improvement. Of course, we will also have to see what the others have done, and they have certainly not been on vacation ".
Before leaving Pramac, did you give any advice on the name of your successor?
"In the agreement that I signed with KTM I specifically asked to be allowed time to sort everything out before leaving Pramac. I'm not ashamed to say that I left a group that was a second family, people we grew up with. I wanted to leave everything in order and I suggested the people who could replace me, this was a necessary premise for my agreement with KTM. Without having this possibility, maybe I would not have signed. "
At this point, let's talk about goals. What is the minimum to consider your first season in KTM satisfactory?
"The minimum goal in my opinion is to be able to finish the world championship with at least one of the two official riders in the top five at the end of the season and this will not be easy given the current level of MotoGP, with races that often see minimum gaps and the first ten in eight seconds. Then the more you have the more you want. "