Jack Miller had to settle for second place on the grid for his debut race in the Australian SBK championship. At The Bend Motorsport Park, the MotoGP rider gave his all to go on the attack for pole position, despite not knowing the track until yesterday, in addition to using standard electronics and Pirelli tyres on his Ducati Panigale V4R.
As mentioned, Jack spared no effort and in the last qualifying session in the morning, before qualifying, he also went for a harmless tumble (photo below, published on the ASBK Twitter profile).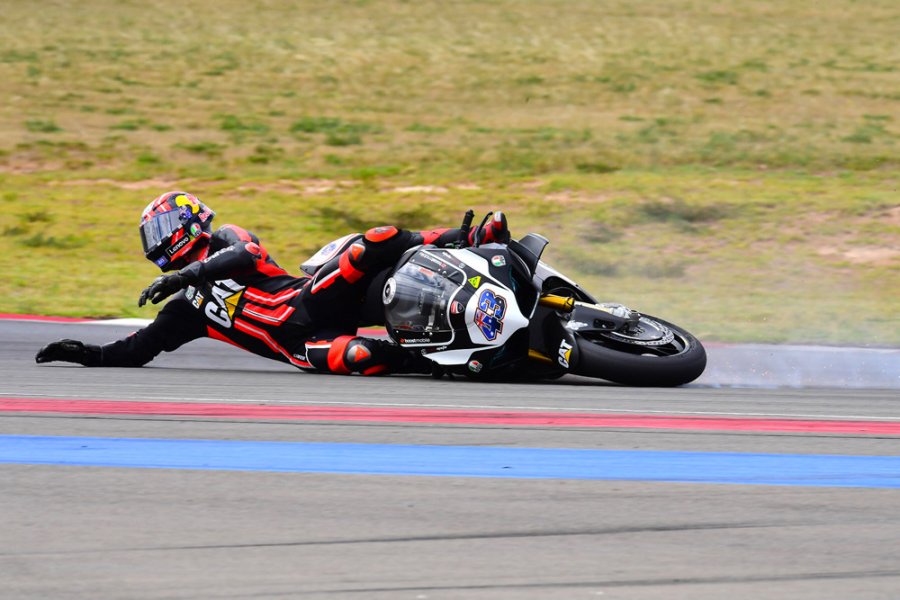 Miller was fighting for pole position against his fellow Ducati rider and reigning champion Wayne Maxwell and, despite his best efforts, had to take second best. Maxwell set the best lap in 1m50.520, 7 tenths faster than Jack, whose best was 1m51.241. Satisfaction remains, however, for making it a Ducati 1-2 on the grid.
Behind them were classified Daniel Falzon and Arthur Sissis on Yamahas, while Oli Bayliss grabbed fifth place. Josh Hook will instead start from the tenth grid slot, behind Halliday, Allerton, Herfoss and Epis.
Two races are scheduled for tomorrow: the first at 11.15 (1.45 Italian time) and the second at 14.20 (4.50 Italian time).
It will be possible to watch them live in streaming directly from the ASBK website or on the Facebook page of the championship.