Max Biaggi is the fastest man in the world on an electric motorcycle. On Monday, November 22nd,  2021, the most coveted of all world records was broken at the Kennedy Space Center in Florida. With a speed of 455.737 km/h (283.182 mph), the Corsaro on the Voxan Wattman set the prestigious world record in the "partially streamlined electric motorcycle under 300 kg" class.
The Wattman uses the same Mercedes electric engine as the ROKiT Venturi Racing Team and the Mercedes-Benz EQ Formula E Team in the Formula E World Championship.
In line with FIM regulations, the speed of the Voxan Wattman was measured from a flying start over a distance of 1 kilometer in opposite directions, in a two hour period. According to the Federation rules, the final speed is the average of the two speeds recorded in the two jumps.
The Wattman's GPS speedometer recorded an instantaneous top speed of 470.257 km/h (292.204 mph).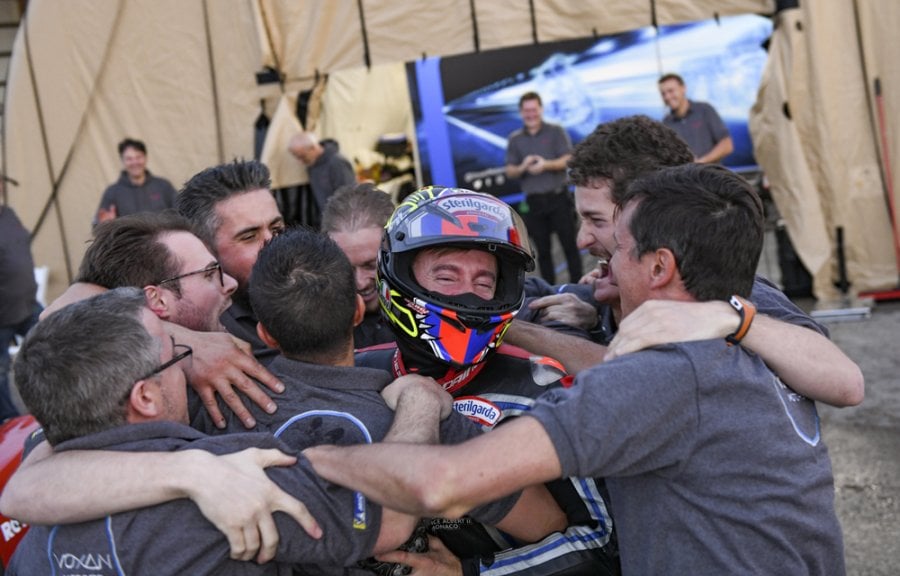 The Voxan Wattman also holds the following records:
Under 300 kg class
– 1 km, flying start, partially streamlined: 456 km/h (283 mph)
– 1 mile, flying start, partially streamlined: 454 km/h (282 mph)
– 1 km, flying start, non-streamlined: 370 km/h (230 mph)
– 1 mile, flying start, non-streamlined: 368 km/h (228 mph)
– ¼ mile, flying start, partially streamlined: 293 km/h (182 mph)
– ¼ mile, flying start, non-streamlined: 285 km/h (177 mph)
– 1 mile, standing start, partially streamlined: 273 km/h (169 mph)
– 1 mile, standing start, non-streamlined: 260 km/h (161 mph)
– 1 km, standing start, partially streamlined: 223 km/h (138 mph)
– 1 km, standing start, non-streamlined: 219 km/h (136 mph)
– ¼ mile, standing start, non-streamlined: 156 km/h (96 mph)
– ¼ mile, standing start, partially streamlined: 149 km/h (92 mph)
Over 300 kg class
– 1 km, flying start, partially streamlined: 408 km/h (253 mph)
– 1 mile, flying start, partially streamlined: 404 km/h (251 mph)
– 1 mile, flying start, non-streamlined: 367 km/h (228 mph)
– 1 km, flying start, non-streamlined: 364 km/h (226 mph)
– 1 mile, standing start, partially streamlined: 255 km/h (158 mph)
– 1 km, standing start, partially streamlined: 216 km/h (134 mph)
– 1 mile, standing start, non-streamlined: 216 km/h (134 mph)
– ¼ mile, standing start, non-streamlined: 153 km/h (95 mph)
– ¼ mile, standing start, partially streamlined: 142 km/h (88 mph)