On Sunday 8 August, the Styrian Grand Prix had just finished and Pedro Acosta had won his fifth race in the year of his Moto3 debut. In that same race Dennis Foggia crossed the line in 22nd position. At that moment his world championship dreams were reduced to a flicker, with the Spaniard 97 points ahead in the standings (practically 4 GPs) and still 8 rounds to go before the end of the championship.
Mission Impossible therefore, but one that the Leopard rider made possible. In the last 6 Grands Prix the Rocket has lived up to his nickname, always climbing on the podium and winning 3 races. At the same time, Acosta has been unable to repeat his surprising results of the beginning of the year, having to settle in the same races for only one podium (third place last Sunday at Misano). So, as Garcia had to miss two races due to an injury, Foggia became his rival.
Pedro, as a rookie, is having a great season, with only one zero, but Foggia has definitely shifted up a gear and if it hadn't been for a disastrous start (45 points in 7 races) things could be very different.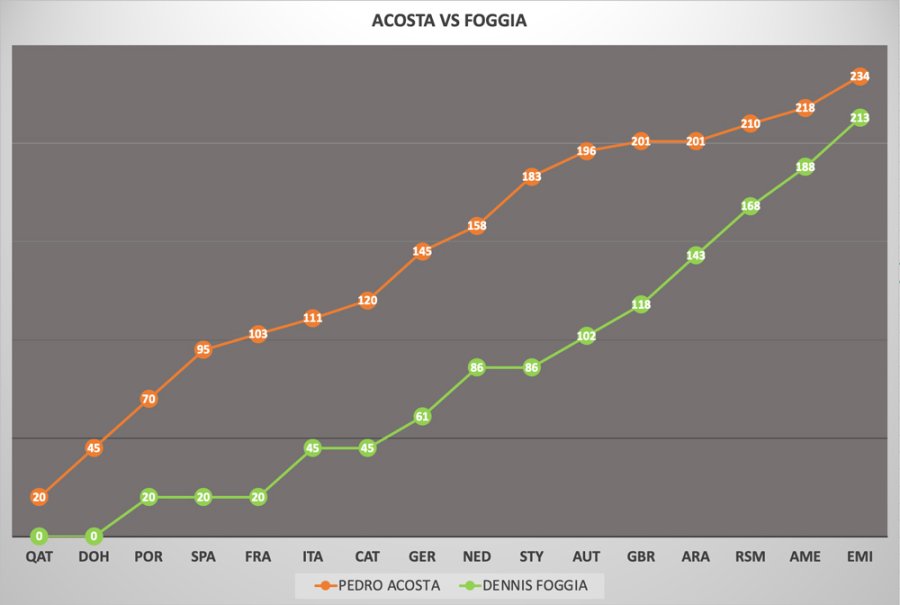 The past cannot be changed, but the future is still to be written and with two races to go (the double-header at Portimao and Valencia) the points gap has been reduced to 21, that is to say he has made up 56 in 6 races. The gap is still a big one, but Moto3 is the realm of uncertainty, with numerous riders who can get in the way to tip the balance in the title challenge.
There is also the pressure factor and from this point of view Dennis has an advantage. Acosta is in his first year in the World Championship, he is just 17 years old and is facing a long season like never before. He showed some signs of nervousness at the end of the race at Misano, when he did not want to answer questions about a technical problem that had slowed him down. Foggia, on the other hand, in the role of hunter sees his prey ever closer and wants to keep up this momentum.
As for the teams, however, they are essentially equal because both Leopard and Ajo are two of the best teams in the category, very successful in the past.
The numbers show that Acosta could end the game already in Portugal, where he won in the first edition of this year's GP, in which Foggia finished 2nd.
So the Spaniard can be champion at Portimao if:
- He wins the race
- He finishes 2nd and Foggia is 4th or worse
- He finishes 3rd and Foggia is 5th or worse
- Finishes 4th and Foggia is 8th or worse
- Finishes 5th and Foggia is 10th or worse
- Finishes 6th and Foggia is 11th or worse
- Finishes 7th and Foggia is 12th or worse
- Finishes 8th and Foggia is 13th or worse
- Finishes 9th and Foggia is 14th or worse
- Finishes 10th and Foggia is 15th or worse
- Finishes 11th and Foggia gets no points
So Foggia will head for Portimao to win and make up as many points as possible, with the aim of fighting it out for everything in the grand finale at Valencia.