Romano Fenati in his career has had many ups and downs. Enfant prodige on his debut in Moto3 in 2012, his road hasn't always been downhill. On the contrary, he often has to climb. He came close to a title in the cadet class in 2017, then came the move to Moto2 and disqualification after his bad move against Manzi. The rider from Ascoli never gave up, after racing for Valentino Rossi he did the same for Max Biaggi and in 2022 a new adventure awaits him with Boscoscuro.
Romano, with two races to go, what is the balance of this season?
"In my opinion it went very, very well. Last year I was not competitive at the start, in this one I've won a race, for the moment, and got on the podium 4 times. In 2020, from mid-championship onwards, I found the right way for a while, but I lacked a bit of speed, unlike this year. We worked, in my opinion less, and it was two years in which I learned a lot ".
You only crashed once in the races, in the first Misano GP, up until that moment did you still believe in the championship?
"Yes. The misfortune began in Aragon, when Rodrigo crashed in front of me and to avoid him I went and made contact with the air fences. I was able to recover from last to 12th, I lost some points, but not much had changed because only Foggia had scored points. At Misano I crashed and from there some problems started, the championship was no longer within my reach. I made a mistake at the worst moment, but these things happen. Like to Bagnaia on Sunday ".
There are some observers who criticized him for that crash.
"There are those who say that he should have pushed less, but if he had done so he would have crashed anyway because the level of concentration drops. Solo races are difficult because you have to manage yourself ".
"Family, friends and girlfriend give me peace of mind even in difficult moments"
Next year you will return to Moto2, where you were already in 2017. It was a critical year for you, after the disqualification for what happened with Manzi you thought of quitting. What gave you the strength to continue?
"This is what happens to all riders: now I can't wait to do the last two races to lie down on the bed and do nothing. But I already know that after 3 days I will want to get back on the bike again. I missed it".
Was it difficult to find serenity? You were even threatened...
"I am always very calm, thanks to family, friends, my girlfriend. They make me feel comfortable. Over the years, obviously, one matures, one changes and now I don't give the same importance to some things that I used to and vice versa ".
"Rossi and Biaggi are always trying to improve, I tried to assimilate their attitude"
You are the only rider who has raced in the teams of Valentino Rossi and Max Biaggi, the two great rivals. What was your experience with them?
"Knowing them closely, I discovered that they are basically two people with opposite characters, but in the end they are the same. They both have competition in their blood and while they are different the result is the same. They have the same spirit, they want to prevail at a competitive level over everything and everyone. Even now, when Max goes to ride the bike and if he finds something that makes him take away a tenth, he does it, Valentino is the same. I'm always looking to improve ".
What have you learned from them?
"There are attitudes that you can perceive and assimilate, like how to prepare for a race. They have won a lot, you have to listen to them and then adapt their advice to your needs. They both have an edge over everyone else".
"Boscoscuro is like me: a handshake was enough to reach an agreement"
Next year you will be with Luca Boscoscuro, with whom there were also contacts in the past. How did you get together again?
"Luca is a person like me, a handshake was enough to reach an agreement, without the need for many words. I like his team, they are the little ones against the big ones and I share this spirit ".
You already raced in Moto2 before returning to Moto3, did you understand which mistakes not to repeat?
"In the end I was fast, considering we had started from scratch, we didn't have the experience of our rivals. We understood our mistakes, but we had lost time. Mirko (Cecchini, ed.) and all the guys were very good, but there are some details you need experience for".
You raced with the Honda engine, now there's the Triumph…
"It will be like starting from scratch, from what they told me the tyres have also changed and now there is the electronics, which allows you to work on the maps, on the engine brake, on the power. There are many more things compared to Moto3, starting with the choice of tyres. It's a bit more like MotoGP ".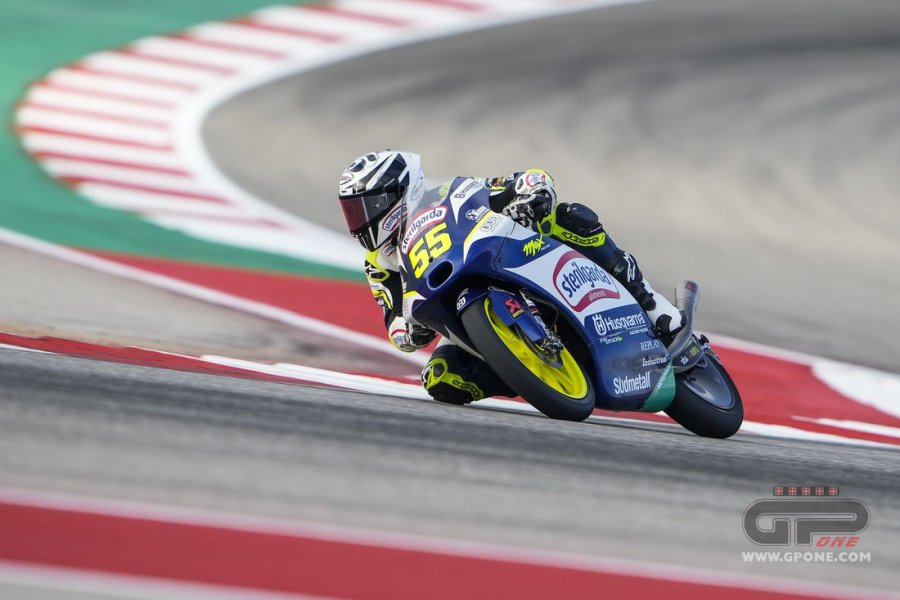 Do you like this evolution?
"Electronics and I are like the sea and the mountains, I always get a shock (laughs). For sure it's something that amuses me, I'm curious, it stimulates me to understand and try new things. It won't be easy, but I like it ".
"I am a fan of Bagnaia and Bastianini and I would like to be in MotoGP with them"
Riders like Quartararo, Mir and Bagnaia are protagonists in MotoGP and your former rivals in Moto3, does it bother you not having reached the premier class yet?
"Absolutely not, on the contrary I'm happy for them, especially for Pecco who is going very fast. There is nothing to complain about, he crashed at Misano and I don't think it was a problem with the tyres or the bike. I heard all sorts of things, even that the GPS wasn't working, maybe it didn't pick up the 5G in that corner (laughs). I am their fan, I was delighted with Bastianini's two podiums. Obviously I would like to be with them, but I don't mind and it's not a problem for me ".
"It's right to raise the minimum age to 18, you are more mature both on and off the track"
Don't you find that everyone is trying to get to MotoGP as soon as possible? Acosta will already be in Moto2 next year, Raul Fernandez in the premier class, both after just one year in their respective categories.
"It's a hot topic, which everyone is talking about. As I have said in the past, there is nothing right and nothing wrong. If we look at Pedro, he is a very good rider but in the last part of the championship he was 'limping' a bit and that's acceptable. There is nothing to complain about, in the national or entry championships there are fewer races, a World Championship season is harder also from a physical point of view because you are not used to it. I can't accept either those who say he is the best rider, at the moment Foggia is, or those who say he has been a bluff. There is this rush to bring down the average age of MotoGP, young riders are physically more ready but without experience you can get hurt with heavier and more powerful bikes. "
So do you agree with raising the minimum age to race in the World Championship to 18?
"It is a correct rule, I would not admit exceptions. At 16 I was still counting with the abacus (laughs), in the sense that at that age we understand little and we have to compare ourselves with adults, there are also wolves in the paddock. We need a parent who acts as a filter, it is better for him to enter at 18, both for safety reasons, because he thinks a little more, and because he is able to relate better to people. We are a bit more mature, they can gain experience in the minor championships to get more prepared for the World Championship. "