Misano is approaching, and the Italian Grand Prix will be the first opportunity for Fabio Quartararo to be crowned World Champion in the MotoGP. With a 52-point advantage over Bagnaia, the French rider will either have to finish ahead of Pecco in the race or not lose more than two points to be able to already put the title away on Sunday evening, since the Ducati rider from Piedmont is the only other rider racing  for the title.
Fabio will certainly not have an easy time on the Romagna track where, a month ago, Bagnaia got the better of him. It was a real head-to-head, with Pecco who broke away and Quartararo who caught up in the last part of the race, having to settle for a second place, with less than four tenths of a second from the finish line. So, it'll be a very balanced challenge, in which other riders could interfere (but not necessarily) who would be able to take points away from one or the other.
As mentioned, Yamaha's French rider has multiple combinations with which he could be crowned champion, and you can find them all summarized in the table below.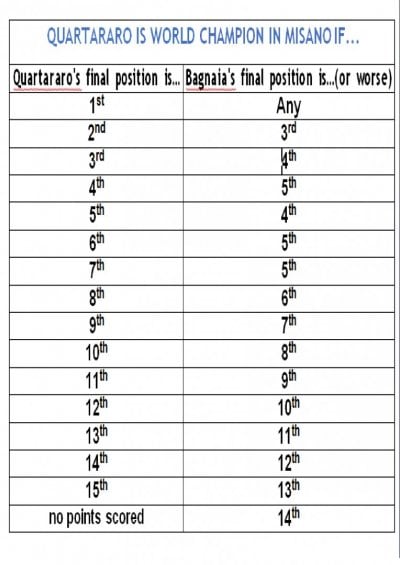 Quartararo's, however, will not be the only match point. Pedro Acosta also has a chance to take the Moto3 title already at Misano, but things are more difficult for the Spanish rider. In fact, Dennis Foggia precedes him by 30 points in the rankings, which are many, but with three more races at the end of the championship, everything is a still  up in the air. Then there's Sergio Garcia, with 50 points behind his compatriot, who's not yet excluded from the games.
For Acosta to be able to wear the crown on Sunday (which would make him the youngest World Champion ever), he has to definitely win, and Foggia can't place better than a twelfth position. This will be the only winning combination for Pedro.
As for the Moto2, however, after Gardner's mistake in Austin and Fernandez's victory, we'll have to wait. Remy is still leading the championship but, with just nine points ahead of Raul, the math leaves everything open.