The Qatar Motor & Motorcycle Federation (QMMF) and Formula 1 (F1) have today agreed an 11-race hosting deal, starting this season. The inaugural Ooredoo Qatar Grand Prix will take place during the weekend of November 19th to 21st at the Losail International Circuit.
The Ooredoo Qatar Grand Prix replaces the cancelled Australian Grand Prix in the calendar and helps F1 achieve its target of a 22-race season. The race is fantastic news for fans, drivers and the teams alike. Qatar has a strong track-record as a host of world class international sporting events – with state-of-the-art sporting facilities, modern infrastructure and expertise in major event management. Doha's globally central location will be of huge benefit to F1 logistically, while also allowing more fans to travel to the race. During the COVID-19 pandemic, Doha has established itself as one of the most trusted and COVID-safe sports hubs for major events.
The QMMF and F1 have worked around the clock to ensure the race this November takes place, despite the unprecedented COVID-related challenges and the turn-around time for a deal of this complexity. For this year's race, F1 will make use of Qatar's existing motor racing facilities, which have hosted many motorsport events including MotoGP since 2004.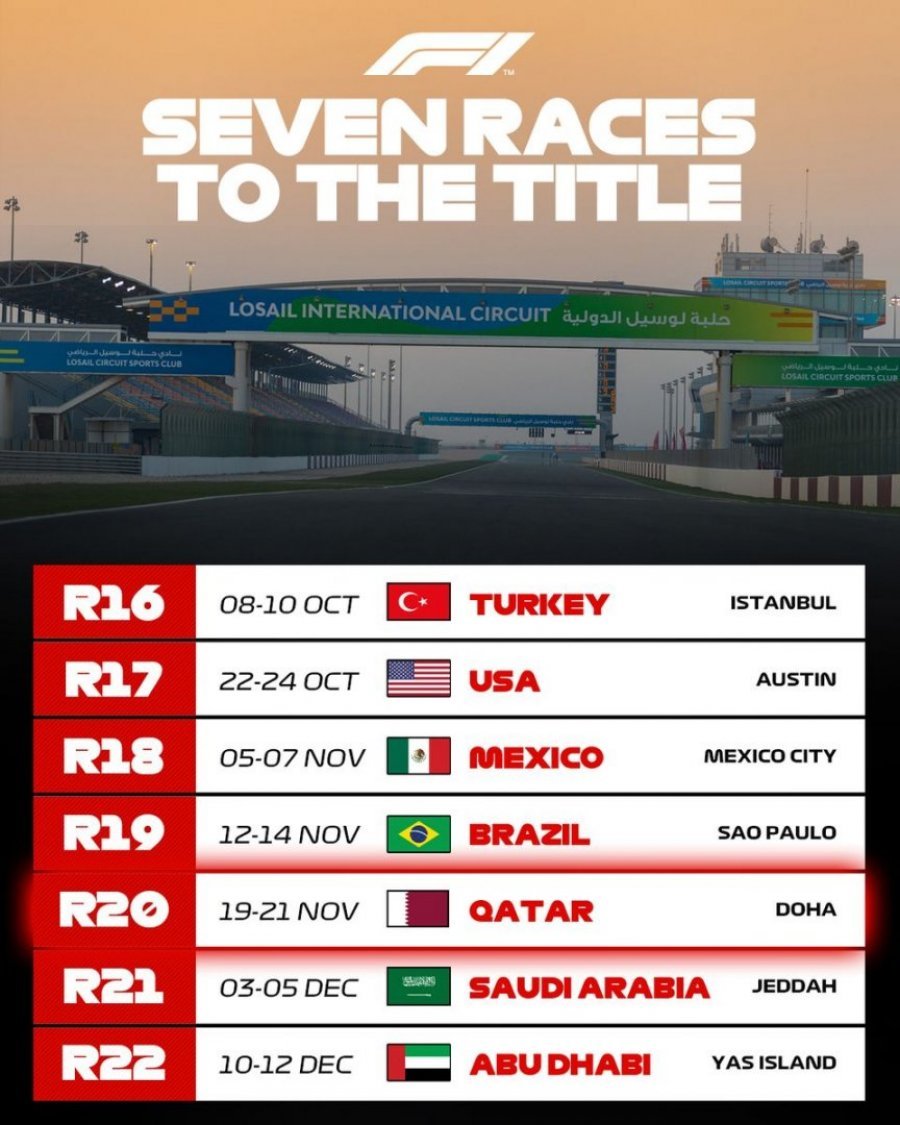 The 11-race deal will take place over 12 seasons, with Ooredoo – the international communications company – also announced as the title sponsor. There will be no race in 2022 as it coincides with Qatar's hosting of the 2022 FIFA World Cup. The race will return to Qatar in 2023 and take place for the next 10-years until 2032.
The agreement means motorsport fans from around the world will be able to travel to Qatar and enjoy its world class sport, hospitality and tourism. Qatar has a proud sporting legacy having hosted MotoGP and events such as the Asian Games, FIFA Club World Cup, World Men's Handball Championship, the AFC Asian Cup and various Athletics events including the World Championships and the Diamond League.
"This is a very special day for Qatar Motorsport and our nation's ambitions as a host of major sporting events - said Abdulrahman Al-Mannai, President of Qatar Motor & Motorcycle Federation - I'm very proud that we've been able to support Formula 1 by stepping in and hosting a race in our country in such a short time frame, while also securing a ground-breaking long-term deal with F1. We are very grateful to Ooredoo for supporting us with this historic event. This exciting agreement means that Qatar will be the home of both Formula 1 and MotoGP for the next decade, which are the pinnacle events in global motorsport. We have a proud motorsport history and this is the next chapter for us. Qatar will be a great destination for F1 and we look forward to welcoming all the drivers, teams, media and fans very soon".
"We are very pleased to welcome Qatar to the Formula 1 calendar this season and for the longer term from 2023 - replied Stefano Domenicali, President & CEO of Formula 1 - The Qatar Motor & Motorcycle Federation and Authorities have been incredible and have moved at great speed to ensure the race can take place this season at the Losail Circuit, famous to many as the host of MotoGP. We have shown that we can continue to adapt and there is huge interest in our sport and the hope from many locations to have a Grand Prix. The huge effort from all the teams, F1 and the FIA has made it possible to deliver a 22-race calendar something that is very impressive during a challenging year and something we can all be proud of".
"I congratulate Formula 1, the Qatar Motor & Motorcycle Federation and the Qatari authorities, who have worked tirelessly, to quickly and efficiently make the inaugural Grand Prix in Qatar happen in these challenging times - added Jean Todt, President of the Fédération Internationale de l'Automobile (FIA) - The Losail International Circuit, which will welcome the race, has been working closely with us to ensure they are fully prepared for this momentous occasion. We are very proud of this collective achievement. I thank the QMMF President Abdulrahman Al-Mannai and His Excellency Salah bin Ghanem Al Ali, Minister of Culture and Sports for their involvement. This commitment to F1 for the long-term, as well as the organisation of the 2022 FIFA World Cup and many other international events, is another example of Qatar's strong passion for sport"
"We are delighted that Qatar will be the host of such an important event on the global sporting calendar - said Aziz Aluthman Fakhroo, Managing Director of Ooredoo Group - As Title sponsor, Ooredoo is honoured to have been given the opportunity to support the QMMF in bringing Qatar's first ever F1 race. We have a long history of supporting major sporting events, in line with our corporate social responsibility strategy, and we are tremendously proud this history will now include the F1 Ooredoo Qatar Grand Prix. We extend our thanks to our partners F1 and the QMMF for their trust in Ooredoo and look forward to an incredible race weekend. I wish all the talented competitors the best of luck."
Details on tickets and hospitality will be announced by F1 and the QMMF in due course, please stay tuned to official channels for more information.