All the unknown factors about Maverick Vinales' first contact with the Aprilia RS-GP were swept away by two days of testing at Misano, which ended today. The Spaniard found that he was so comfortable on the Italian bike that he agreed to take part in the Grand Prix at Aragon wearing the colours of the Noale manufacturer for the first time. He will do it on one of the most favourable tracks for Aprilia and also the favourite track of his teammate Aleix Espargarò. It's a challenge within a challenge for Maverick, who is called upon to be fast from the start, as he proved he was in the test just ended.
We were certain that the Aprilia would put a smile on Vinales' face and this was confirmed by Top Gun during the briefing with journalists organized for Maverick to talk about this experience. His words show a great optimism and the confidence to have chosen well for the future as well. It was feared that it might be a long learning curve for Vinales with the first V4 engine of his MotoGP career, but the facts dispelled these fears.
"When I arrived, I felt a giant pressure and I was also nervous - said Vinales - because I had spent so much time on a different type of bike. I have always raced with a 4 in line, I didn't know how it would go. Instead I was surprised by how easily I adapted to the engine, it was easy. Basically the bike is very manageable, which is very important for long races. Today I lapped in 1'32.4, which is not bad. In tests it is difficult to be very fast, but here I had the benchmark of a Ducati and we were close ".
What prompted you to decide to race at Aragon already, instead of doing other tests first?
"I thought it was the best way to better prepare for 2022. Maybe I'm not ready yet, I still don't feel like one with the bike. I was used to riding a completely different bike, but I think I will understand the bike even better at Aragon. Being with Aleix will also help me because he is fast and I will be able to quickly learn how this bike works. I feel strong, very strong. And this is the really positive thing. I decided to race after my third run, I realized that I wanted immediately to race".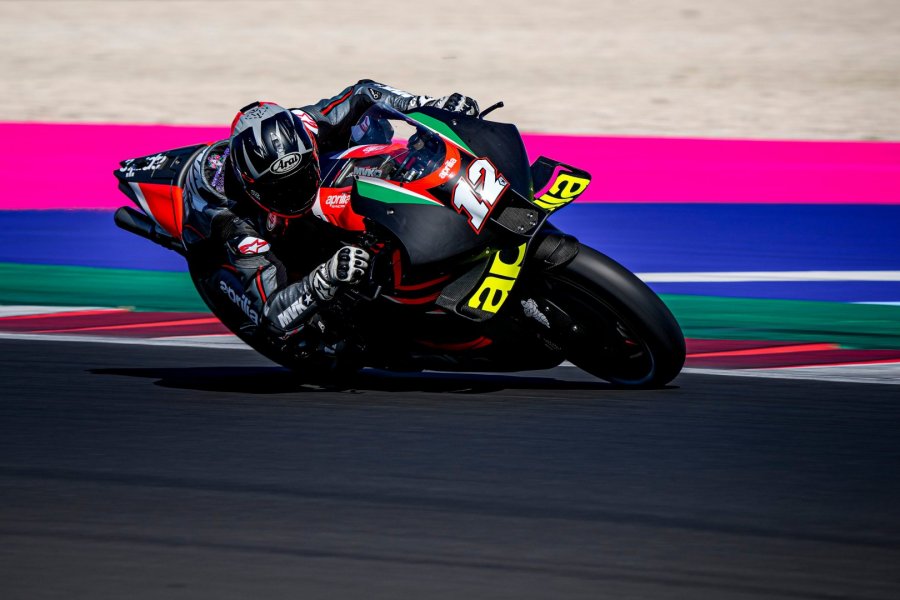 Is there anything you feel you still have a lot of margin on?
"I have to change my braking style because we need to do it differently. I will have to learn a lot because the way the Aprilia brakes is very different. Aleix is ​​very strong in braking, so I have to learn from him how he does it. I think everything will come with the confidence that comes with riding".
When you were suspended by Yamaha, did you ever imagine you would be back on the bike so quickly?
"I expected to have to wait until November to ride a bike again. But this opportunity is fantastic, and Aprilia gave it to me. It was correct on my part and on Yamaha's, we all have an advantage because we can learn first to our future. Here all the guys have worked hard and the team looks really strong. Then they come from a podium, it's the best time to join this team. Aleix and Lorenzo did a good job and the bike is at a very high level. The bike works well, I was quite surprised to be able to adapt so quickly. "
What lesson do you think you have learned from what happened?
"Now I think I can enjoy life more; I think I have a different approach. After almost five years of ups and downs, in the end you wonder what is happening. But as soon as I got on the Aprilia, I realized my potential again and what I can do. It was great to be able to do it immediately, I will be able to do six races which will be much better than doing five days of testing. I will try to prepare as best we can for 2022, together with Aleix.
What thoughts kept you company before today?
"I spent time with my family. After everything that happened, I just thought that I wanted to keep racing, that I would not give up. Until I reach my goals, I will go on stronger and more determined. I will push to the maximum from my first lap at Aragon. I know my situation in Aprilia now, I need to push hard, I have to keep doing it. "
Did you already know some of the guys on the team?
"Yes, I know almost all of them because I raced with Aprilia in 125, and I knew almost all of them. Even before, when I was racing in the Spanish championship, I already knew them."
What's the goal for Aragon?
"I don't set limits; I don't really know what to expect. When you're in a race weekend, everything changes compared to testing. The truth is that the real expectation is to learn as much as I can. I have to integrate with the team's working system, I think this is the real goal, and if a good result comes along, it will be welcome. "