In his debut season in MotoGP, Luca Marini has clearly had the most positive early part of the weekend so far. He was already at ease in FP1 on Friday, while in FP3 today he grabbed a valuable 12th position, a few thousandths away from the tenth place for direct access to Q2. Unfortunately for him, something went wrong during the afternoon's qualifying sessions.
 "This morning I started with the right attitude, the general feeling was excellent, the gap from the top-10 amounted to less than a tenth. In the afternoon, however, I had different sensations, in fact I was not very fast in FP4 - he admitted - in qualifying things improved slightly, unfortunately a rider slowing down damaged my second attempt, remaining fully on the line. Because of him, I couldn't do another lap, and took the chequered flag by a few seconds".
Data in hand, the SKY VR46 Avintia rider did his personal best lap of the session in 1'23.834 (17th position), about three tenths worse than what he did in the morning.
 "In FP3, the low temperatures allowed all of us to set good times. While in QP, basically, the new tire allows you to shave off the previous time by almost half a second. So I think a 1'23.5 was possible. Maybe I wouldn't have got into Q2, but I could have achieved a placement around the fourth-fifth position of Q1".
According to Marini, one of his rival riders got between him and Miguel Oliveira, who played the role of the hare for the 24-year-old.
"With the team we are making progress on the qualifying strategy, it is no coincidence that today I found myself in Oliveira's slipstream and he then managed to get through the session. It was the right train, but a rider got in the middle, I don't feel like giving names - he specified - they are the classic unmanageable scenarios due to the importance of having a benchmark in front, I hope that measures will be taken ".
Bastianini: "I risked ending up on the ground at over 300 km/h"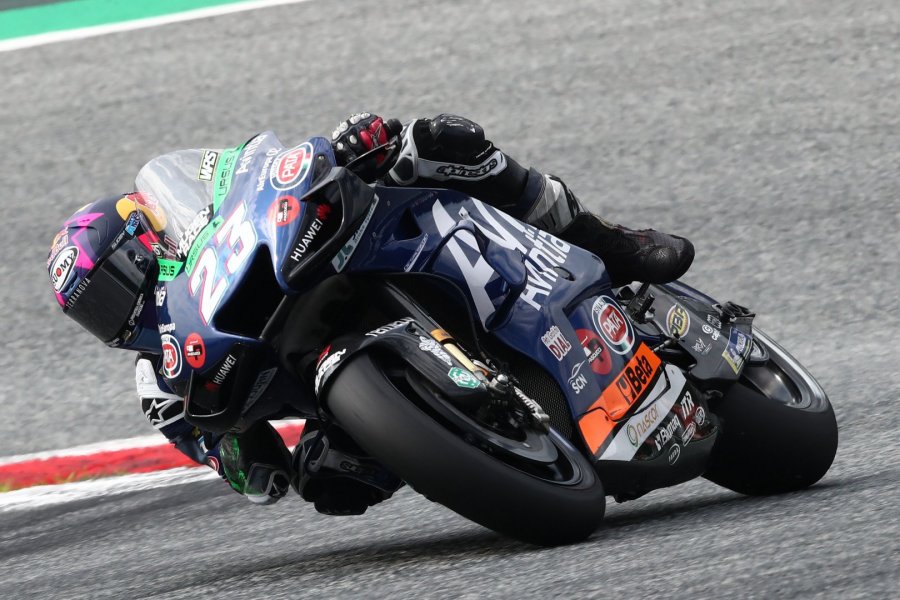 Until a few minutes from the end of Q1, Enea Bastianini was enjoying getting through the session, after he had set overall second quickest time. It seemed as if it was done and dusted but a sudden strange behaviour by his Desmosedici shattered his dreams of glory.
"The bike was hopping visibly and we need to understand why. For this reason, in the second run I was not able to do even one good lap. I'm disappointed because we had the potential to stay up front. I had set a good time of 1'23.7 with the hard at the front and, thanks to the medium, I thought Q2 was within reach".
The reigning Moto2 World Champion did not deny having had some scary moments, especially in one of the fastest points of the Austrian track.
"I got shaken about a lot at the entry to turn 2, I risked crashing at over 300 km/h - he went on - I don't know if it depends on the tires, when I returned to the pits they seemed well balanced. I hope not, I will soon have more information about it ".
The Avintia Esponsarama rider had to settle for 15th position. Tomorrow he will be forced to do a similar sort of comeback race as he did in the Styrian Grand Prix.
"I start five positions further ahead than last week, but it's not easy every time to come back from the rear. I will have to make a good start, in FP4 I showed that I have the pace to be able to fight for it ", he concluded.