Valentino Rossi has had many opponents during his long career, but his battles with Casey Stoner and Jorge Lorenzo have made history, especially two: when overtaking the Australian at the Corkscrew in Laguna Seca in 2008 and Lorenzo in Barcelona in 2009. We can't say that their relationships have always been idyllic. On the contrary. They've often had confrontations, even on the microphones, but after the Doctor announced his retirement, both wanted to pay homage to him.
Stoner addressed him directly by writing: "You've been without a doubt one of my greatest rivals. My achievements have been all the more validated having raced against you. We've had tough battles over the years, and I've learned a lot from you. I hope you enjoy the next chapter of your life. There's still a lot to enjoy."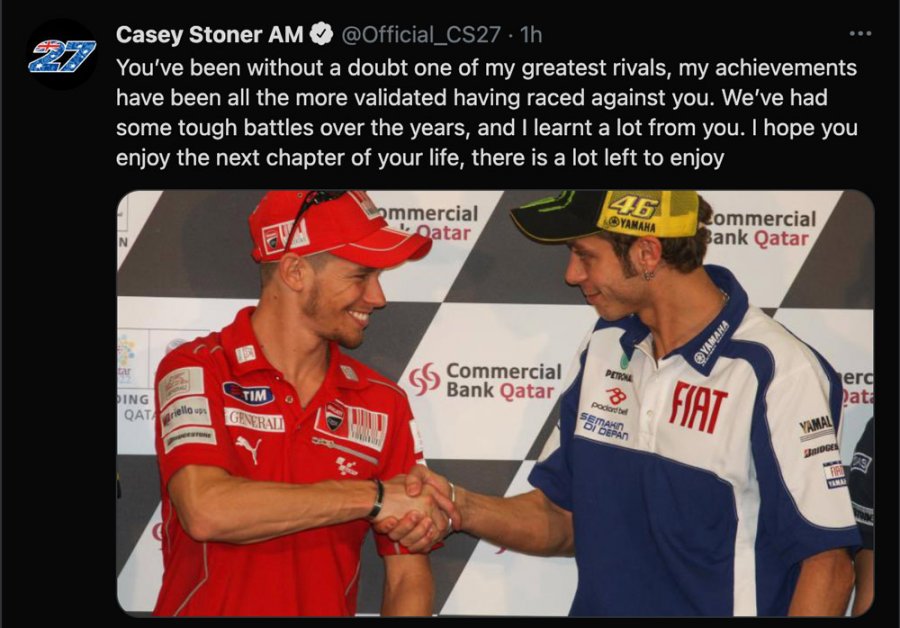 Lorenzo also acknowledged Rossi's greatness, recalling the times of the magnificent 4: the two of them along with Casey and Petronas.
The rider from Mallorca wrote: "End of an era. On the track, the 4 of us were just as fast, but in terms of charisma and transcendence, Valentino is at the level of Jordan, Woods, Ali or Senna. Enjoy this new chapter, legend !".