The inaugural British Superbike weekend on the glorious Brands Hatch track (site of the third of eleven rounds scheduled for 2021), which should have represented a return to normality with spectators finally present en masse on the green fields across the Channel, instead turned into a genuine sports drama. Despite the triumph of the Tarran Mackenzie-McAMS Yamaha duo in Race 1, everyone's attention in the paddock and among the fans was directed at Brad Jones, who crashed during the second lap in the middle of the fast Clarke Curve that enters onto the straight (so to speak..) of the pits. Unconscious with a head trauma, he was later taken to King's College Hospital in London.
Fear for Jones
Vice-champion in 2019 and 2020 in the British SS600 for iForce Lloyd & Jones PR Racing BMW, this was Jones' debut season in the top class in the land of Albion. Qualified in 22nd place, Brad Jones (in the cover photo) fell at the last corner, located in Kent county. Although the dynamics of the accident are not yet known in detail, after the marshalls present administered first aid,  and after being taken to the medical center, they decided to transfer him by helicopter to the London hospital, since he was unconscious. At the moment, we have no further information, except knowing that he suffered a head injury.
Mackenzie lays down the law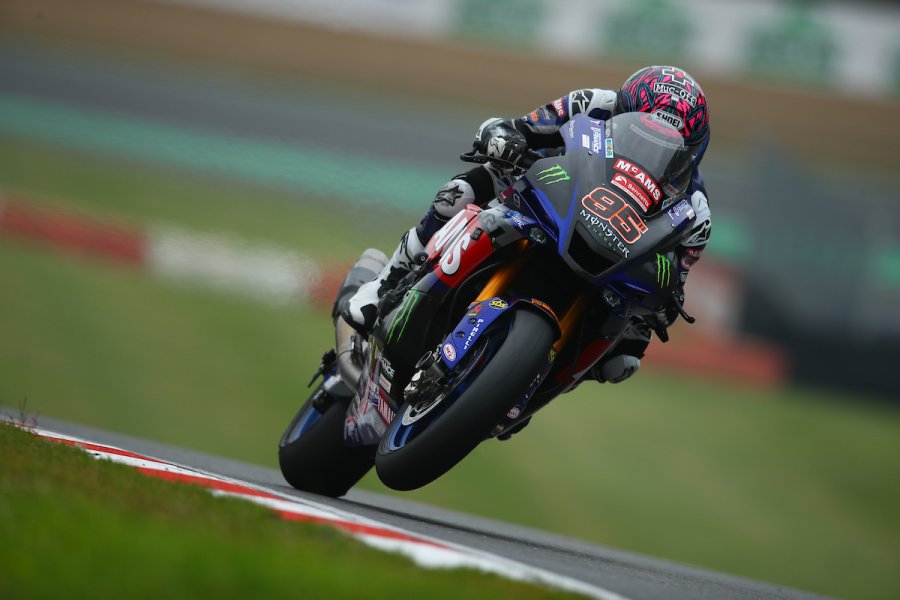 After almost an hour, the first of the three rounds of the BSB started over a distance of 12 laps, instead of 15. A tried and true "sprint race". Right from the start, poleman Tarran Mackenzie took the lead, conducting the operations flawlessly and getting the better of Tommy Bridewell (MotoRapido Ducati) for just three tenths, affirming his 2021 first place claim (the fourth in his career). Christian Iddon (VisionTrack PBM Ducati) settled for a 3rd place, further consolidating his personal leadership at the expense of Danny Buchan (SYNETIQ BMW by TAS Racing), 4th but with the fastest lap, and Jason O'Halloran (McAMS Yamaha) 5th in a comeback from an 18th position. Lee Jackson (FS-3 Racing Kawasaki) was 6th, and Bradley Ray (OMG Racing BMW) came in 7th, preceding Rory Skinner on the other Ninja ZX-10RR. The reigning champ, Josh Brookes (VisionTrack PBM Ducati), was 9th ahead of Dany Kent (Buildbase Suzuki).
While hoping for some good news regarding Brad Jones, the stars of the British Superbike will be back in action tomorrow for the remaining two races of the weekend: 3:10 pm for the start of Race 2 and 5:45 pm for Race 3.
RACE 1 RESULTS: