Anyone who rides a motorcycle knows that crashing is always a bad experience, even when everything is fine and we come away with some damage to the bike and a few grazes here and there. However, if we look at any day of practice in the world championship it seems that crashes are part of the game. It's basically a bit like in the pole vault ... without a soft mattress waiting for us though.
The MotoGP riders, but also the Moto2 and Moto3 riders, make mistakes, roll, tumble, slide and in almost all cases get up to run quickly to the pits and keep lapping. Not even time to consider what happened ... and perhaps this is their strength.
But how did this first part of the season go from the point of view of the crashes?
Leading the standings is Pol Espargarò, who has accumulated 13 since he left KTM for Honda. And to confirm how difficult it is to make friends with the RC213-V which, let's remember, made Jorge Lorenzo quit, in the TOP FIVE of the stunt riders, behind Aleix Espargaro and Iker Leucona with 10, there is immediately Alex Marquez again with 10 and his brother, the eight times world champion Marc with 9 crashes. Some of which were actually pretty awesome…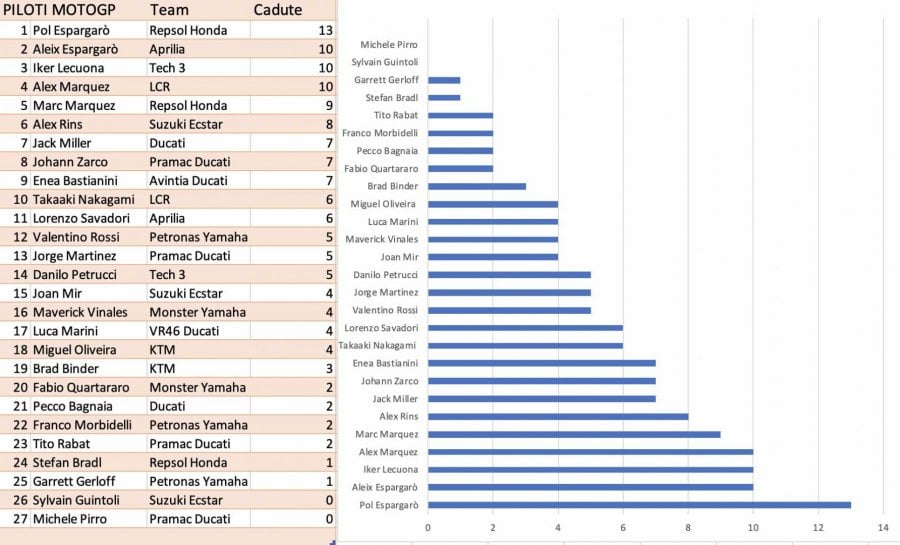 This means that Honda leads the standings with 39 crashes of various kinds, ahead of Ducati, which however has two more riders, with 34.
Well up the ranking (so to speak ...) are also the KTM riders with 22 crashes. But let's keep talking about the riders. No particular attention is needed to realize that in sixth position among the stunt riders is Alex Rins with 8, unfortunately many in the race and Jack Miller just less and like him another Ducati rider, Johann Zarco.
But why do they all crash so much?
According to Pol Espargarò it is a mere formality: "I crash, roll and get up. As long as I don't do anything it's okay. The problem is the crashes in the race ".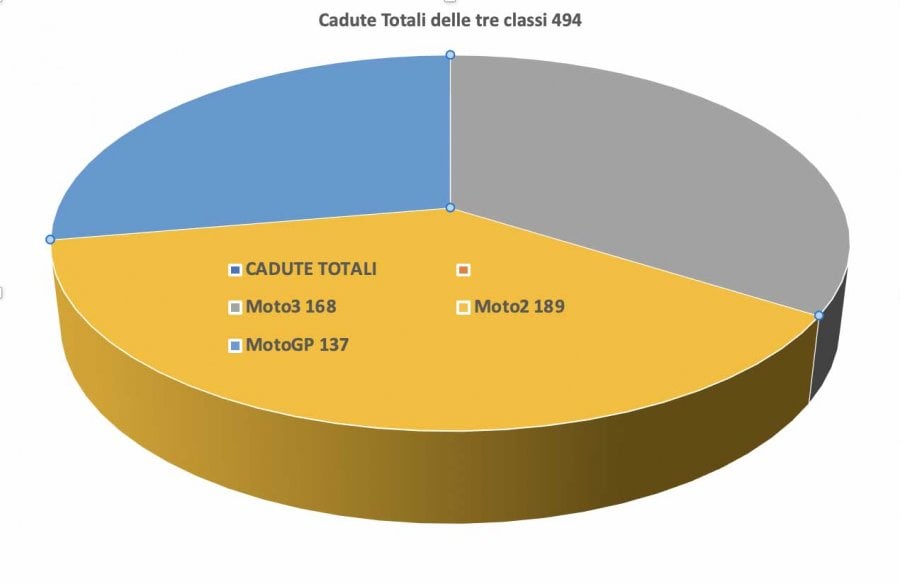 True. But every crash takes away a bit of confidence, especially if it is triggered by a highside.
"This type of accident takes away a lot of confidence - recognizes Marc Marquez - because if you slide because you leaned too much or braked too late, that's fine, but if it's the electronics that betray you, that's another matter".
Fortunately, there are periods like this, the summer breaks, which are used to recharge the batteries and heal the wounds. In less than a month we will see them all back in the saddle again: those fearless rubber men.