It's time for holidays for the MotoGP riders, but also for drawing up a balance sheet. In sport there is only one judge and it is the results, so some riders are able to enjoy getting good grades at this point of the season, while for others July will be a month to reflect on the mistakes made. Nine Grands Prix have passed and not for everyone have they been full of satisfaction.
It's not the case for Fabio Quartararo, who went away from Assen at the top of the standings, with a good margin over Zarco (34 points) and Bagnaia (47). Last year the Frenchman was also in the lead after 9 races, but this time there is much more substance behind the result. Compared to 2020 he has 41 points more, a victory and a lot of consistency, above all. The 6 podiums say a lot about the change in the Yamaha rider, who last season either won or sank without trace, while now he is always up there among the best and, without the problem with his arm at Jerez and with his leathers at Le Mans, his numbers could be even better.
While the Frenchman is the de facto 'summer champion', Ducati can also rub its hands with glee. For the post-Dovizioso period it decided to focus on young riders and for the moment it has been proved right. Above all, the steps forward made by Zarco and Bagnaia are surprising. Pramac's Frenchman is deservedly second in the standings with 4 podiums and 75 points more than last year, a result that makes him the rider making the biggest improvement. After having risked being completely lost in KTM, Johann found himself in the red colours of Pramac and has already won his personal battle.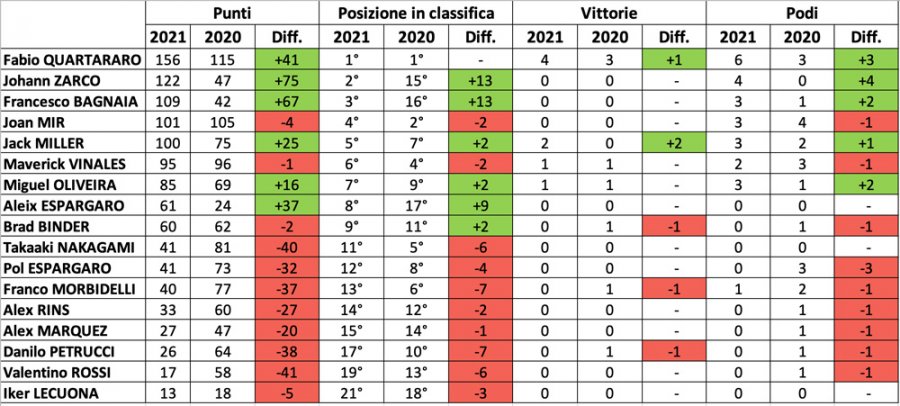 Even betting on Bagnaia was not wrong, if you see the leap he has made compared to 2020 (even if last year he missed 3 races due to an injury). In any case, Pecco has been more consistent, and he has shone even on tracks not too congenial to him or his bike. With some drawbacks, however, such as the crash at Mugello. So the rider from Piedmont is still chasing that MotoGP victory that seems to be within his reach, if something didn't always happen. An objective that has already been achieved twice this year by his teammate Miller, who is also much better than a year ago, but still too inconsistent, even without the compartment syndrome problems that affected him in the first two GPs in Qatar.
Those promoted before the summer also include Oliveira and Aleix Espargarò. Miguel had already shown in 2020 that he was a rider to keep an eye on and this year, after the initial difficulties due to the KTM, he has restarted from where he had left off. The points lost place him far in the standings from Quartararo, but it is also clear that he will also be a protagonist in the second half of the season. Things are going well also for Aprilia, which relies on only one rider but which is reaping what it has sown. Aleix has sorted out his head, he has 37 points more than a year ago and may think that the podium is no longer a pipedream.
Still with a neutral grade on the scorecard (waiting to return to school not in September but August) is the reigning champion Joan Mir. His results have been in line with those of 2020, but now the level is different, with less uncertainty and surprises, and consistency is no longer enough. Vinales, on the other hand, deserves a separate chapter. A divorce at the end of the year with Yamaha has already been announced and Maverick, as in recent seasons, has alternated perfect races with other disastrous ones. In his case, we will have to wait until 2022 to see if the change of air will solve all his problems.
Now for the red marks, and the disappointments of this first part of the championship. Honda (apart from Marc Marquez's victory) takes pride of place. While Nakagami impressed positively last year, in this 2021 season he has been little more than an walk-on extra. Alex Marquez has also disappeared after improving at the end of last season. As for Pol Espargarò, the change from KTM to Honda has brought only pain and three fewer podiums.
Changing has not been easy for Petrucci either, a winner on a Ducati and well below his standards on the KTM. His best result this year has been a 5th place at Le Mans, a track where he had triumphed in 2020 and that says it all. Also picking up a 'fail' mark is Alex Rins, who has the talent and the bike to shine, but makes too many mistakes.
Franco Morbidelli, on the other hand, hasn't changed anything and this has been his biggest problem. Staying on the 2019 M1 is a huge limitation and the Petronas rider can only console himself with one podium, a paltry haul for the reigning world championship runner-up. A final nail in the coffin, for want of a better expression, was hammered in with his knee injury, which will probably keep him away from the paddock also in Austria.
Our roundup ends with Valentino Rossi, who gets to wear the black jersey of this special classification. Compared to 2020, the Doctor has the worst difference of all with 41 points less in the standings. The 17 points picked up in 9 GPs are the mirror of one of the worst (if not the worst) moments of his entire career. On some occasions, Valentino has still shown some of the polish of the old days, but in the end everything has always been resolved with virtually nothing. Just at the time when he has to decide about his future.