Motocross has always been one of his greatest passions, so much so that in recent months we have seen him in action on dirt tracks several times with his Yamaha. We are obviously talking about Andrea Dovizioso, guest of honour at Maggiora on the occasion of the Italian MXGP round, which saw Herlings triumph from Coldenhoff and Cairoli.
The rider from Forlì should have taken to the track with his Yamaha for a parade lap together with Paulin and Puzar, but in the end he opted to decline the proposal out of respect for these legends of the specialty. In fact, he preferred to watch champions such as Cairoli, Herlings and Gajser in action admiring their jumps, slides and braking.
Andrea's day was spent then as a true enthusiast, but we did manage to exchange a few words with him in the Maggiora Park paddock, and he even allowed us to grab a photo. Obviously, no interview, also because it didn't seem right to stress him at a particular moment like this. His name is certainly at the centre of the MotoGP rider market and everyone is curious to know what the man from Forlì will do in 2022, even more so after Vinales' farewell to Yamaha: "It's still early to talk, it's early". Better then to shift attention to motocross: "I am a motocross fan and for me it is an honour to be here in Maggiora. There are in fact some great champions in action and it is a real pleasure to be able to admire them live. There is Tony, Herlings, Gajser, Febvre. Lap like them? Impossible! – he smiled - Here it's another level ".
To conclude, we pressed him on the victory of his friend Rinaldi in Misano: "Michael was very good in Misano, unfortunately I didn't see the Donington race". We didn't want to ask him anything else, just letting him enjoy the rest of the day.
Dovizioso aside, there were several faces from the MotoGP paddock in Maggiora, such as Pit Beirer and Lin Jarvis. The Yamaha Managing Director is also a great motocross enthusiast, as he himself told us: "I love motocross and I wanted to take the opportunity to come here to see the World Championship race, also because MotoGP has a long break and this opportunity came around. It was a great Sunday, also Race 2 was in the rain and with all that mud it was incredible, all the riders were really good ".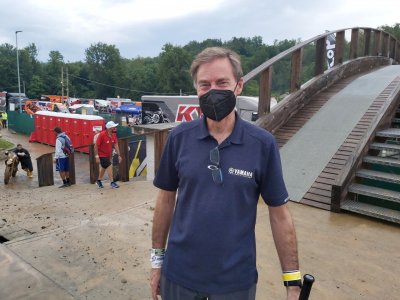 We obviously asked Lin if he had the opportunity to meet Dovizioso, also because Yamaha is looking for a rider for 2022: "I hadn't seen Andrea for a while - he told us - we said hello, I was very pleased. We used to meet in the paddock, while here we are on the mud (he smiled)". Who knows whether or not the two also exchanged a few words about a possible adventure for Dovi in ​​MotoGP with the Japanese manufacturer, laying the foundations for a future together in Maggiora.
For sure, having Andrea back in MotoGP would be a coup, as Jorge Viegas assured us, the FIM President also present in the paddock for the prize giving ceremony for the winners of the Italian GP: "I think it was a wonderful weekend for all the fans - said the number one of the International Federation - also the races were fantastic". We pointed out to Viegas Dovizioso's presence in the paddock: "I have to convince Andrea to return to MotoGP? We'll see, he is a great rider, it would be nice ".