Say Mugello and, inevitably, you expect Valentino Rossi's mega-interview with Guido Meda on Sky Sport MotoGP. Can it be missing? No, it cannot... You might be able to race on the Tuscan circuit without spectators, but it won't start if Vale doesn't sit on the sofa for a free-wheeling chat that, inevitably, passes from topic to topic with stuff that has already been said, maybe a thousand times before, and some stuff that has never been heard before.
"It's always a battle between me and Uccio over when to get to the circuit. He wants to leave on Wednesday, I want to leave on Thursday because I train at home. At Mugello, however, always arrived on Wednesday evening ... it's as exciting as the first time. And then Thursday you wake up and you are already here ".
In this case, without traffic, since there are no fans...
"The home factor at Mugello has always been exciting: one of those things you will remember even when you are old. I remember that in 2018 I took pole, and enjoyed the lap before returning slowly. Mugello is a difficult event because from Thursday onwards there are always people outside the Motor home and getting to Sunday is long, but the feeling is priceless. Mugello without people is the event that loses the most. Here the fans you can hear and see them, even when you are on the bike: after the Arrabbiata 2, at the top of the hill, you see them ... ".
The Tuscany circuit is one of those on which Rossi has achieved the greatest number of successes: nine. And not just because Vale claims that this is one of the tracks he loves the most. Why?
"Because it's an old school track, it wasn't made on the computer, it follows the Tuscan hills. You feel like you are riding a motorbike on a mountain pass, with changes in slope and blind curves. And they are blind because you come down ... and then you go fast and that gives you a lot of pleasure. The part that starts from Casanova-Savelli to Arrabbiata 1 and 2 is the most beautiful part of the circuits of the world championship: everything is done in third gear, there is the compression of Arrabbiata 1, the bike crushes down, and then also the 2 is blind " .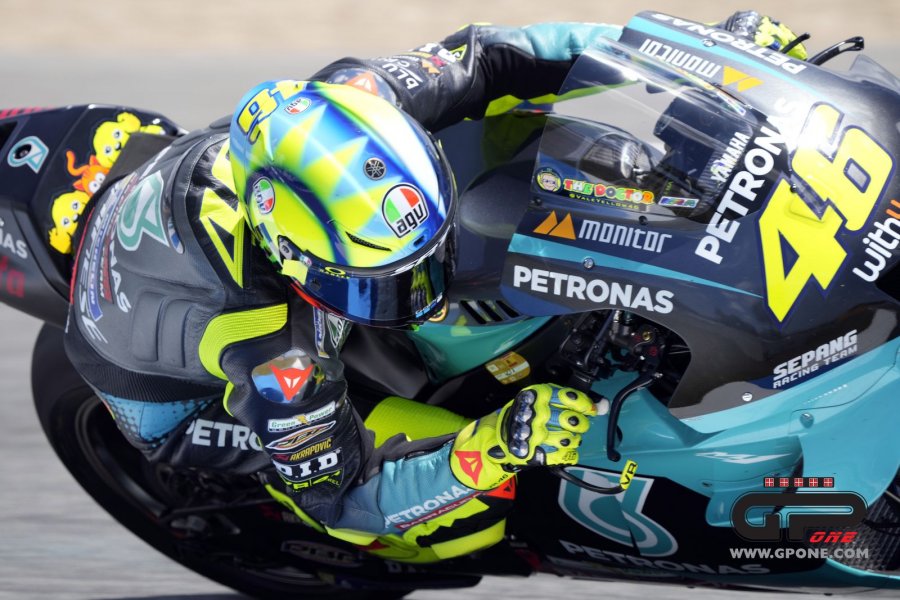 Thrilling ... but why? Is adrenaline bound to danger? Valentino replies…
"I honestly don't know if the pleasure of going fast is linked to danger. Of course it gives you pleasure because you go fast, the tight and slow corners are a problem. Here at Mugello you enjoy everything, because you do left, right, left right, in the other circuits it's not like that, here it's a bit like going into the sea, a rhythm that hypnotizes you ".
In short, the pleasure of riding. A pleasure that it is not clear if Valentino has it in this first part of the championship, because the results struggle to arrive. Rossi admits it.
"The first few races were quite difficult, but after the Jerez tests I improved, then at Le Mans I improved even more in both dry and wet conditions. Now we have to confirm those feelings there and stay ahead ".
There is a lot of expectation surrounding Valentino Rossi's results. Perhaps difficult to experience first-hand…
"Yes, there are a lot of expectations for me, the fans are watching TV hoping to see me in front... honestly it is a particular moment in the world for the pandemic, but those who follow me respect me and cheer and hope that I will come back to the front. Meanwhile when things are not going well I try to be honest, I explain what I feel when I ride. The bikes have changed a lot, the level has risen, and the current tyres are soft and you have to go fast from the start. A problem for me because I have always been a hard tyre man, especially in the rear. We are in a bit of trouble, but we are working well with the team, Matteo Flamigni, David Munoz, Idalio Gavira: we have a path and we are improving a lot of small things. The secret is there. Today you lose seven tenths and you're 15th, a few years ago with that gap you were fifth".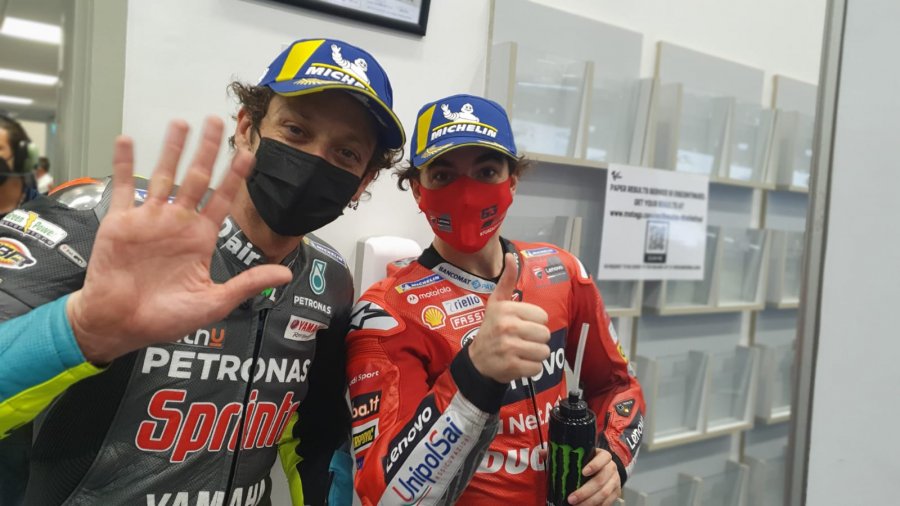 It would seem that today's opponents are stronger than yesterday's…
"The level is high ... but it's not as high as ten years ago when there were Lorenzo, Stoner and Pedrosa. Today there are Quartararo, Bagnaia, Miller, but that's the level. The different thing is that we are all closer. They are all professional sportsmen: they train, go to bed early, live a sportsman's life. Even the preparation for the race is very different, now there are much more means to understand what to do: with the TV you can stay on Quartararo's bike and watch what he does. In the past, at most, some looked at the race of the previous year ".
Is it difficult to adapt to all these changes?
"Let's say you can't maintain the previous relaxed way of working, especially if you are older than the others. To be a MotoGP rider today, you have to put a lot of effort into it, and then you always have to be on the bike. In addition to working out in the gym ... it's tough, even if in the end the life of a sportsman is fun ".
Especially if you have a speed ranch where you can train…
"Sincerely the issue of young riders got a bit out of hand: we started with Sic, then Franco Morbidelli came from a difficult situation, then Migno arrived, then my brother Luca. Added to this was the fact that I raced longer than I expected ... I don't know if I'll be there next year but well ... ".
One wonders whether racing against friends is easier or more difficult…
"When you fight together it becomes a little different, then everyone has his own character: Pecco and Franco are very different. It's interesting… we all get along well together. I'm here because of them, and they because of me. We all have fun together, we challenge each other, and the Ranch helps a lot ".
Enough that it is still fun to race at 42? Rossi does not have any difficulty whatsoever in giving an affirmative answer…
"It's still fun to ride the M1 at Mugello and try to do well, there's a different feeling ... that you miss if you don't have it. It's amazing how it is exactly the same thing after 25 years. It is not just turning the grip and giving it the throttle, but the whole thing: under pressure, and if there were fans around the track it would be even better. Like this, instead, it's a bit easier ".
Fewer people, less pressure. Maybe not even Stefania, Valentino's mother, will come, she's always on the ball, even technically speaking…
"It is true that she talks to me a lot technically, she tells me how to ride, but from home what you understand the least are the tyres. what is more, it's something that we too find hard to understand".
And despite this, there is still a lot of fun …
"If I didn't have fun I'd already be at home, but the fun is very much related to results. If the results don't arrive you enjoy it a lot less, on the contrary it becomes a burden. I thought I'd do the first nine races and then decide the future. Also because it's not just my decision. There is also the team, Yamaha, but I know well that everything will depend on the results. It will be easier to continue in the first place for me, but also for Petronas, but if the results don't arrive it will be more difficult. If there are no results and I were to push anyway, I would find a bike, but well… ".
It's a story that inevitably leads to the VR46 team which will debut in MotoGP next year. It's all defined, or all still in the air?
"We are trying to do what is best for everyone. I would very much like the team to race with Yamaha, but Domenicali, Dall'Igna and Ciabatti are especially enthusiastic about the Academy. And Pecco and Luca are already racing with Ducati. In Borgo Panigale they are enthusiastic about the work we do with young Italians. Then there is also the Petronas issue: they race with Yamaha and it is a political problem. But we will be able to make a good team either with Ducati or Yamaha ".
And we arrive at the future - Valentino Rossi's - after his long career as a rider.
"At the moment I am still a rider: behind the project there is an organization, a lot of people working. I don't know what will happen if I could ever turn into a team manager… never say never. If the team had asked me six years ago, I would have said no, I didn't want to. But I would like to race in a car, remain a driver ... sure, I will give support to the team, but I don't like to work and if I have the impression that if I get too involved I should work ... so: don't count on me so much! But I can help, I have a lot of experience, I like the project and I would like my riders to race but… only if I were involved in the afternoon, I wouldn't want to get up early in the morning ".
The last question eases the tension and fades towards Vale's footballing passion for Inter Milan, while the images show Bagnaia receiving the Juventus shirt with his race number…
"Pecco is not a big football fan. The news of Conte not continuing to coach Inter again was devastating and not very nice. The return round was great, Inter won, I didn't expect Conte to leave. Normally when someone wins he doesn't leave. Like when Mourinho left after the Champions League. Do you know what it's like? You suffer all year and when it's time to enjoy you don't enjoy. I'm sorry, I hope a top coach arrives because Conte had done a good job ".