The motorcycle world is predominantly male-dominated, and also considered to be too dangerous for women due to the power of the bikes, an excuse behind which in the first decades of the last century female riders were barred from competing, except for some sporadic attempts to emancipate women.
Like Beryl Swain, whose maiden name is Tolman, who in 1962 went down in history by being the first woman to take part in a race valid for the World Championship in the Tourist Trophy, on the dangerous Isle of Man circuit while Jenny Tinmouth earned her name in history last year for being the first woman to debut in the BSB championship. Gender is no longer a problem and Ana Carrasco has proved it: the Spanish rider in 2018 won the Supersport 300 World Championship beating her male rivals.
But seeing a woman in leathers with a hump and protections still has a certain effect and this time we were also attracted by an even more particular combination: Patricia Fernandez posted some photos on her social channels during a test with a Harley-Davidson Road Glide Special prepared for the King of the Baggers. The competition itself - a race between baggers, the mammoth American-style bikes that compete on the circuit complete with rigid side bags - is all you need to attract attention but, we have to admit, Patricia Fernandez helps to arouse our curiosity even more.
Motorcycling is no longer a world of men only and Patricia, Ana, Jenny and Beryl are proof of this without a shadow of doubt.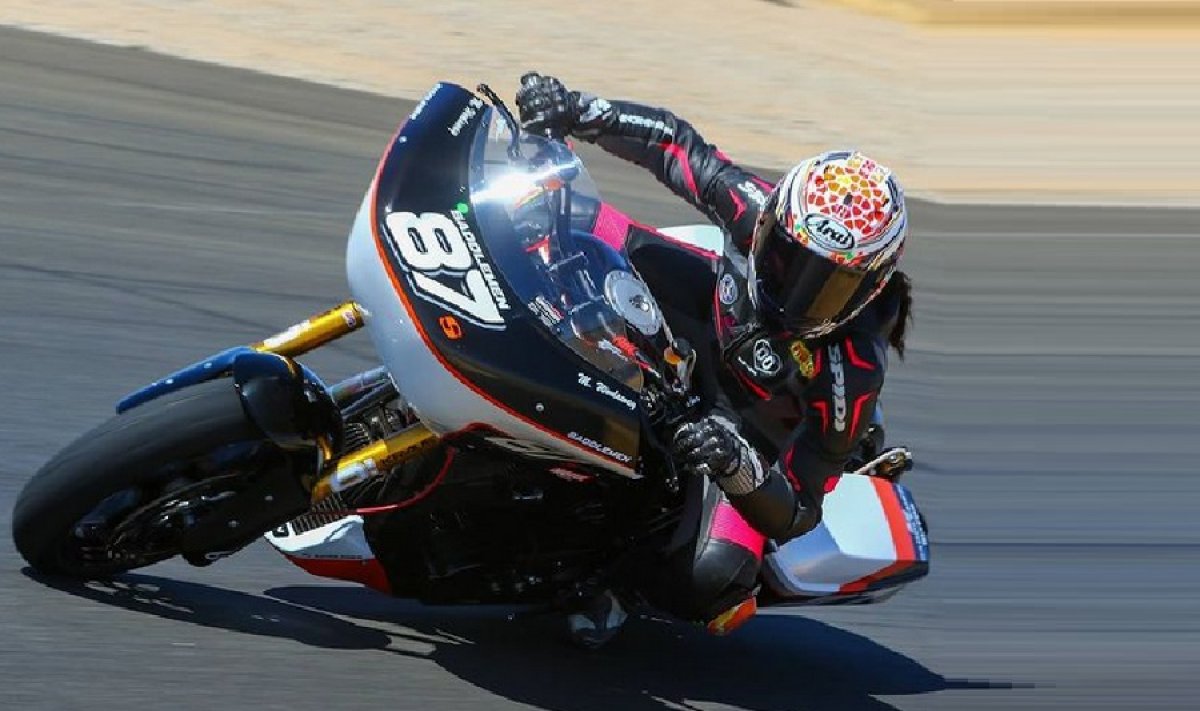 WHO IS THE FASTEST WOMAN ON A STREET CIRCUIT?
Patricia Fernandez is an American motorcyclist and is already a well-known face of MotoAmerica , organizer of the King of the Baggers, because she competes in the Superstock 600 class. She has raced in the Daytona 200 and also takes part in some races around the world, where she can prove herself as for example in Australia and Ireland, where she made her debut in the UGP (Ulster Grand Prix), a race on closed public roads, where she is now a regular participant.
And it was here in 2016 that she also received the award of "Fastest Woman in Road Racing" with a special gold medal, after an average lap of 190.33 km/h on the Dundrod circuit, during the second Supersport race. The 35-year-old American's exploits on Irish roads have attracted a large following on social media and as a result, interest in these races in the US is growing: "We don't have this kind of racing in America, but all the riders are superheroes, because we know all about the Dunlops, John McGuinness and Peter Hickman. We watch it on TV and consider it a different level of insanity, while as far as I'm concerned, I just think I'm embracing my crazier side, a little more than other women. When I come to Northern Ireland to participate in the UGP a lot of people from home follow me on social media, having the opportunity to learn about a new world, that of road racing and I am happy to tell them about it ".
The last thrill for Patricia Fernandez was on April 19th, for a test on the Saddlemen team's Harley-Davidson Road Glide Special, at the Chuckwalla Valley Raceway. Now we will see if the 'short girl… grande cojones… bigger mouth' (as she defines herself on her Instagram profile) will be at the start of the King of the Baggers, over the weekend from April 30 to May 2, at Michelin Raceway Road Atlanta.