It's difficult for the numbers to lie. In a technological sport like MotoGP, data is incredibly important: everything in a motorcycle is measurable, from tyre pressure to a rider's heartbeat when overtaking. From mathematics to vital functions, everything (or almost everything) is quantifiable. Among the many numbers that can be seen during a race weekend are the times recorded by the chronometer, the true litmus test for the teams and also the results in terms of ranking and points.
And it is with the data that we can tell you that for the Italians this season does not seem to have started in the best way. We all rightly applauded Pecco Bagnaia's podium in Portimao, but the crude figures say something else about the season of the Italian riders. We know, motorcycling is not a "national" team sport but there is no doubt that the results of the world championship speak clearly about the health and prospects of a Federation, and at the moment there seems to be little reassurance. While Spain launches its umpteenth phenomenon (we are talking about Pedro Acosta who at 16 and as a rookie is leading the Moto3 world championship after two successive wins), Italy is struggling. It has been a long time since we saw a "rough diamond" (as Pit Beirer defined Acosta) made in Italy and this is certainly a sad state of affairs.
Going back to the numbers, here you can find  a table in which each podium conquered by an Italian rider is worth 5 points (regardless of whether it is a second or third position) and a victory 10. These are the figures of the last eight seasons in all three classes and for the first three races of the year (for 2020 in Moto2 and Moto3, the start of the championship from Jerez was counted, as for MotoGP).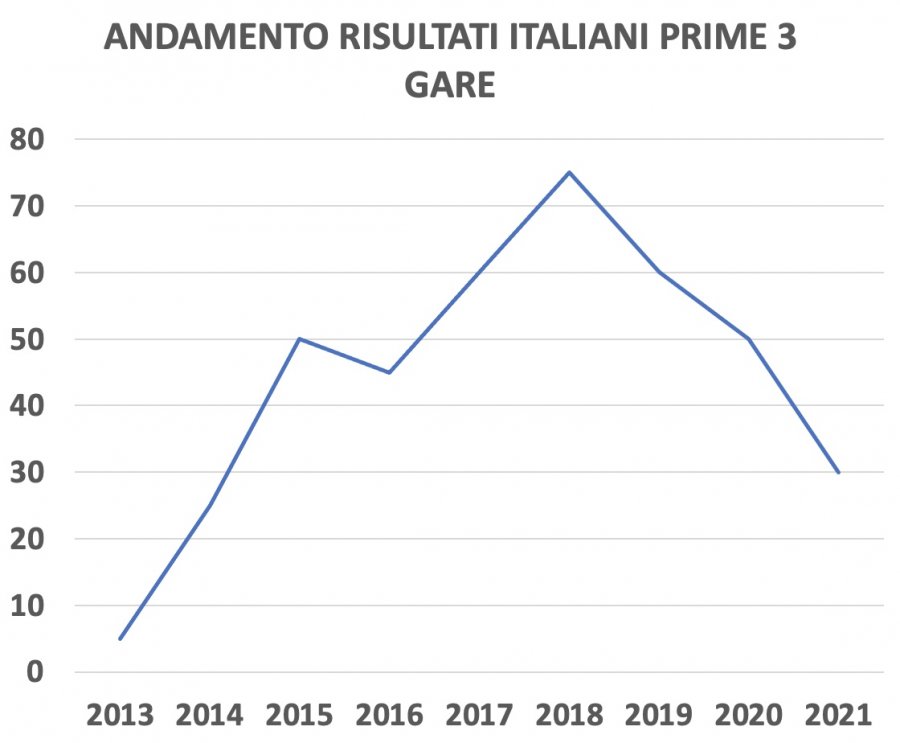 As can be clearly seen from the graph, Italian motorcycling has been in a phase of collapse, at least as far as the start of the season is concerned, since 2018 when it took home 11 podiums and 4 victories in the first three races of Losail, Termas de Rio Hondo and Austin. This year the numbers show a total of just 6 podiums and 0 successes; to find a similar result you have to go back seven years to 2014 when only Rossi, Dovizioso and Fenati managed to get on the podium in the first three races but with the Moto3 rider who added a win in Argentina to second place in Austin. The previous year was even worse with only Valentino Rossi on the podium in the first three races of the season and no victory. It has therefore been eight years since an Italian rider has won at least one of the first 3 races of the season and with a performance line that has been in freefall for some time, something needs to be done to reverse the trend...