These days, much of the attention of the MotoGP world has not been for Portimao where the third GP of the season will be held this weekend, but a few kilometres further east where, at the Jerez de la Frontera track, Andrea Dovizioso made his debut on the Aprilia. The former Ducati rider, in fact, carried out some days of testing on the RS-GP and was able to give his impressions on the Noale bike which gave the impression of improving significantly during the first two Grands Prix of the season in Qatar. On Day 1 Dovizioso concentrated on ergonomics, looking for the right position on the Aprilia. Did he find it?
"When you change bikes after many years, the first thing is the position on the bike – that's the main thing and it takes time. It's related to being comfortable on the bike, but you also have to understand the best position for you and for the bike. Every bike has different characteristics and we spent a lot of time on that. It's impossible to fix these things in three days, especially when today there was a lot of wind and we weren't able to ride. In the next test I think Aprilia is able to make some changes for my positions, and I will be very interested to see if I will be more comfortable ".
So, Dovizioso and the Aprilia men concentrated a lot on the position on the bike during these three days in Jerez, perhaps neglecting other aspects such as, for example, the search for fast lap times. At the time of Jorge Lorenzo in Ducati, the Spaniard had fought hard to find the right comfort on the Desmosedici with various changes to the shape of the tank and more. So was Jorge really right to give so much importance to the ergonomics of the bike?
"I think that the results that Lorenzo then had were not so much tied to the changes he had made even if you have to be comfortable on the bike to push 100%. I was talking about this with Crutchlow before, after riding the Yamaha he switched to the Honda, now he's back on a Yamaha and is taking some time to adapt. The most important aspects are two: to feel good with the bike according to your levers (and if you are small you are limited on this) and then to find the right position for what the bike asks of you, which is the next step ".
"I still feel like a rider, Pedrosa and Crutchlow think like a tester"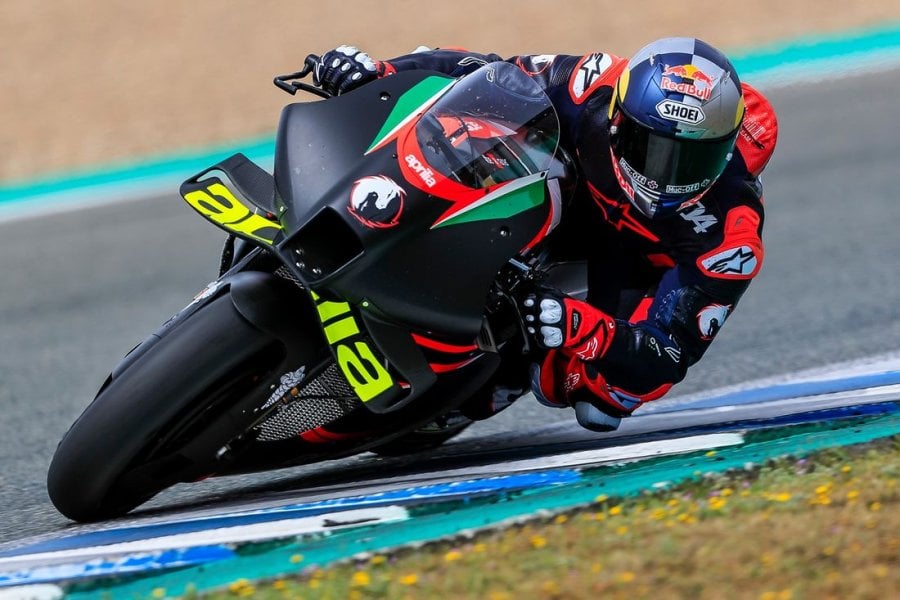 In these two days of testing, Pedrosa and Crutchlow, big-name riders and now test riders for KTM and Yamaha, were also with you but with other manufacturers. Did you talk to them? Would you like a similar role in the future?
"I still feel like a rider in my mentality, Dani has become a tester and even if he can do some wild cards, at the moment his approach is just like a tester. He is great for that role because he always does everything with reasoning and it can be very productive for his manufacturer. Crutchlow is very funny, it's nice to find him in the paddock but I saw him with a different mentality than in the past. When you change your way of thinking and start being a tester, everything is different ".
You said that during the next test, which will be at Mugello, Aprilia will be able to make some changes on the bike. But what do you think about this RS-GP and what do you expect to find when you are looking for the limit?
"It's too early to go into the details of the bike, like everyone else the Aprilia has strong points and weak points but I have to say that I felt good on the bike. Every rider would like to try every bike in MotoGP, just to have a feeling and to understand a bit more than what you see on TV and on track. To speak about lap times, I don't think it is too intelligent at the moment because you have to go into certain details that are impossible to fix in just three days. Going to Mugello with Aprilia will be great ".
"In 2022 I want to race in MotoGP, it's my passion"
Speaking of the future, has this test clarified your ideas about your return to MotoGP? Will there be the possibility of doing it with Aprilia, perhaps with wild cards or in place of another rider?
"My passion is still for MotoGP, and I would like to race next year. I think it was smart to be on track, and I'm really happy that Aprilia gave me the possibility to do that in the right way. "The possibility to ride a MotoGP bike is always nice, and to be able to do it in this way, in a professional way, is the way I want to do it. Normally everything I'm doing I'm doing in a clear way, in a good way. So I don't want to make something just like that. I didn't take some options last year for that reason, as you know, so this is not my target. I'm completely open, but at this moment what we have on the table is just the next test in Mugello with Aprilia, then we'll eat a steak together and talk about it. "
Riding the Aprilia today and seeing Espargarò's performance in Qatar, did you not have a bit of regret about turning down some offers last year?
"In my opinion it was the right decision. Aleix has proved that the bike has potential. He is putting his heart into it and Aprilia is working hard. They made a good step even if now having a good base is no longer enough because everyone is close in MotoGP. Getting on this bike, however, I realized that a big leap has been made, but obviously then you have to experience a race weekend. To do well at these levels you need to be part of a project to go fast, it makes no sense to make hasty decisions, it has never been my way of life ".