On Easter Sunday, the riders usually unwrap their Easter eggs out on track when evening falls. But the surprises are not for everyone, indeed for some of them it would have been better to wait until Christmas. Quartararo made a feast of things, but even Zarco and Martin couldn't complain. The digestive problems come when you go down in the standings, starting from Bagnaia down already to Morbidelli and Rossi who can only celebrate the fact that they will not see Qatar for at least another year. The festive atmosphere does not even suit Miller, who was a bit too effusive in his embrace with Mir on the straight.
In Moto2 Sam Lowes found himself unbeatable, in Moto3 Acosta gave a lesson to everyone even with the schools closed. The lights went out, everyone got on the plane and went back to Europe. The music is over, it'll resume in about ten days in Portimao.
THE GOOD - The time has not yet come for his first backflip in MotoGP, but in the meantime Johann Zarco has managed to overturn his career. From a factory rider but on the verge of a nervous breakdown, to a privateer with the luxury of being able to head the World Championship. All in a year and a half. Beauty is in the eye of the beholder, but what you go fast with is for sure beautiful.
THE BAD - Not even a chat, a slap on the wrist, a lecture, not even an email. Miller turns the GP into an Australian-Spanish wrestling match and Race Direction doesn't even bother to call him along with Mir for a chat. Suzuki protests and gets nothing. As they say, luckily nobody got hurt. At least for now.
THE UGLY – Anything but desert, Losail is a sea of ​​tears for Honda. Propping up the table in the ranking reserved for the manufacturers, evanescent on the track. The absence of Marc Marquez is not a nuisance, but a total disaster. Pol Espargarò is unable to switch into gear, Bradl does what he can, Nakagami loses his way, Alex picks up crash after crash. They need a miracle… just as well they already have him under contract.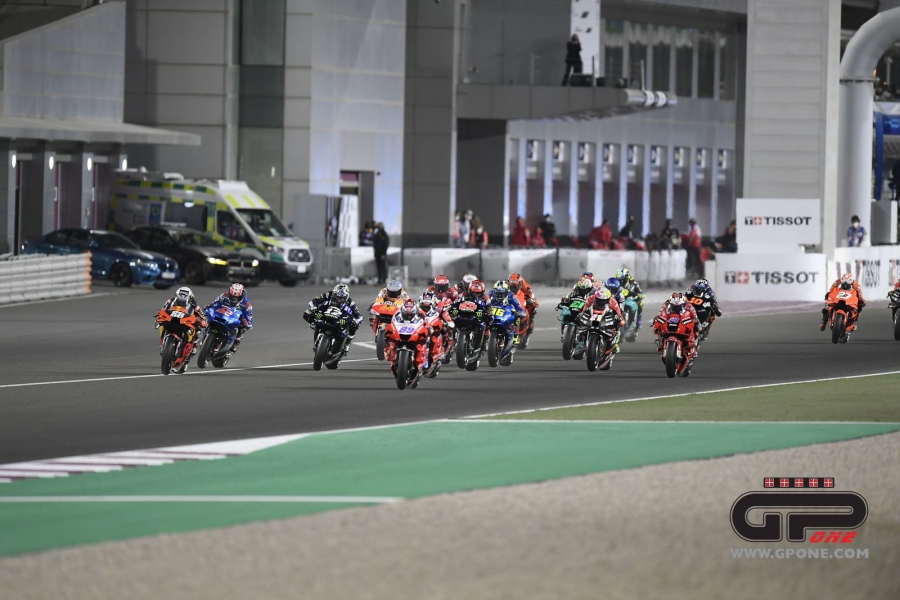 THE DISAPPOINTMENT - The Malaysian diamond that shone all last year now looks like any old bottle of pop. Perhaps the one in which to drown one's sorrows. Rossi and Morbidelli found themselves companions… but of misfortune. While trying to salvage what can be salvaged, all that remains to do is take these last two weekends and throw them down a well, then pour concrete on top and seal everything with padlocks to make sure they do not pop up again. It's best not to go any further.
THE CONFIRMATION - The rider changes but not the result. Yesterday Vinales, today Quartararo, but Yamaha always wins. Meanwhile, Qatar has gone back to being blue from red, for the future we will see. It will be a question of balance, of bikes and riders, sometimes too inclined to see-saw laps. It's a thin line, Maverick and Fabio have the task of walking on it to the end.
THE MISTAKE - Bagnaia has already thought about sprinkling his head with ashes, kneeling on chickpeas, without forgetting a bit of horsewhipping for good measure. Rubbing it in is not elegant, and neither is throwing away (almost) a race because of a mistake.
THE SURPRISE – "Martinator" is his nickname, because although his physique might not be like Schwarzenegger his right wrist is as heavy as the barbells lifted by a bodybuilder. For Ducati, he put his hand on his wallet, to free himself from KTM thus proving that money is not everything. Speed, on the other hand, is and he has plenty of it.
THE PASS - Why only one? Pedro Acosta lost count of how many he made. He started from the pitlane to reach the top step of the podium, naturally in his second race in the World Championship, after the podium in the first. Not even a comeback, it was a real ride that annihilated the opponents and raised doubts about the validity of the penalty imposed by the Race Direction (yes, that again).
THE CURIOSITY - Samson drew his strength from his hair, while his rebellious curls cost Bastianini dear. The hair in his eyes put a stop to his comeback and there are those who are already betting that in Portimao we will see a 'Mr. Clean' version of Enea.
I TOLD YOU SO - "In the race I will go back to being a rookie, this is not the time to win" said Jorge Martin. Maybe not to win, but for a podium yes.