The SBK tests in Barcelona ended this afternoon with Scott Redding hot in pursuit of Jonathan Rea. The British Ducati rider, in fact, ended his day in second position, 179 thousandths from the world champion. Redding is certainly the number one candidate to try to end Rea's reign in SBK. But the question is will this be the year to bring a world title back to Borgo Panigale? Already today the two riders were chasing each other lap after lap in what seemed to be a foretaste of the battle to come…
"There was adrenaline on the track today, even a little bit of a battle and we were pushing hard. It was a very interesting day because we realized that we are suffering in the same areas we suffered last year. We have taken a step forward but not big enough to get closer to the other riders. Here in Barcelona we are very strong in sectors 1 and 3 but we lose too much in the rest of the track ".
What have you worked on most today?
"I tried to use the race tyres as much as possible, I did a lot of laps on them because I know this is really important for me this year. I also tried an SCX, it didn't go badly but I didn't feel too confident because I had been on used tyres for a lot of laps and making a leap forward would have been difficult ".
Did you also use the qualifying tyre?
"Yes, I also put on the qualifying tyre because I hadn't done it yet this year and I needed a little refresher. My lap was not as good as I would have liked and I didn't feel good. Sure, I made a nice improvement with that tyre and learned a lot about the bike's behaviour. I was not in the right mood to do just one fast lap because today I had a good pace, however I am quite satisfied ".
Rinaldi: "Redding and I have the same problems"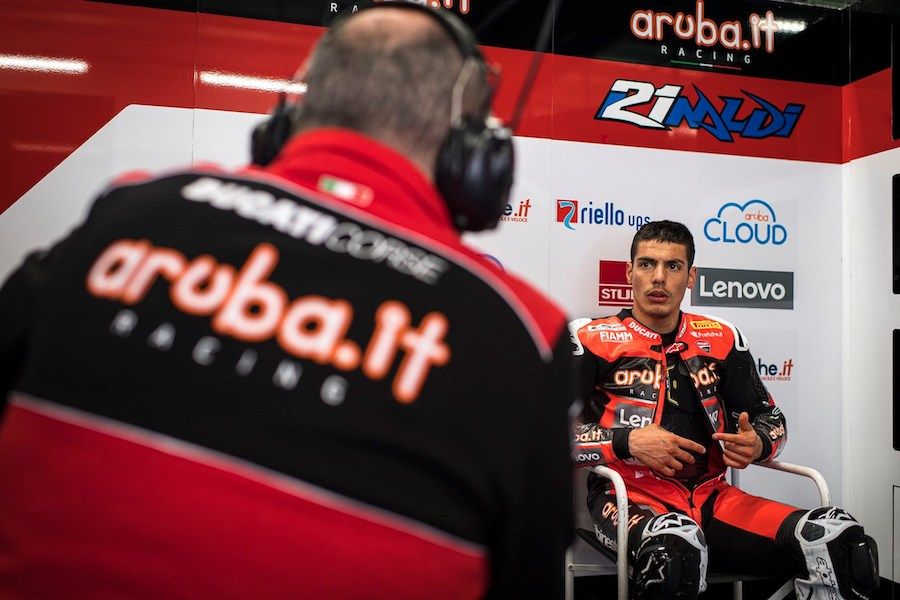 Second and final day of testing in Barcelona also for Michael Ruben Rinaldi who today finished in fifth position behind Folger's BMW, almost half a second from the top.
How did your day go?
"Today I did other tests and I tried to perfect all the work done yesterday - he said - Fortunately Redding and I have the same problems and this is important because Ducati can only work in one direction for the first race. The test served to improve, I didn't focus on time but on pace where I'm not the best anyway since I have Rea in front of me. This is not an ideal place for the Ducati because tyre wear is really high and we consume more than the others. Even with new tyres, we can't make the most of the grip, we know where to work, there are still two months to go. "
Perhaps if you had been able to make better use of the qualifying tyre you could have been a little higher in the standings…
"Yes, I tried to put on the qualifying tyre and the sensations on the exit lap were good, unfortunately I had a problem in turn 1 and I could not exploit the full potential of the tyre. I got on well with the SCX, the tyre that is halfway between the race and the qualifying one."
What are the conclusions of these two days of testing in Barcelona?
"Analysing what I did last year I can certainly say that I have improved, I am faster and this is positive. Obviously my goals have changed compared to 12 months ago and therefore we cannot be happy with our situation. We are not the favourites and both the team and I have to work harder to get ready for the first race ".
You said you were also a bit behind in race pace compared to Rea. Is he the one ahead or is it you who has lost something?
"I honestly knew what our weaknesses were on the track and I was lucky enough to lap a bit with Johnny while we were both doing a race simulation. I'm not far from him but not too close to try to win on this track. He has a bike with more traction which allows him to do less road, accelerate harder and with more angle. We have done a productive job these days, I have tried to improve both in terms of riding and set-up, I have tried the innovations brought here by Ducati and therefore the work we did was positive ".
Is the fact that the World Championship kicks off in May good for you? All this time could give you more chances to improve, but it could be the same for Rea.
"We will do more tests between now and the race and it is important to have this time available so that the technicians will be able to work on our data and we will have an advantage, even if there is more time for everyone".
Audio recording by Riccardo Guglielmetti in Barcellona
Photo from FB Aruba.it Racing - Ducati