At least as far as the Yamahas are concerned, Franco Morbidelli was probably the biggest disappointment of the day. In the evening in Qatar the Italo-Brazilian concluded the first qualifying session of the year in seventh position (+0.541)… and the worst M1 rider. It was a bit of an unexpected result after what had been seen in free practice, especially regarding the comparison with his new teammate Valentino Rossi, who took advantage of Pecco Bagnaia's pole position slipstream to finish fourth (+0.342) a whisker from the front row with a gap of only 26 thousandths from Vinales.
"Tonight's qualifying was difficult because already in FP4 I realized that I would not have the right speed to make a time attack - said Morbidelli - I hoped to be able to do better but I didn't make the second attempt because on my first lap a helicopter started, raising a cloud of dust and I stopped because I couldn't make another attempt. I'm lacking speed and for tomorrow I will try to balance the different personalities of my bike which goes very fast in the day but doesn't improve much with the night ".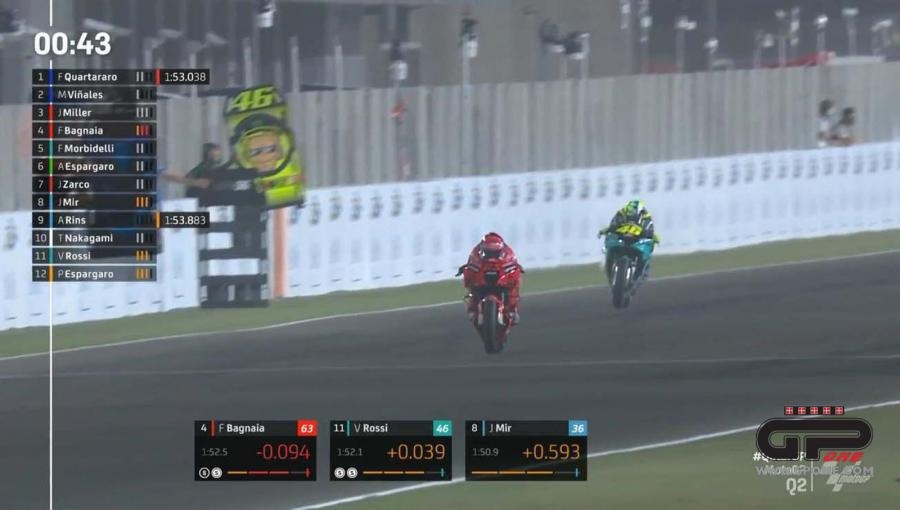 Before talking about this split personality of his M1, however, it's time to analyse his problems of speed. Bagnaia on the Ducati made a great pole position with Valentino Rossi using his slipstream to qualify in 4th place. Did you expect to finish behind Valentino and how much did you want that slipstream?
"Valentino was really good today, he showed that he can never be trusted and that he is always ready to surprise. I was practically always in front both in the tests and in free practice but today, when it counted, he was faster. Pecco's slipstream certainly helped but you have to do that time and so congratulations to him ".
You said that your M1 has a split personality. Might this be an advantage for the rest of the season where the races are held during the day?
"With the heat I feel good, at ease, but in the evening I don't improve as much as the others do. I don't know if it will be like this on all tracks or in all conditions, but obviously I hope not ".
What can you do to overcome these problems in tomorrow's race and next week?
"We will make some changes to the set-up and will work hard to see what the causes of this difference are. I'll try and improve and tomorrow I'll have to take a risk, I hope Ramon Forcada can do a good job tonight ".
What race are you expecting for tomorrow? Will the start be the key to your race?
"I need to gain some positions at the start of the race but even if I didn't it wouldn't be a disaster because I don't expect a pace race. I don't think we will see any stratospheric times in the early laps and I think no one will run away due to the tire wear that will occur over the course of the race. I will attack a little more at the beginning but it will be a controlling race, for everyone ".