MotoGP is finally about to get underway from Doha where the first two races of the season will be held at the Losail track. One rider who will not be involved in the top class but who will certainly look at the races with a more attentive eye is Fabio Di Giannantonio, Moto2 rider of the Gresini team, already sure of his passage to MotoGP for 2022. Gresini Racing, after the death of its founder Fausto Gresini last month, is carrying on discussions with the various manufacturers to understand which bike to decide on. What will be the bike that Di Giannantonio will have next season?
"We have to wait a few more weeks, but then it will all be made official - Fabio told us during an interview - I am sure of my future, in 2022 I will be in MotoGP but Gresini Racing is still making the necessary evaluations and discussions, and so it's not up to me to say the manufacturer with which I will race next year. Everyone is working hard to choose a competitive bike to do well in MotoGP too ".
But you must have a preference. You have always seemed very fond of Ducati colours, is that your hope?
"For sure being in Ducati is a bit like racing for Ferrari, for the history and for the name and it is certainly one of my dreams to race with that bike one day. Now, however, the important thing for my 2022 season will be to have a competitive package, obviously I know that there are bikes that favour rookies like the Yamaha and the Suzuki a bit but the level is really high and all the manufacturers are competitive. "
You signed this two-year contract with the certainty of moving to MotoGP with Fausto Gresini with whom - you told us live at the end of last year - you also redesigned the whole team for Moto2. The question is obvious, what will be missing without Fausto in the garage?
"Eh, what can I say, it's difficult. We miss him, we are missing Fausto. A figure like him is not and will never be replaceable again. Of course, Gresini Racing will have another team manager and another team coordinator but Fausto was the person who had set everything up and this machinery moved only because he lived off his passion. It was also a business for him, of course, but above all his passion. The charge that only he could give to his riders will be missing, we made this project precisely because he wanted to do well with me. I will miss him ".
"Bulega very fast in the tests. For the world championship it will be me, Bezzecchi, Lowes and Gardner"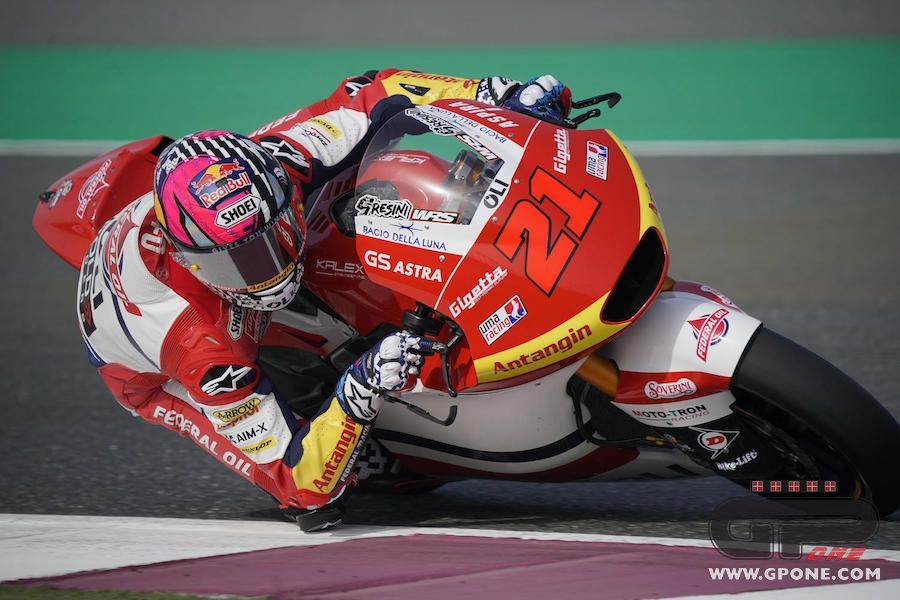 Let's talk a little about the season that will start in a few days in Losail. You did three days of testing last weekend and you seemed a bit in trouble in your early laps with the Kalex, how did it go?
"I struggled a bit to be fast because everything is new. I've never ridden the Kalex, the team is new and the people still have to figure out how to work best. This winter we did not ride very much because of everything that has happened and I am lacking mileage and experience on the bike. In those three days, however, we understood the path to take ".
On the other hand, someone whose performance surprised everyone was your teammate Nicolò Bulega. Have you had the opportunity to compare things with each other?
"Yes, we talked a bit during the tests but each one of us went his own way on the track and in work in the garage with the team. He is in a bit better shape, he did a great job and has a good pace. I am lagging behind in the standings precisely because they are the first times out with the Kalex but that doesn't worry me ".
Who are the favourites for this world championship?
"I believe there will be four fighting for the world championship: Bezzecchi, Lowes, Gardner and me. I have a great bike and a great team, as soon as I understand something more about the Kalex I will also be part of the game. Predictions are always made at the beginning of the year but then there are always some surprises, but from what we have seen this winter Lowes, Gardner and Bezzecchi are in good form. "
"Marquez raises the bar. Mir and Rins will be in the game again in 2021"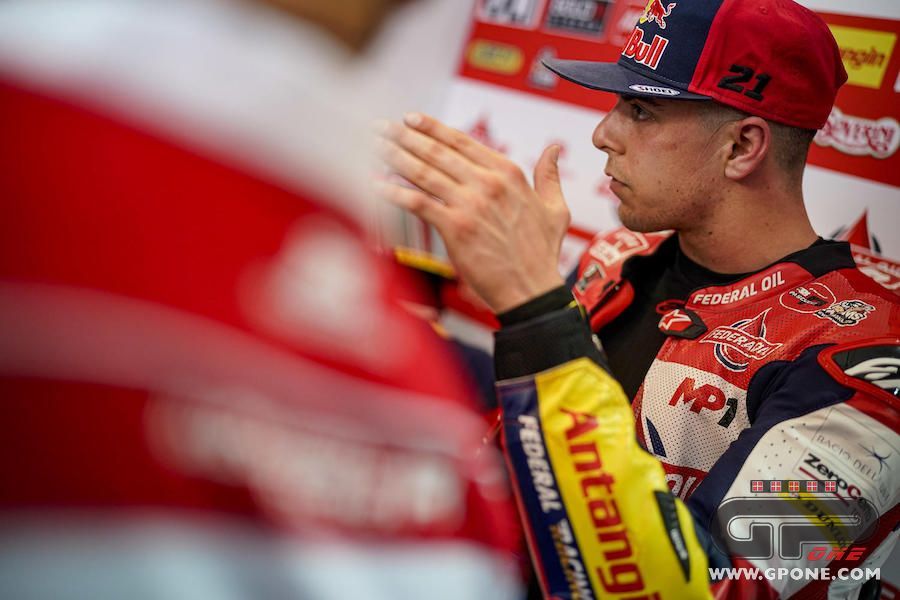 Let's go back to MotoGP. Are you surprised by the absence of Marquez? He had fooled us all with his training, we thought he might come back for the first races.
"Seeing him training I also thought he would be back. It's a shame because he raises the bar in the championship and entertains fans back home. After what happened last year they are evaluating everything well because now it is important to come back when he has really recovered ".
Who are the favourites for the MotoGP season? Are you expecting an open championship like last year's?
"I don't like making predictions. What I can say is that there is a reigning champion who is Mir, who rides a Suzuki and with development frozen for sure he and Rins will be in the game. However, even from the tests we saw that there will be a lot of riders and competitive bikes. We will see the real values on the track from the third, fourth round onwards ".