Marc Marquez looks as if he is ready to return to action. In these days, in fact, the Spanish champion and Honda have filled the social networks with photos and videos of the 8-time world champion getting to grips with a real training tour de force on a bike, minibike and even with 'his' road-going MotoGP, the RC213V-S. As we know, Marc will do everything possible to be there in Qatar and the topic was also the subject of our Bar Sport tonight with Paolo Scalera, Matteo Aglio and Carlo Pernat, live this evening from 9 pm on our YouTube channel and our Facebook page.
After such a prolonged absence, three major surgeries and also the fear of not being able to return, which at some point was under consideration by fans, one begins to wonder if Marc will be able to win as soon as he comes back thus putting himself in a position to fight for the world title.
From this point of view, a lot of observers have had their say, everyone has an opinion but no one, perhaps not even Marc, has any certainties. The fact is that we are talking about an absolute champion, so much so that many of the major betting agencies have drawn up special quotas "without Marc Marquez", i.e. lists that do not take into account Marc's participation or not in the championship. For SNAI, at the moment (and we have to underline "at the moment" given that the odds of the betting agencies can change suddenly, the favourite of the season in the absence of the Spanish phenomenon is not only one rider but five, just to demonstrate the uncertainty of the situation. Morbidelli, Miller, Rins, Mir and Quartararo are all quoted at 5.50 "without Marc Marquez".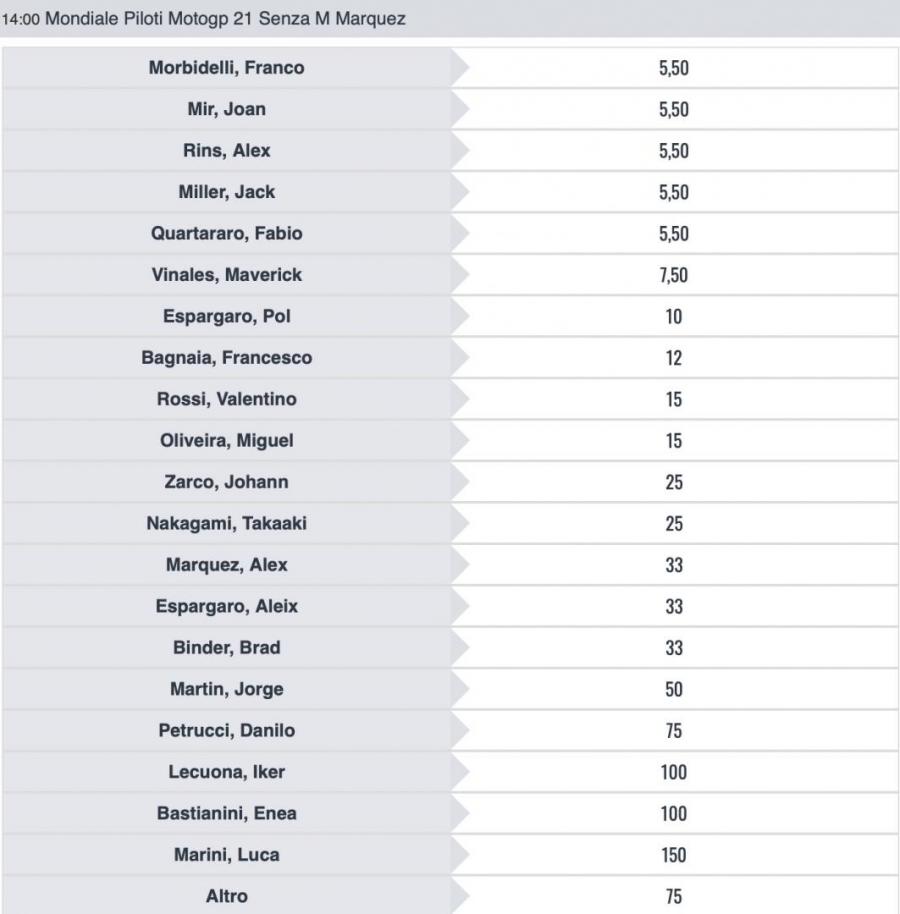 Among the few agencies that already include Marc Marquez in their quotas are Sisal and Eurobet, which put the Honda rider as the favourite of the season at 3.00 and 2.50 respectively. Things are different, however, for the runner-up with Sisal which rates Jack Miller at 5.00 and Eurobet Joan Mir, again at 5.00. In short, where Marc is considered, he is always the favourite…