On the penultimate day of the second round of MotoGP tests, the two Italians of the Esponsorama team concentrated on the long distance. And Enea Bastiani further improved his best time: 1'54.505. Subsequently the Romagnolo suffered severe pain in his shoulder and was forced to stop earlier than expected to go to the Clinica Mobile. Twentieth time instead for Luca Marini, who lapped in 1'55.022, busy today working on the race simulation and not yet looking for a faster time.
"It was a good day today as well - said Enea - I focussed a lot on my pace and on making sure that the bike adapts more and more to my riding style. I worked a lot in the early hours. Unfortunately, after about ten laps I had a shoulder problem and had to go to the Clinica Mobile for a check-up. Fortunately, the pain has now decreased somewhat. I tried a time attack but I think it was the wrong time. Today I did a kind of race simulation, in total I was out for fifteen laps with a good pace. I have shown that I have a good pace but I have to improve the initial part because I would like to be able to lap in 1'54. I have to say I'm happy considering that today is the fifth day on this bike ".
Is the shoulder problem a consequence of the crash a few days ago?
"No, it wasn't caused by the crash. I think it's due to the fact that I'm pushing a lot to always be fast. It's not a big problem, tomorrow I will work in the Clinica Mobile to solve it ".
Your time seems to be improving day by day and this is very encouraging. What do you think you have improved the most?
"Today I pushed a lot and a good time came, but not as good as yesterday. I did my best lap in the first hour because it becomes difficult to improve later on. Tomorrow, if the asphalt is in a better condition, I hope to be even faster. "
In your opinion what is the hardest part to control on a MotoGP bike to be faster?
"It's difficult to go fast in the middle of the corner because I can't let go of the brakes earlier as in Moto2 and for now this feeling is still strange for me. But it is essential to get out of the curve well and not be slow otherwise the bike moves behind and becomes more difficult ".
We have heard that the MotoGP paddock will receive the vaccine, will you too? What do you think about it?
"I don't know what to think, it's news from the last hour. In my opinion it is important to do it but in one day I don't know if it will be possible. Tomorrow the day will start much earlier, I think I will have to take the bus at 8:00. We'll see how it goes! ".
Did the shoulder affect the work you should have done to lengthen the times on the track? Will you be able to work on this tomorrow?
"Yesterday, unfortunately, I hit a bump that I initially didn't feel. Today as soon as I got on the bike I immediately saw that I was having a hard time turning and in the Clinica Mobile they gave me a massage and I had to stop. I took a painkiller and it got better. The Ducati is challenging but fun, I still have to adapt well to the bike. For now I'm still struggling a bit too much ".
Do you think you can be in the top ten this year or will you be satisfied with the title of best rookie?
"I would certainly like to be in the top ten and as a result be the best rookie, I will try to achieve both but first you have to learn slowly to respect the times. It's a bike that changes a lot compared to Moto2 but I got a good start ".
Who are the most interesting riders among the young guys and among the most experienced in your opinion?
"Among the youngsters I see Mir very well and Quartararo also went very fast, they are the two I see best. Among the big names is Morbidelli who is very fast even though he didn't lap much today. It was great to see Valentino on the track ".
What will your goal be next Sunday?
"To be able to get some points!".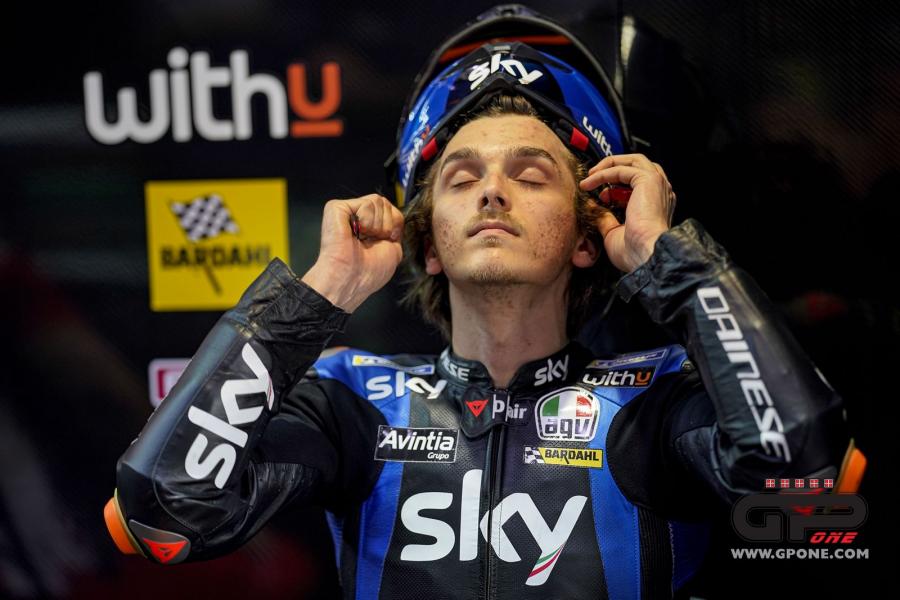 Luca Marini: "Jack is very fast in the corners, he expresses the bike's potential"
"Today I worked a lot on the rear of the bike and found a good balance - the Italian said - This allowed me to have a little more grip and to go better in the middle of the corner. The bike responds better than yesterday. I did a race simulation and this allowed me to see well how the tyres react over race distance. I noticed a drop in the right side of the front tyre and tomorrow I'll work on that".
What type of tyre are you referring to? Did you have a soft or a medium on the front?
"In the early afternoon I tried to put on two mediums, both front and rear, with slightly higher temperatures, even the medium on the front is fine. In my opinion, when night comes, the only solution is to put on soft tyres. I think this could also be the solution for the race ".
Did you get to follow anyone today?
"No. I often found myself behind Crutchlow and Lecuona but I wasn't pushing so I didn't follow any particular rider ".
What has impressed you the most about MotoGP and which opponents?
"In general, the MotoGP world has impressed me. The thing that changes most are the brakes because with carbon discs everything is very different. The bike under braking has a really big margin. The front tyre compared to Moto2 allows you to enter much more aggressively. Braking affects corner entry. Obviously you adapt and learn quickly. Yesterday I did some laps behind Miller and he is the only one I have been able to study for five or six laps, he goes very fast in the left-hand corners. He turns the bike in an incredible way. Technically speaking the Ducati cornering shouldn't be very strong. Seeing Jack ride makes you understand how versatile the bike is and how much potential it has ".
Do you think there is still room for improvement for tomorrow?
"Yes, I still have a lot of margin. I focused on the rear and found my own way. I feel the bike reacts the way I like it. Tomorrow we still have some things to try and we will give ourselves some time for the time attack. "
Yesterday you followed Pecco on the track and you said that you noticed some precise movements of his body when cornering. Did they help you improve?
"Sure. What I saw yesterday, today I tried to put into practice, above all I improved in the changes of direction. I was faster and I notice that when entering corners the riders with the lowest times start to move their bodies earlier than me. I sit on the bike longer and it feels like I make one movement with the bike. I have to improve in this phase ".
How did the race simulation go?
"I did twenty-two laps. It was tough but in the end I managed to do it pretty well. The pace was not bad but I still have to take off a few tenths. I am convinced that if I manage to find the right compromise on the front I can be much faster. In the initial part of the simulation I did well and physically managed not to overdo it, I didn't know how I would get to the end. I finished quite well but when the front tyre dropped I suffered a lot. Working on that aspect, I think I can be much faster in the race ".