Joe Roberts has a surfer look about him, and it could not be seeing as he was born in Malibu, but also a surname that in motorcycling immediately makes you snap to attention. With Kenny the Martian he has no blood ties but, like it or not, he has some sort of obligation to pick up the legacy of the great American champions. He is gaining experience in Moto2, starting this year in the very Italian Italtrans team, and is thinking of MotoGP, but at the moment he doesn't want to forge ahead.
Joe even frequents the champions of the past, starting with Lawson. "Last year I went to Eddie's, at his house on Lake Havasu, and Kenny Roberts was also there, we went out on jet skis together, we had a lot of fun. I said to Eddie that he has become a lizard because he lives in the desert," he joked.
"I want to reopen the path by which American riders can reach the World Championship"
Do you feel the pressure of the legacy of the great American riders of the past?
"I wouldn't call it pressure, because it was another era, a long time has passed and everything was different then. If anything, the goal is to go back to those times, I hope I can be an inspiration for young American riders like Kenny Roberts was, so that they can make it to the World Championship. I think it's good for America to have more than one rider in the World Championship, this year there will be two, with Cameron Beaubier, and it's fantastic, he'll join the party and we'll have more fun. It would be nice there were more, like when I was little and I saw Nicky Hayden, Colin Edwards, Ben Spies, John Hopkins, I remember them well and they were an inspiration to me. Knowing that there is an American in the World Championship shows you the path to follow, for a long time this path didn't exist and I hope to be an inspiration for the youngest so that they follow me ".
Why did you decide to come to Europe so early and not keep on racing in America?
"I don't think I got there that early. I raced in the Rookies Cup for 3 years and I saw how everything was different in Europe and how important it was to race here, to come back as soon as possible. I didn't have the opportunity until 2017, when I raced in the European championship. I don't think it was early, because there are riders who are already in very professional teams when they are still very young, while at 16 I was still going to race with my dad, it's very different. Racing in America taught me a lot, I learned how to win races and championships, even if in a minor series, I would have liked to come to Europe sooner ".
"Hopkins taught me to believe in myself"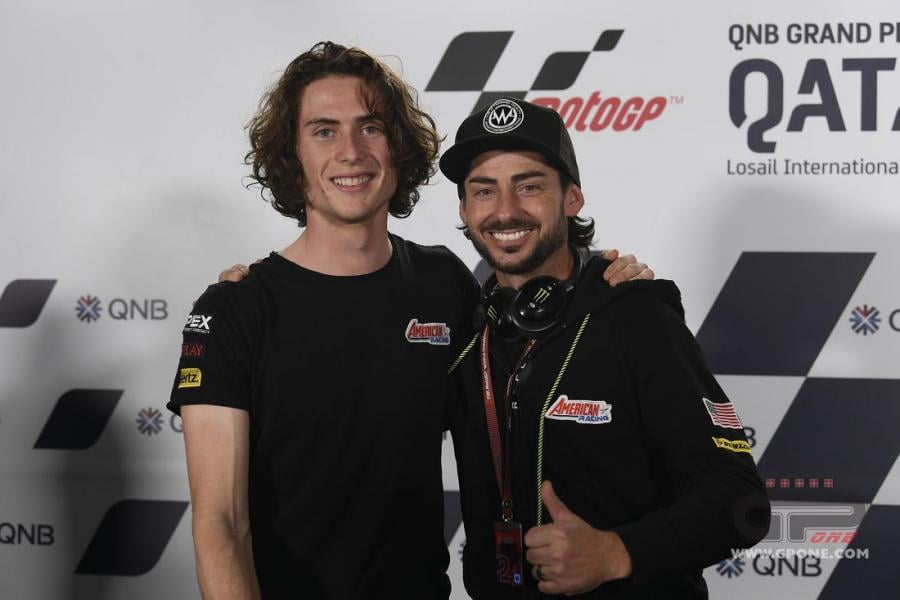 How important has John Hopkins been in your career?
"A lot, when he started working with me I was really at a low point in my career and my life in general. After 2019 I didn't know if I had what it took to become one of the best riders in Moto2. Or rather, I've always believed I could do it, but when you try and the results don't come, it starts to mess up your head. John helped me to get back to believing in myself and helped me to see things in a simpler way, to set realistic goals. He arrived at a perfect moment, when I had a competitive bike and an extraordinary crew chief like Lucio Nicastro. He had perfect timing to help me improve my self-confidence and it was also the same for me to benefit from this situation.
American riders often feel homesick, does that also apply to you?
"There have been times when I felt it a lot, I have often lived alone and it is not the best thing. I have a girlfriend but she lives in America, sometimes you feel that you miss a lot of things. I am not saying that Europe is a bad place to live, indeed it is perfect for a rider because there are tracks everywhere and everyone loves MotoGP, but I'm missing things, like understanding the language. I love my life and being here, as a person I have learned so much in a few years, you have to do it when you live alone and especially if you race in Moto2 (laughs). It is important to feel good on your own".
"I believe in Aprilia, but I said no to MotoGP because I still have a lot to do in Moto2"
Why didn't you accept Aprilia's offer to race in MotoGP?
"I think everyone wants to know that (laughs). I want to make it clear that I strongly believe in the Aprilia project and they will become increasingly competitive, so the reason is not related to performance. I had a contract with Italtrans and I think that if you make an agreement you have to respect it. But the main reason is that I still have a lot to do in Moto2. I have only been in this championship for a few years and, as I said before, in America I learned how to win and I have not yet done so in this championship. Before going to MotoGP I want to know that I can win races in the World Championship, maybe even the title, I think it's important for a rider to show that he deserves to be in MotoGP, and it's especially important for me ".
"My hero is Nicky, I'd like to have the talent of Stoner, Jordan showed me that anything is possible if you dedicate yourself to it"
Do you have an idol you are inspired by in sports?
"In motorcycling my hero is Nicky Hayden, the first MotoGP race I saw was the 2005 Laguna Seca GP that he won. It was the races that inspired me the most, I wanted to be like him. I have always looked at him and I also admired the other American riders, then I would like to have the talent of Casey Stoner and ride like him ".
And in other sports?
"I've never really taken much interest in other sports, but this year I saw a documentary about Michael Jordan, I watched it just before Le Mans, and seeing his dedication to what he was doing was one of the things that I inspired me the most. He made me super focused, I felt I could do anything ".
And in fact, you took pole position in France…
"Honestly Le Mans was a strange race for me. Basically the problem was that the track took a long time to dry, and it had rained just before the start. We had fitted the wet tyres, but while I was doing the sighting lap I realized that the asphalt was going to dry. I never worry if there is only a small dry strip, as I immediately put slicks on (laughs). On the grid, however, we had some problems changing the tyres, these things happen in races, sometimes it's me who crashes and other times it's the team that can make mistakes. I had to leave the grid, I saw everyone leave and I didn't understand what was happening. There was a communication problem with the stewards, it was strange, but also fun to overtake the Safety Car at the first corner (laughs)".