Final day of testing in Jerez for Aprilia, who were lucky enough to find three days of sunshine in Spain. Good news for the men from Noale who had brought a lot of new components for the RS-GP for Aleix Espargarò and Lorenzo Savadori to test.
The tests were strictly behind closed doors, but we at GPOne still managed to intercept a photo of the new Italian bike thanks to our… secret correspondents.
After last year's revolution, the RS-GP has not undergone any radical changes but the engineers have worked to refine the project and, logically, have introduced some new features.
From the very first images that we were able to 'steal' we can see some experiments from an aerodynamic point of view, with a sleeker fairing and also angular in shape, from what can be seen in the tail area.
The exhausts have also been revised: the rear one has a more linear shape, a smaller section and seems to leave more space for the 'salad box', as Michele Pirro baptized the Ducati solution years ago. Last year Aprilia also had this 'box' under the tail and, for 2021, it seems to have gotten bigger. The side exhaust is much shorter than the previous one and the terminal now boasts an octagonal section.
Another new feature, which they have been working on in Noale for some time, is the carbon swingarm. The 2021 RS-GP prototype mounts it and this solution should be used on a permanent basis throughout the season.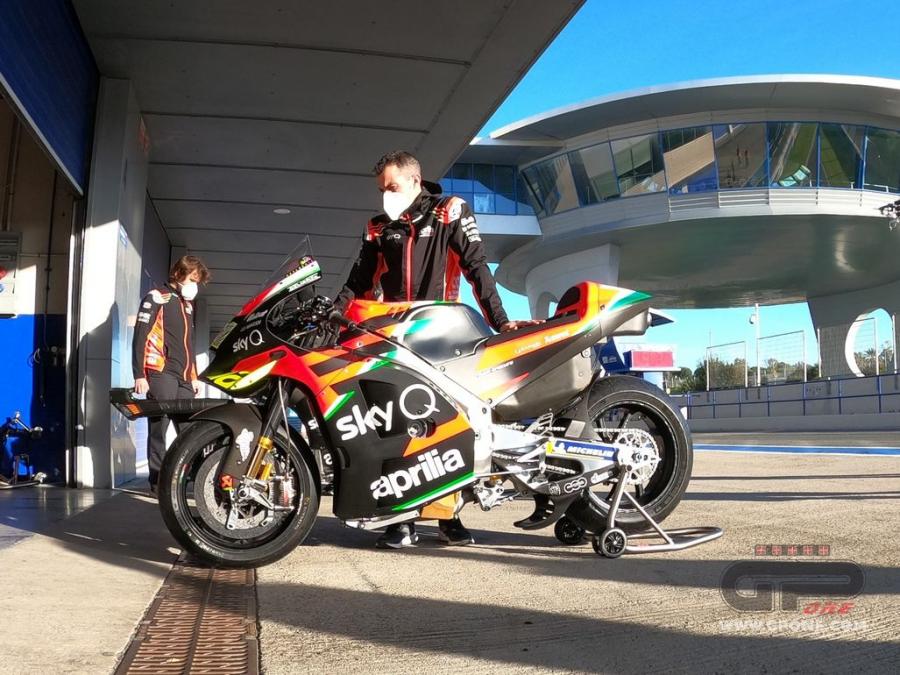 The photos do not allow us to guess much else, even if the engine has also been the subject of attention, considering that Aprilia can take advantage of the concession rules.
Aleix Espargarò seemed to particularly like the new bike, judging by the response of the stopwatch. Today he lowered his benchmark time even further, setting the best lap in 1'37.421, three-tenths better than yesterday.
"The first positive aspect of these three days was to see my team again - commented Aleix - We have been together for a long time and the environment is really good, I missed them during the break. The base of the RS-GP 2021 is certainly promising, these are only the first tests but the times have been good on a track that is not historically the best for us. There is still a lot of work to be done, especially in terms of power, but as for the ergonomics, chassis and electronics there was some interesting progress. Now we are waiting for Qatar, where we will be together with all our rivals and we will see what our true level is. With the hope that Fausto will soon be back on track with us."
Today Honda and Stefan Bradl were not on the track, but the Spaniard from Aprilia was able to compete with Dani Pedrosa, who set a time of 1'38.203 with the KTM. Lorenzo Savadori's time was just over 1'39" (he was not in perfect physical shape), while Mika Kallio finished the tests with a best lap of 1'39.778.
Lorenzo wanted to send Gresini a wish: "First of all my thoughts go to Fausto, who is fighting a tough battle right now. I know his spirit and his determination and I am close to him because we miss him so much! I can say that returning to the track after the break is always a special moment. Unfortunately for me these tests were conditioned by a problem in my right shoulder that prevented me from being 100% in shape. In any case, the feeling with the 2021 bike was good at first glance, it seems to have improved from all points of view even if I think we still have to work on it. My goal is to be in perfect shape for the next tests in Qatar. "
Miguel Oliveira and Iker Lecuona also took advantage of the Jerez track, logically not on MotoGP bikes but on production bikes (Yamaha R1s, as KTM do not have a super sports bike in its range) to do some laps.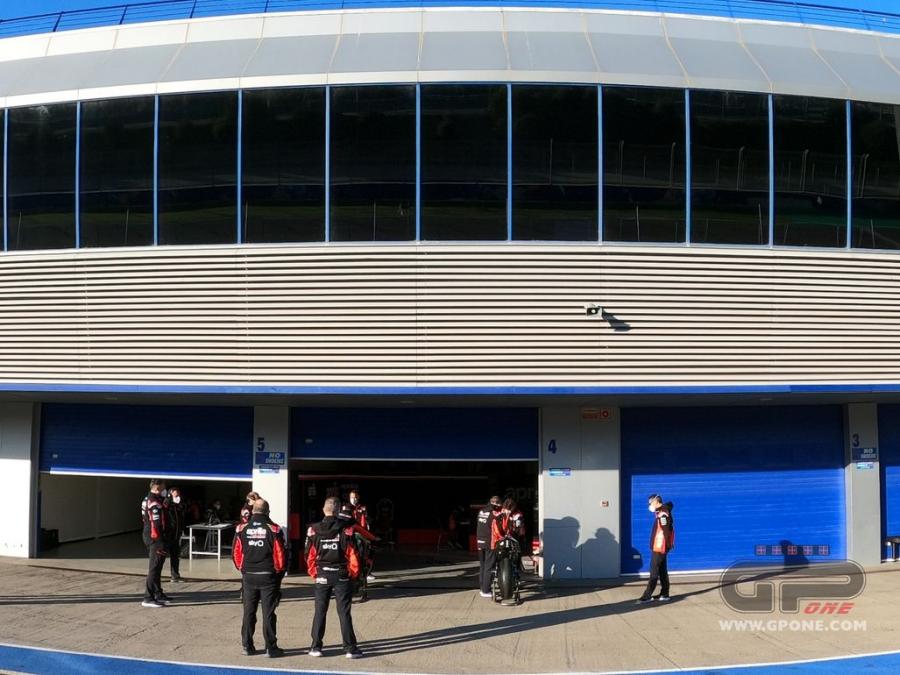 DAY 3 TIMES:
1. Aleix Espargarò (Aprilia) 1'37.421
2. Dani Pedrosa (KTM) 1'38.203
3. Lorenzo Savadori (Aprilia) 1'39.049
4. Mika Kallio (Aprilia) 1'39.778