2021 stands out as a year full of changes and innovations, not only strictly linked to the track, but also in the common collective. The first social network entirely and exclusively dedicated to the world of motorsport has been created. It's called FastLap and it aims to become a benchmark for car and kart drivers and bike riders alike, from professionals to amateurs, everyone who loves motorsport. The platform allows you to share emotions, photos, videos but above all your own times, data, telemetry, to book track days, to purchase technical material and even merchandising.
The project comes about from a brilliant idea from ​​Jonathan Serrapica, an Italian-Swiss computer scientist with a passion for motorcycles and with a past history of racing in ARRC (Asia Road Racing Championship) and MSBK (Malaysian Superbike), who has lived in Singapore for years .
"The idea of ​​creating FastLap came in 2015 - says Jonathan Serrapica - when my father had a bad accident during a free practice session at Sepang. I thought some system was needed to increase safety. With FastLap, when someone books the day, the organizer knows perfectly well if it is the first time that he goes to that particular circuit, how fast he laps and which vehicle he shows up with. In this way homogeneous groups can be created and everything becomes safer. Sessions can be purchased in maximum safety and, thanks to a QR Code system, registration and access to the circuit is speeded up without queues or gatherings in a particular period such as the current one. Organizers and brands can create their own events, initiatives and sell what they want ".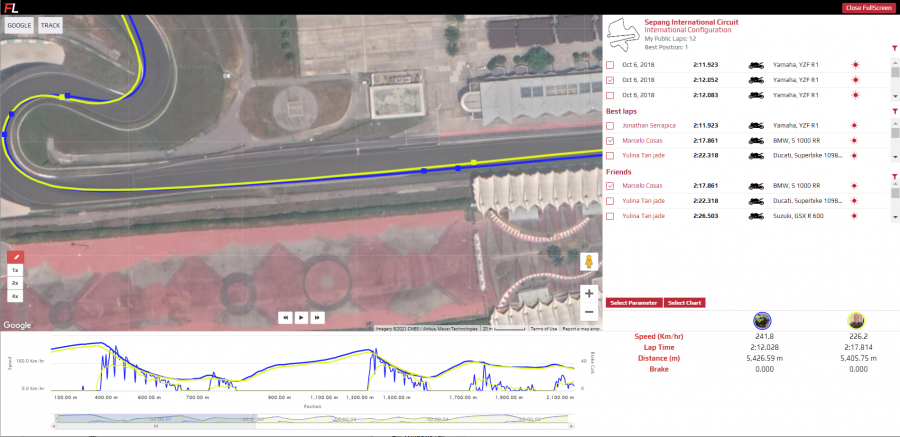 FastLap is a social network through and through. Registration is free, and it is also possible to like, share various contents, select your favourite tracks and register your vehicles. You can then upload the telemetry data and the times captured by different devices (by means of the most famous brands of GPS chronometers, mobile applications and devices such as GoPro) and complete them by adding information about the tyres, weather conditions and settings used. At the same time, it is possible to see the lines, braking and acceleration points directly on the track thanks to the Google interface (also in 3D). Everyone can have fun analysing the laps of other riders, watching where they brake, learning from others and also getting to know, getting in touch with other fans. At the moment there are already over 170 international tracks with photos and related characteristics. Within a couple of months there will be over 500 and the team can always be contacted to insert any missing circuit.
For more information, please visit the official website https://www.fastlap.com or the social channels of the network.