Gigi Dall'Igna is someone who does not beat about the bush. "In the end you have to win, that's the truth. Everyone wants to win, riders and technicians". There is nothing secret, no plan, what Ducati is hoping for in this new, messed-up year that awaits everyone, including MotoGP. But certainly between aphorisms and truth-phrases, the vision of Dall'Igna – the General Manager of Ducati Corse - is of a world that is aiming at a high level. He is the man behind the Desmosedici, the mind behind is his. Is it possible that performance can be improved compared to last year? "A motorcycle never turns enough, just like it will never be fast enough, it will never brake enough. You have to work on every aspect that you know to raise the bar as much as possible, in every part of the bike. It must be the goal of our technicians, and of the riders. That they have to put patches on places where the bike doesn't reach ".
Dall'Igna: "No revolution. Understanding where to improve is the real problem"
It is understanding where to improve that is the real problem. And of course Gigi also knows this, but he sees certainties in this Ducati projected into tomorrow. "We can always improve, from the point of view of riding style, but also of the evolutions that we are going to bring along starting from the Qatar test. They won't be big ones. We have to use the 2020 engine, we could not make any major revolution, but I think it will be enough to take a step forward and improve the overall performance of the bike ".
Of course, one begins to wonder why in all these years only once has a European manufacturer - Ducati - managed to be successful? Dall'Igna gives it some thought, but not too much. The system, after all, outlines the path to the answer. "It is not simple to understand the reasons why. It is certainly true that at some point in 500s there were almost all Japanese manufacturers, just them. This, I think is one of the reasons. And on the other hand, it is certainly true that MotoGP requires a very large budget and the Japanese manufacturers were more structured. They had the opportunity to invest in riders, in technological development with respect to European manufacturers. These are the main reasons ".
Dall'Igna: "Innovative solutions can make a difference"
Technological development, one of Ducati's key points. It makes us reflect how Suzuki's perhaps more standard, classic, linear project won last year. Is it a path to follow or not? Dall'Igna has his own thought. "I think you need a good bike to win. Suzuki obviously has it. It has a different approach than ours. But I am convinced that I can put the two together: make a good basic bike but still add innovative solutions that can make a difference in many circumstances. It is no coincidence that everyone, including Suzuki, has included solutions on the bikes that were first implemented by Ducati ".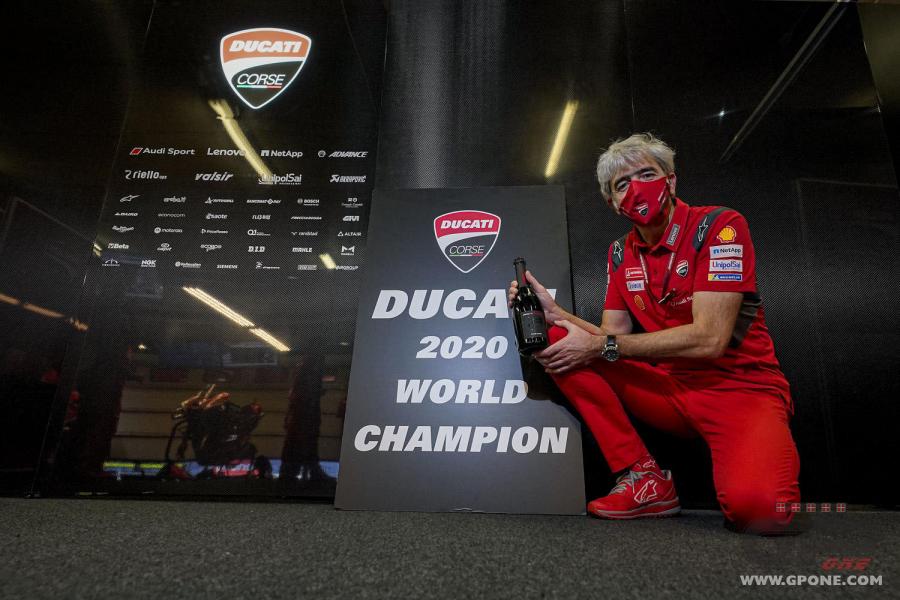 It's a topic that is linked to the reduction of costs, "a problem that there has always been in MotoGP" says Dall'Igna. A subject that is not only around in 2020, in times of pandemic, "it is especially important for the Europeans to keep costs under control. But this does not mean preventing technological development. One reason is to try to develop technology to be applied to road bikes. We need to find the best compromise between cost reduction and the need for manufacturers to develop the technology ".
Ciabatti: "We have learned from 2020: we will not have the same tyre problems"
This also integrates with many of the aspects related to tyres, for example. One of the problems of last year. But Paolo Ciabatti, Ducati sporting director, is sure about it: "We learned a lot last year, there won't be the same problems." What went wrong is the sum of many factors, "the fact that we were only able to do a reduced test programme and then double races with four triples", for example. And therefore, adds Ciabatti, "in some situations we particularly suffered our bike's adaptation to the new rear tyre and the adaptation of the riders' style, especially where there were very few straights".
Ciabatti: "Sponsor Phillip Morris? Lenovo is technological investment"
With the world championship on the horizon it is impossible not to broach the subject of the pandemic and with what the virus will entail again this year. "Last year was a compact calendar. Triple-header races are difficult to manage, we hope that there is no need to do them again this year". But hopes collide with reality. "The situation is evolving, and it is not always a positive evolution. At the moment Portugal is in the middle of a major crisis due to the pandemic. So alas ... It is clear that this is a situation that must be monitored by Dorna, which is the body that can count on the local authorities. They know it would be nice to race on the circuits in the right season, but what happens is not up to us ".
Then there is the subject of the title sponsor, which has changed this year. Ciabatti says that "faced with the possibility of having a technological title partner willing to make important investments for the next three years, we have decided to modify the existing agreement". Philip Morris would also have been the main sponsor in 2021, but Lenovo "was ready to make an investment in technology as well, it was clearly a very important situation".