Jorge Martín will be one of the three MotoGP rookies in 2021 and during a live broadcast organized with him on our YouTube channel we talked about his future in Ducati, the season just ended in Moto2 and the preparation he is facing these days on a Panigale V4S that he needs to familiarize with as the power and weight are similar to those of a MotoGP.
The Spaniard talked to us about numerous topics, also showing off a truly exemplary Italian also due to the years he spent in the Gresini team in Moto3, which also gave him the world title in 2018. Martín will make his debut in MotoGP in a particular season, with the calendar of tests pared down to the bone due to the pandemic, but this has not deprived him of his smile or determination.
How are things going these days? We have seen your first photos on a Ducati…
"I'm riding on the track with a Ducati Panigale V4S, because I've never ridden with this type of bike and power on the track. I feel quite good, I had to understand a lot of things. I don't know how much it resembles the Desmosedici I'll ride, but for sure it is one of the best bikes I have ridden, because it has incredible power. I have always liked Ducati and now that I have this bike for me I am really happy. The first day was a bit difficult, the bike moves around a lot , it's a bit particular. But now I can take a good step and this is important. Since the situation is difficult for Covid, we have got organized with a lot of other riders like Xavi Fores and Tito Rabat, so we are sharing the costs and we're having fun. We're all going strong and that helps. "
Martín: "My father had a 748, I couldn't say no to Ducati"
You will soon get on the Desmosedici, but how did your first approach with Ducati go? You had a contract with KTM for a MotoGP ride, what convinced you to change?
"I talked to Ducati already when I was in Moto3, we were already talking at the time. They told me that when it was time to move to MotoGP we would talk. Then I went to Moto2 and the interest was always mutual. I had other options but I think Ducati has always been the right place for me. I think the style of this bike is aggressive, and then there is a passion around Ducati that no other manufacturer can have. Then my father also rode a Ducati 748. I couldn't say no to Ducati, and I'm very happy with my decision. I have a very nice relationship with Ducati, with Pramac. It's all like a family and I missed that elsewhere. "
Ducati is a bit like the Ferrari of two wheels, doesn't that put pressure on you?
"For me there is no pressure, just a good feeling. Ducati is like Ferrari, you feel it inside. I see that they are very focused on me, they want to understand what my needs are, what can be improved. And this is very important. For the fans I hope to do my best, I will give everything and I hope to do well. With Gigi Dall'Igna things went very well right away. I went to see him at some GPs, I talked to him in the motorhome. But it wasn't easy, because he was very busy as I was. But we talked a little bit about testing, about the Panigale, about how to prepare everything. I'm happy that he is the leader of the project. I also talked a lot with Ciabatti for the matter of the contract, about the bike. He also sorted out a car for me, a beautiful Audi Q3 RS. For the Lamborghini, I think we're going to have to wait! I have an excellent relationship with Tardozzi too, he has been following me since I was a child. My manager is the same as Lorenzo and they know each other well. Even when I was in Moto3 he was talking to me, he encouraged me and I think he always had confidence in me. I am very happy about this. "
Have you already been to the factory in Borgo Panigale?
"I went to Ducati in 2013. I was racing the Rookie's Cup and I got hurt at Brno, but I went to Misano to see the Grand Prix. My father had a couple of invitations to visit the factory in Bologna. It was very nice, I remember that there was the first Panigale, they were doing some tests there and for me it is the most beautiful bike there is. We looked at a bit of everything, but without taking pictures! Then at the museum there were all the bikes of Bayliss, Capirossi, Stoner. Seven years later I never thought I'd find myself in Ducati as a rider. I'm very happy, now I hope to go back soon ".
Martín: "I talked to Lorenzo about the Ducati: it was difficult for him but it has enormous potential"
Have you already talked to some riders who rode the Ducati MotoGP to have them explain it to you a bit or at least did you get on it? What do you expect?
"I still have to try the Desmosedici , I haven't even been on it while it's stationary. I'll try in Qatar. Tardozzi told me not to expect anything, to arrive at the test with an open mind. When I saw the Panigale V4S I saw it big and I thought it would be difficult. Then I actually had a great time. If I think it will go just as well with the Desmosedici, maybe I'm wrong and it won't. So I prefer not to have any preconceptions and to have an open mind. I talked to Jorge Lorenzo when he was a Ducati rider and in his opinion it's the most difficult bike but also the one with the most potential. Surely the first year will be difficult, but by working I think I will arrive. I'm the second Jorge to join Ducati. I think that if he had stayed with Ducati maybe he would have won the world championship. He is very strong, it's difficult to get to his level".
You will make your debut in MotoGP in a particular season, with a few days of testing less than usual. Does that worry you?
"I think it will be difficult with so few tests. We rookies lost three days, and that will be a disadvantage. The first races will be like a test. Of course it will be difficult, because then when you are in the race you want to go fast. But I know that I will have to be careful at the start, ride without crashing and gain confidence. However, with six days of testing in Qatar and then the race straight away, I think it won't go badly. In any case I have a two-year contract, and the goal is to go strongly especially in the second year".
You will join a team like Pramac that has always helped young talents to grow. What relationship do you have with Campinoti and Guidotti?
"I still don't know the guys of the Pramac Team very much, but everyone I've spoken to had good things to say about the team. I'm excited, I can't wait to work with them. I see a team with a familiar atmosphere, a bit like with Gresini where I felt very comfortable. At KTM I don't say that there wasn't this environment, but there they had a mentality dedicated more to work, a slightly different working methodology. I felt good, but I think that feeling myself more in a family atmosphere will make me go well and I believe that I will find this in Pramac ".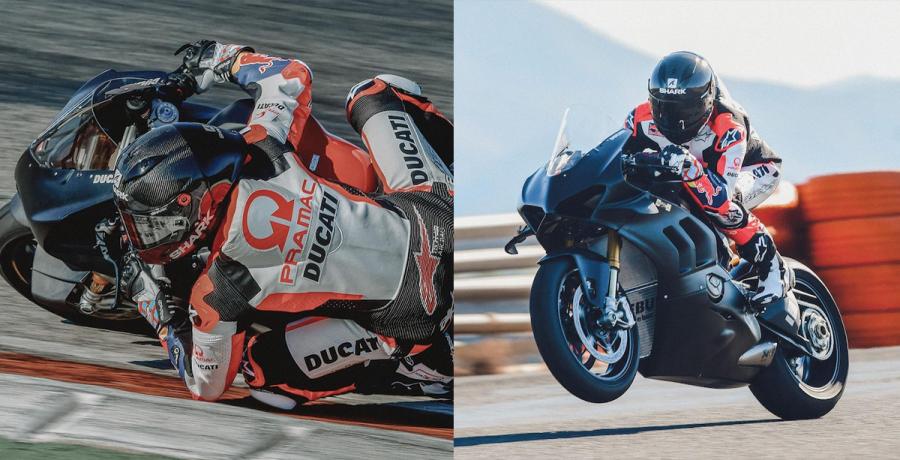 You'll also find a tough nut like Zarco as a companion. Do you already know him well?
"It will be tough with Zarco. I have a good relationship with him, our first meeting was good. He won the world championship in Moto2 with the same team I raced with. He used to come to the garage and we talked a few times. I think he is on the same level as Jack and Pecco and I think this year he is one of the favourites to win. He was already strong in Avintia and now he will undergo an upgrade with the Pramac Ducati. I will certainly learn a lot from him. "
What are your goals for this first season in MotoGP?
"My goal this year is to be Rookie of the Year. It's difficult to fight with riders who have a lot of experience and I think that's my goal. Enea has great potential, he's awesome. We've had some fights on the track and he's really tough to beat. I think we are the most talented riders who can arrive in MotoGP and Luca is also very strong, he works hard and has done some incredible races. He will be very strong this year. The level in Moto2 is very high now. Aragon is my favourite track and I started twelfth, so… we are all ready to go to MotoGP, we'll see how it goes. Quartararo was not very strong in Moto2 and yet he did well immediately in MotoGP. Bagnaia, on the other hand, won in Moto2 and had a few more problems in his first year. You never know, but I think we can all do well ".
Martín: "The level in Moto2 is very high. Bezzecchi, Lowes and Canet are the favourites"
Are you sorry you left Moto2 without winning the title? Who do you see now as a favourite?
"In 2020 I gave my all, I'm easy with that. Without Covid I would have fought until the end, I was one of the five candidates for the title. I'm easy with myself, I always gave 100%. I'm ready for MotoGP. Many riders in Moto2 are strong. The rookies will be very strong too. Lowes, Bezzecchi, Canet. He is here and you should see how he goes, in my opinion he is ready to win. Arbolino is also going strong. Yesterday at Cartagena I filmed him on track with the GoPro and he rides well. I tried to give him some advice, but he is already very fast. For me Moto2 was pretty tough. The level is very high, if you want to grow you have to learn early and go fast. Tyre management is also very complex . It's an excellent school, I learned a lot and this is important ".
You also tried two different chassis, first the KTM and then the Kalex. Are they very different from each other?
"Two very different chassis. In my opinion the problem we had in KTM is that we tried seven frames and it was difficult to understand anything. I was a rookie and I remember that at Montmelò we tried five frames before the race. I didn't know what I had under my legs at a certain point. After development stopped and I kept the same frame I started going fast. We improved the bike step by step and at the end of the season I was on the podium, I was starting from the front row. The Kalex was faster in corner entry, but the KTM had a lot of stability and allowed you to brake very late and very strong. I got used to both of them eventually. I think in the second year if I had continued with the KTM chassis I would have done very well. "
Martín: "I hope Fausto Gresini will be at full gas soon. Without him, I wouldn't be here now"
Have you heard from anyone in Team Gresini these days?
"I still have a wonderful relationship with Team Gresini and I have been informed about Fausto's conditions these days. I know he is still not well and I hope he will recover. He must be at full gas, he must not give up. Without Fausto I wouldn't be here now, because he gave me a competitive bike when I was in a bad situation. I was coming from a season in Mahindra. I hope he will recover really soon. "
You arrive in MotoGP in a difficult period for the dominator of the last few seasons, namely Marc Marquez. What idea do you have about what happened to him?
"I don't know anything in particular about Marc, they are managing everything very privately. He is certainly a special case. After Brno, when I broke my wrist, six days later I was on the bike and I made the podium. We are all riders and we want to come back soon. If a doctor tells you that you can go, you go and try. At least you try. He tried and I don't think he did anything out of this world, but then he got hurt and it was a disaster for him. I don't know how he is, but these things cost a lot afterwards. For sure he will come back with the will to win and strong as always. But after a year and a half without a bike he will struggle at the beginning ".
Do you think anything will change after this episode?
"In my opinion it won't change much for the riders, but it also depends on what goal you have. If you are fighting for the title I think you try. Now that I am a rookie, if I were to get hurt I would wait, as Pecco did in 2020. I believe that the doctors will not let us do these things as before. They will make us wait longer. "