Razlan Razali has been taking part in one of our LIVE broadcasts on our YouTube and Facebook channels, talking with our Paolo Scalera and Matteo Aglio about a number of different topics. This is the second part of the interview in which he answered questions about Valentino Rossi, his relationship with Franco Morbidelli and also about Marc Marquez's return to the track. HERE IT IS POSSIBLE to watch the video while HERE IS THE FIRST PART of the interview.
As a Yamaha satellite team, one of your tasks is also to find young talents, but in 2021 the oldest rider in the paddock, Valentino Rossi, will race for you. Has something changed or was it just an exception to the rule?
"We made an exception for Valentino because of the pandemic last year. Yamaha told us about Valentino beginning last year or late 2019, but in a normal year, we would have evaluated. The intention if Valentino was out of the equation, we would look at young riders from Moto2 and Moto3 to develop them like we did with Fabio. Having Valentino is still an interesting proposition, but he would still be assessed and evaluated based on a normal year, but because we are not in a normal year, it's important for the team to have stability and performance in 2021. In an abnormal year like last year we might have got a rider from Moto2 but it would have meant we don't know how they're going to perform so it was too much of a risk in our view. We take this decision with Valentino because he knows the bike, he can provide a stability and he can still give that performance. It's also like a challenge to see whether he can be back at his best with us, and we don't mind taking that challenge. Our plan is always to undercover a new talent and develop that new talent for the team and for Yamaha. "
Razali: "Quartararo got upset in certain situations in 2020, he has to calm down"
The youngster par excellence you have discovered is Fabio Quartararo, who despite winning three GPs in 2020 was less consistent than Morbidelli, who then also finished second in the world championship. Why did Fabio have so many problems?
"I think it was a combination of the new bike and the inexperience of Fabio in managing situations when he's not doing well. As you can see on TV, when Fabio's not doing well, he gets very upset, he's very hot tempered, he needs to learn and calm himself down more. The bike though had some problems compared to Frankie's bike, don't forget Frankie's bike is an older bike, a 2019 Factory which is proven in terms of performance and reliability, but the 2020 bike was a completely new bike, with not enough testing and so on."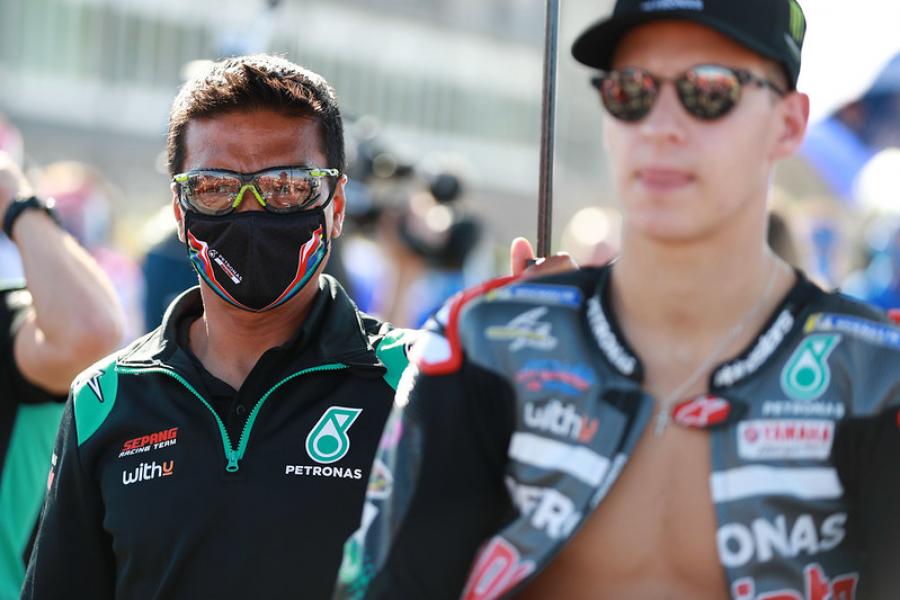 What are your goals for 2021, in all categories? Do you think it would be possible to win in all three classes?
"Last year our main target was to have one win, we wanted to be the first independent Yamaha team to win for more than 20 years. We ended up having been second in the world championship and for most of the year we were leading the championship. So for Moto GP, anything is possible and we know that it can be done. We still have the same bikes, the riders are the same. In Moto2 we expected regular podiums from Vierge, but unfortunately he was not able to do that. We didn't think very much of Jake Dixon at all, but he surprised us. We expect them to be much better in the second year and really fight for the championship. Our number one priority is to have a weekend where all three win the race, that's our minimum. So this year we want to do a triple and then we'll see after that but the potential to win with Moto GP anything is possible because we have nearly done it. Of course basically we want to win everywhere. "
Razali: "People say Marquez is an alien, in Jerez we saw him become human again"
What do you think of Marc Marquez's situation? Will we see him on the track at the beginning of the season?
"I think Marc is such a talented rider, he's one in a million. Just like Valentino and other riders like Lorenzo or even Stoner. A lot of people say he's an alien, he's not human. Finally in Jerez we saw that he was unfortunately human after all. He's clearly the best ride, but that doesn't mean that last year without Marquez the championship was any less valued. He basically injured himself and crashed and did not finish the championship and that's very unlucky for him but it doesn't make the championship any less valuable or take anything away from Joan Mir. It all depends on his recovery, he's still young. I guess what he can hope for is that as long as the championship is delayed he can recover longer but it'll be nice to see him come back and I think the guy has so much determination in him that we will never discount him in 2021. Let's see but we look forward for him to come back this year. "
You are involved in all categories of the world championship, think that something can be done to make Moto3 and Moto2 more attractive to manufacturers?
"Currently Moto3 is open, and in the past there were other manufacturers besides KTM and Honda, like Mahindra. Yamaha could enter Moto3, but these are decisions that are up to the manufacturers. In Moto2 it is difficult to comment on the situation. I would like to see a more open category, rather than just one supply for the engines. It would give a great progression for riders and manufacturers from Moto3 all the way to MotoGP."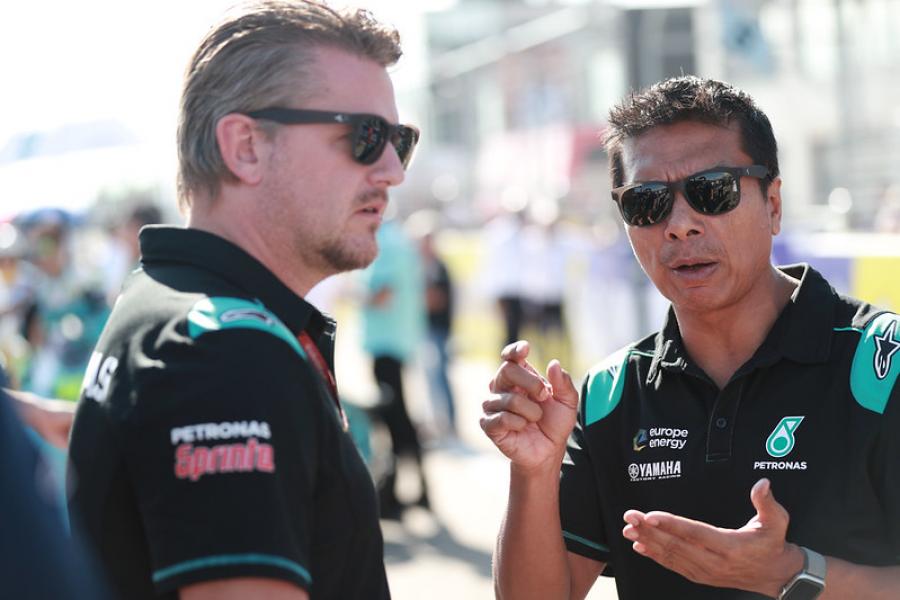 How is the situation in Malaysia now with regard to Covid?
"Well I think Malaysia is the same like everywhere else in the world. We are in our second day of lockdown for the next two weeks. Our country declared the state of emergency also that should last until apparently until August this year, so we are disappointed because that results in the winter test in Sepang being cancelled. We are hoping that the situation around the world will improve but unfortunately it seems to get worse than last year, but we must still have faith and hope with the vaccination that things will get better."
Do you think we will be racing again in Asia and America, or will it be an all-European world championship again?
"I's like trying to know the lottery number isn't it, you know it's difficult. We will go into a season again with a lot of uncertainties. We know that the European races will be there. I think we could look at nearly the same but it'll be nice to be out of Europe and be in Asia. We really hope there's a chance for the situation to improve so that everybody goes out of Europe, but we are in this industry if it happens the same to be last year, we just have to do it."
There was also the chance to run in Sepang at night. Is that still an idea?
"The plan was with Franco Uncini to check our lighting system in Sepang, which was built by the same people who supplied Losail and Sakhir, two tracks where they race at night. The plan was for him to come and check to see which improvements were necessary. I was the CEO of the Sepang circuit at the time, but then we also talked about it afterwards. I think it's something on the agenda for the new CEO of the track and I think when they come to check this year, if there is the race, it will be possible to continue to evaluate this possibility of racing at night ".