Razlan Razali was the host of one of our LIVE sessions in which he answered questions from Paolo Scalera and Matteo Aglio. The manager of the Sepang Racing Team which enters the Petronas-branded Yamahas and will race in MotoGP in 2021 with Valentino Rossi and Franco Morbidelli, also answered questions from fans, ranging through a variety of topics.
2020 was undoubtedly an almost triumphal year for Razali and his team, with six MotoGP wins for Quartararo and Morbidelli and the Italian finishing runner-up in the standings behind Mir.
Here you can see the video of the interview. To give space to all the topics discussed, we decided to divide the interview into two parts.
Valentino Rossi will arrive in 2021 and the confirmed Franco Morbidelli will be there with him. What do you expect from them?
"Yeah. I mean, I think it's nice to have a 'rookie' like Valentino Rossi together with Frankie. I'm sure it's going to be an exciting year for us. First of all we would like to thank Valentino for his trust in us. Again, the decision was not so straightforward because you know a guy like Valentino deserved to continue his career, especially amidst this pandemic and so on. We want him to continue to be competitive, and we want him to have fun. I know he has been in a factory set-up for most of his career. I think that his career is all about factory atmosphere, but we can assure him that. We are very professional but without the factory pressure. I think he has sought advice from Frankie about what it is like to be in our team, it's Frankie's third year with us, you know. So I think the most important thing is for him to be comfortable and have fun, he's a rider who when he is happy having fun he can perform as there is less pressure this year. Frankie is Frankie. I mean, he surprised us last year and in the second half of the year he was more consistent than Fabio. We did not expect him to come second in the championship to be very honest, but he has proven himself and we expect him to challenge for the championship this year."
Razali: "We tried to get Morbidelli an M1 Factory for 2021, but it wasn't possible"
In 2020 Morbidelli was the best Yamaha rider, but in 2021 he will be the only one not to have a Factory bike. Have you tried to guarantee it to him too?
"Well, we tried. First, when Frankie won in the first race in Misano, he came to see me and he said 'Razlan, it's wrong if I don't ask you but can we push for a factory bike for me next year or not?' I said 'look Frankie, I would do my best you know, and I really started the dialogue with Yamaha and of course it was not very promising for obvious reasons in terms of budget, in terms of parts and so on. Then when he won in Valencia, I asked him again 'Do you want a factory bike next year?'. He said 'no no, I'm happy with my bike, you know, so that was the situation! Sometimes it's a psychological thing because it's factory, but the bikes are the same. We tried again in our last meeting with Yamaha to try push for a factory bike for Frankie but unfortunately because of various factors they're unable to do so and of course we do not have that extra budget given the currency situation with the pandemic and all. It is very difficult to get extra budget but we were given assurance that there will be some improvements and developments on his bike as well as on the factory bikes."
2021 could be Rossi's last year as a rider and he has a great relationship with Yamaha. Aren't you worried that he might take your bikes away from you to field his own team in the future?
"No, I'm not because we are we are confident. I think we have proved to everybody in the world what we can do in a short period of time of two years, not only Moto GP and we are a team of Moto2 and Moto3. I think I have a great team of people with the likes of Johann Stigefelt and Wilco Zeelenberg, we have proven to everybody. We surprised ourselves as well, so we are confident that we can continue on our own and that we can still work with Yamaha. I'm not overly worried about what Valentino eventually wants to create. "
Razali: "We would like to continue with Yamaha, but we are also talking to other manufacturers for the future"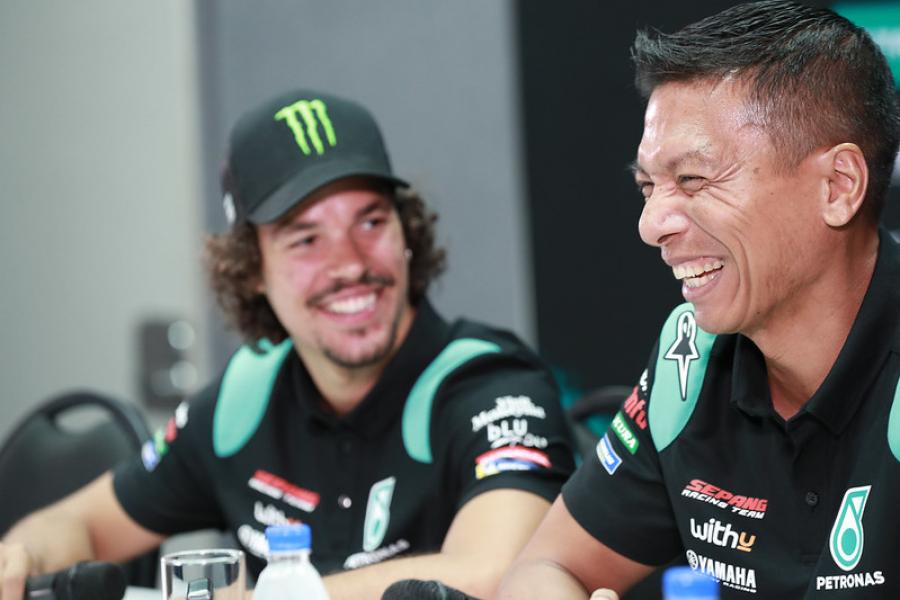 Your contract with Yamaha also expires at the end of the year. At what point are you, are you also talking to others?
"We are interested in continuing to be in MotoGP beyond 2021, we want to remain in the paddock as long as possible. Of course besides having some options of other manufacturers, we are quite comfortable with our relationship with Yamaha. The tremendous amount of support that they have given us from year one, so I think it's in the interests of Yamaha and the team and of course for Petronas to see whether we can develop the relationship further more than three years to additional five years. The positive thing is that we are talking already. So we are working towards a milestone of trying to finalize a relationship for the next five years. Of course, it will take a little bit of time, but I think by the middle of the year we should finalize our plans for beyond too."
Does Petronas have a say? Would it be possible to switch to another partner, such as Ducati for example?
"We have to also look at what our title sponsor is going to want. When we were given the task to look into this Moto GP project a couple of years ago, we were given a very strict checklist from Petronas, before they supported us for GP and one of the checklist is for Petronas to be able to develop products with the manufacture for commercialization as well, so these were the two important things. If Petronas came into Moto GP they were able to work with a manufacturer, so what we have seen already in a short period of time is that Petronas already developed the lubricants, the gearbox oil and engine oil with Yamaha. The next step now is to develop the fuel for commercialization so that is very important so to me. Any manufacturer who wants to work with us must be able to work also together with Petronas. We focus on racing but the manufacturer must also work with Petronas on the other bigger commercialization and product development technology and so on.
 
Razali: "Rossi on track in 2022? We need to see how competitive he will be and then make evaluations"
Do you think it will be possible to have Rossi on track with you in 2022?
"One of the reasons why we signed an annual contract with Valentino is that we have a contract with Dorna that expires at the end of the year, and also with Yamaha and Petronas. So we couldn't have done a longer contract. In any case, he wants to race only if at a high level and Yamaha wants the same, so this too needs to be evaluated for the future. We need to see how competitive he will be at the beginning and then there will be the appropriate evaluations. "
Do you think it could be a problem to have two riders as friends as Rossi and Morbidelli in the garage?
"Frankie has already been racing for three years in MotoGP and against Valentino. So the question is whether they will race together in 2021 in the same team, but they are already rivals on the track! The atmosphere in my opinion will be very nice, we won't have a wall to divide them in the garage. I've talked to Frankie many times, and he absolutely wants to beat him. In my opinion it will be nice to have them together in the team, they have a good relationship, respect each other and in my opinion there will be a great atmosphere in the team. "
When will we see the bike with the new colours, when will there be the official presentation?
"First of all, due to the cancellation of the winter tests we are evaluating where and when to launch the team, but in any case it will be a virtual event. Unfortunately, being a satellite team, we do not have access to the bikes like the factory team, we do not have them physically with us. We are considering doing it during testing in Qatar, in those days. I think it is the only time we can physically have the bikes. We have not decided yet, we will make an announcement soon. We have talked to some sponsors for the season, both old and new. Some things will change. We have talked to Monster Energy for the last three years and obviously Valentino Rossi's arrival interests them a lot, but we're still talking about it. I have to keep the comments to myself about the appearance of the bike, because it is the most important part of the launch! ".