2021 has begun to take its first steps and MotoGP is trying to figure out which direction it will take. It would have been naive to hope that at the stroke of midnight on 1 January the world would return to normal and the world championship will have to face another season in which the number of doubts will far outweigh the certainties.
At the moment, there are more questions than answers on the table and only in the coming weeks (or even months) will it be possible to remove all the question marks from a very long list. It is not only the calendar that is uncertain, but also the condition of Marquez is still shrouded in mystery, not to mention the curiosity about who will take Brivio's place at the helm of Suzuki. So many questions that need to be sorted out before trying to solve them.
The calendar is a puzzle difficult to sort out
Official confirmation of the cancellation of the Sepang tests arrived yesterday, as with Malaysia declaring a state of emergency due to the coronavirus pandemic it was impossible to think of relocating the paddock to such an affected area. Now (today there will be a meeting with all the team managers) we are trying to understand how to replace them and there are basically three alternatives: Spain (Jerez and Valencia are the two most favourable circuits for the climate), Portugal (with Portimao) or consider doubling up the tests in Qatar.
The Losail track, at this moment, seems like a lifeline in several ways. So much so that we could even consider starting the season with two races in Doha. For now, the calendar is confirmed, but it won't stay that way for long and the two American rounds (Argentina and Texas) are destined to be eliminated, so organizing a double-header in Qatar would be a smart solution to get off to a good start.
Also because Europe is not too safe a haven either, with a number of nations grappling with new lock-downs. The hope is that the vaccination campaign will be successful, but it will take months and Dorna is forced to navigate on sight.
The Marc Marquez mystery: no news, good news?
It would take the eye of Alfred Hitchcock or the pen of Agatha Christie to tell the current situation of Marc Marquez. The news continues to emerge on a drip-feed and the latest info dates back to one month ago, when the champion returned home after the third operation on his arm and an infection to be treated. Then nothing.
At this point, no one believes they will see him in the winter tests, whatever the date, and only the doctors know what the timing of his recovery is. So Honda finds itself with an empty bike and few chances that it will be occupied. There is the immortal Stefan Bradl, ready to continue with his role as honorary substitute, while the name of Dovizioso pops up at regular intervals, even if it is now as clear as crystal that Andrea has no intention of being a stopgap rider.
The arduous sentence goes to posterity, or rather to the doctors
Suzuki without Brivio: who takes over?
If there was one certainty at the end of 2020 it was Suzuki: it had won the World Championship, it had reconfirmed its riders and Brivio was a sure-fire guarantee. Too bad that Davide has succumbed to Formula 1 and now everything has to be revamped.
As for his successor, a wide variety of names have been put forward, a sure sign that no one has the slightest idea as to who it could be. Everyone seems to be just throwing out a fishing net, hoping to catch one...
It is certainly a big problem for Suzuki, because Brivio is the man who created the team from scratch and led it to success. Thinking of replacing him in a couple of weeks is impossible, more likely there will be an interregnum headed by the Japanese.
Rossi becomes a privateer, Ducati reforms, KTM and Aprilia have high hopes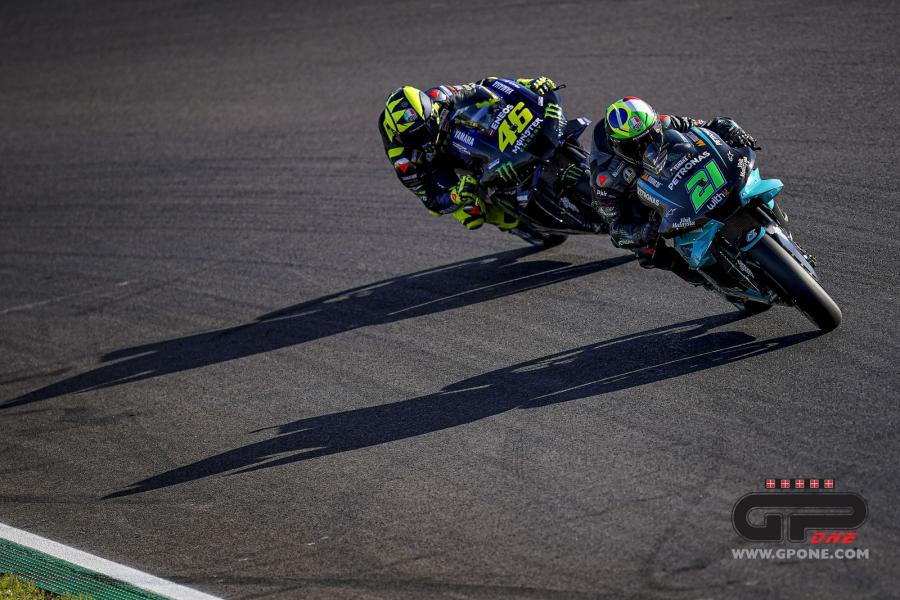 The time has finally come (metaphorically, of course) to get out on the track. Because this 2021 really has a lot of meat on the fire and it is a moment to light it up. It starts with Valentino Rossi who, having lost factory team colours, will begin the umpteenth chapter of his career with the Petronas team and with pupil Franco Morbidelli alongside him. The challenge with his former team is launched. In the blue corner we will find Vinales and Quartararo, on whose speed no one has any doubts, but whose consistency is still to be demonstrated.
While Yamaha has focused on young riders, Ducati has done the same. Miller and Bagnaia make up an attacking pairing, promising but risky. Jack and Pecco on the Desmosedici have not yet won a race, but now they must aim for the title, which when you ride the Red bike looks jinxed, unless you are called Stoner.
All in all it is a better situation than Honda, which finds itself placing all its hopes on Pol Espargarò. A good rider without a doubt, but here we are talking about the most successful manufacturer ever and the best team, so no mistake is allowed.
Then there is KTM, which after winning 3 races now wants to aim even higher. Binder and Oliveira make up the official team, but the surprise could be our very own Danilo Petrucci, looking for redemption after being dumped by Ducati. Let's not forget Aprilia (the only bike to enjoy the concessions) which must show that it is able to keep up with the best, and finally the hopes of Bastianini and Marini, rookies with Ducati.
The important thing will be to start, then all the chickens will come home to roost...