Danilo Petrucci was the host of one of our Live shows and we had an opportunity to talk to him about many topics. From his past in Ducati red to his future in KTM orange, with all that this new challenge entails for Danilo, which marks a very important step in his career in MotoGP.
This is the first part of a long interview, which we decided to split up to give the right space to the numerous topics we talked about with Danilo. Here you can find the video of the interview.
Let's start with the past and with Ducati. Dovizioso has recently been speaking about his relationship with Dall'Igna and hinted that he wasn't exactly happy about it. How did you live your years in Ducati with him and with the other managers?
"In my opinion Gigi is a phenomenon as an engineer. He was the one who made the step for Ducati, precisely with Andrea Dovizioso. In 2015 his first Ducati, the first one designed entirely by him, went really very fast. From there it has always evolved up to what is the motorcycle of today. Dall'Igna has a particular character, he looks a lot at the part of the work in the garage. He cares much less about human relationships. For him when you work, you just work. Then when it comes down to asking how we are, there are other moments for that. We sent each other Christmas wishes and we have a good feeling for each other. I also promised him two bottles of wine that I want to make him taste!"
Petrucci: "I found it really hard to understand the coldness between Dall'Igna and Dovizioso"
Was the tense relationship he had with Dovizioso in the latter part of his career at Ducati really noticeable?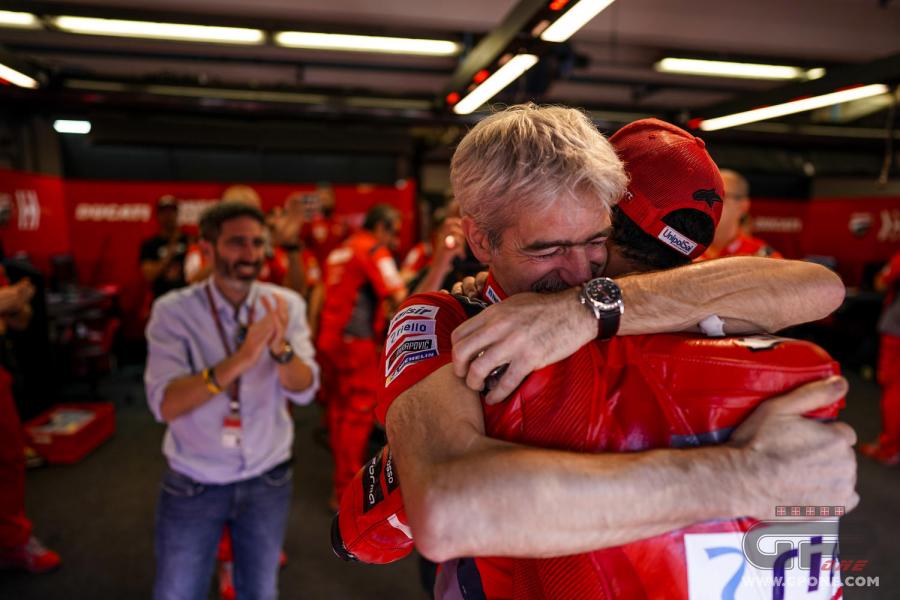 "Honestly I saw this coldness that existed between Andrea and Gigi and I really found it hard to understand. I have always had a very relaxed relationship with him, not as cold as Andrea had. Perhaps it was also due to the fact that Gigi and Andrea worked together for many years, he was the top Ducati rider for many years. They probably fell out about some choices regarding the geometry of the bike. I think Andrea wanted one thing, while Gigi proposed others, from what I know . I have never liked having a cold relationship in the garage, I like the atmosphere in which everyone puts their best into it even on a human level. Maybe there was much more at stake for them, since they started winning and fighting for the world title from 2017 ".
So do you think there were really technical differences between the two, while you got along better with him?
"Maybe Andrea was asking for things and maybe they weren't given to him. I had a more serene relationship, although there were moments in which he also offered me to go to SBK, I always answered with the results. He never threatened me, he just asked me to show him what I could do and I proved it several times. In the end I have to be honest, with his choice to replace me before the championship started he did me a favour, because I went to KTM, while he took Miller who in 2020 was the best Ducati rider, the fastest. Everyone did the best thing for himself, I thank him for that, as well as Ducati, Tardozzi, Ciabatti, Domenicali. They gave me the possibility of racing for four years with an official bike in MotoGP, and to win, which is not an easy thing. "
Petrucci: "In Ducati, it's the bike that wins, not the rider"
From the outside, it seems that the bike comes first for Ducati and then the rider. Was it like that for you?
"Yes, it is true that in Ducati the bike comes before the rider. There is a lot of pride with Ducati, they make you feel a lot of pressure to race with their bike. Me and Andrea often talked about it, he told me 'you won't win, the bike will win'; on the one hand it puts pressure on you, while on the other it pushes you on to give your all. Ducati is a young manufacturer in MotoGP, but it has won a title, a lot of races and it is the Rossa of the world of two wheels. They make you feel that they are giving you the best of Italian engineering. All Italians work there and that's the great thing. It seemed that it was Gigi's creature to win when we won, but on the one hand there's also a lot of truth in that. He was the one who revolutionized the bike. I was impressed the first time we got a podium with Andrea at Le Mans in 2019. We finished second and third and we didn't even celebrate. They were angry because we hadn't won! We were both on the podium, I felt a bit bad about it. In Pramac we would have celebrated for a long time".
With Dovizioso do you think you will go back to motocross training?
"From what they told me, Dovizioso has been a dirt bike pro this month, while I was idling around! I only did postural exercises like 80-year-olds, I really took a break. I know that he will do the International motocross races and there he will find riders preparing for the world championship. I'd like to go back and ride with him, also to see how far he's come. In 2020 it was difficult to ride together, and before I can ride with him, I think I'll have to train a little. "
Petrucci: "Training with Dovizioso? Things changed after Aragon"
What are relations like between you now?
"With Andrea, the Aragon episode was really the straw that broke the camel's back of our friendship. It was a relationship that had never been seen in MotoGP. But we found it out first-hand, when you are in the race and in qualifying, you can't be bothered about anyone else. There were many episodes, even those that were not visible in front of the cameras. I was sorry about that episode at Aragon. I closed my visor and thought about doing my best, I was sorry he was eliminated. Jack was quick and eliminated him, while I thought he and I would go through. "
So you think Aragon was the episode that ruined the relationship?
"I was sorry to have created this, even if I don't think it ruined our relationship. Already at Mugello in 2019 we realized that it would be difficult to do what we were doing for a long time. When you get to fight for the win in the races, you can't think about your teammate: 'he did me a favour, he helped me, I did him a favour' when you are there you only think about doing your best for a moment. I hope that Andrea will find a seat as soon as possible, he is a rider who has no need of any presentations from me, he is one of the best riders who have ever raced in MotoGP. "
Petrucci: "Aprilia came after me several times, I can only thank them for that"
You have joined KTM, but there was also the possibility of seeing you on another Italian bike, namely the Aprilia. How did the negotiations with them go?
"There was more than just a bit of interest on the part of Aprilia, when I was still in Ducati we also met a few times in Noale with Rivola. I have to thank them because since 2017 we have talked every year, also because I have always been lucky enough to have an annual contract, so in practice I was always close to having my contract expire! They always showed their interest in me and even the week before going to KTM we had a meeting with Rivola who was very interested in me. They need a fast Italian rider. I would have been first on the list, but they were clear about the fact that they wanted to respect Iannone's situation and that they would wait until the end. After that I would have been first on the list, but I couldn't wait that long. The rides available were running out, so I risked ending up without a bike. I thanked them, but then I signed with KTM. "
(End of Part 1)