Not all good stories have a happy ending, sometimes you arrive one step away but, for one reason or another, a worthy conclusion is just out of reach. Something like what happened to Tony Arbolino, who missed out on the title in Moto3 this year by just 4 points. What he was up against was bad luck, in the role of a passenger found positive to Covid on an air trip, enough to make Tony miss one race that, in hindsight, would have given him a world title.
Arbolino is now starting a new phase in his career, with Intact GP in Moto2 and he doesn't want to leave anything to chance. In recent days he has been in Spain, training at the Ribeira circuit. "Holidays? I've already had my vacation, a few days of relaxation after the championship, but now my body wants to train" he smiled.
Looking back, what memories do you have of your last season in Moto3?
"The feeling is strange, but I'm focusing a lot on the move to Moto2 because I know it will be very important for me. But every now and then I think back to Moto3, the last year was truly incredible, I am very proud of the improvements I made between the end of 2019 and the beginning of 2020. When I look at my races, I say I did well in those in the last part of the season".
What was the best race?
"There are a few: Le Mans, Valencia and Portimao".
"I believed I could win the Moto3 World Championship right until the very end"
In Portimao you fought for the world championship title, did you think you could win it?
"I believed in it a lot, a lot, a lot. Because I knew I could put Arenas under pressure and in those conditions I was very strong, I was in a very good psychological situation. I just wanted to get in front of him, I tried in every way, after the start I continued to believe more and more, corner after corner, lap after lap ".
You had complicated your life on Saturday by failing to get into Q2.
"The worst qualifying at the worst time of the year (laughs). I made a mistake, but in the end these things happen. In the end, even starting so far back, I was sure - and that's what made the difference - that I could do it. I was very motivated ".
"I lost the world championship at Misano, I should have taken more points there"
When did you lose the world championship title?
"It would be obvious to say at Aragon (where he did not race and was quarantined, even if negative for Covid, because he had travelled by plane with a positive passenger, ed.). I would have had to do that race and if I had done it, the second one wouldn't have gone the way it went, the other riders had an extra weekend of experience ".
Let's rule out Aragon, then…
"In my opinion I lost the world championship in Misano, there I should have scored more points, in both races. We started all fired up, but we had a lot of problems: there was new asphalt but we started with the set-up of the previous year. I struggled and my championship would have been different if I had done those two races better ".
"This year taught me not to knock myself down"
What did you learn from this season?
"That you don't have to knock yourself down when you are 40 points behind, even if it seems like a lot. This year I learned to always stay 100% focused in every race and I was able to perform at my best, I didn't let myself be influenced by the result of the previous GP, as in 2019. I have grown mentally".
Are you very sorry to leave Moto3 without winning the title?
"I'm very disappointed because I really gave everything, not only on the track but also at home. I am very proud to have come close, but I wanted to win it. I could have gone to Moto2 already this year, but I wanted to stay in Moto3 to learn more and win the world championship. In the end I'm happy, especially because I finished all the races in the points ".
"My future will be decided in Moto2, if I take a beating I'll work twice as hard"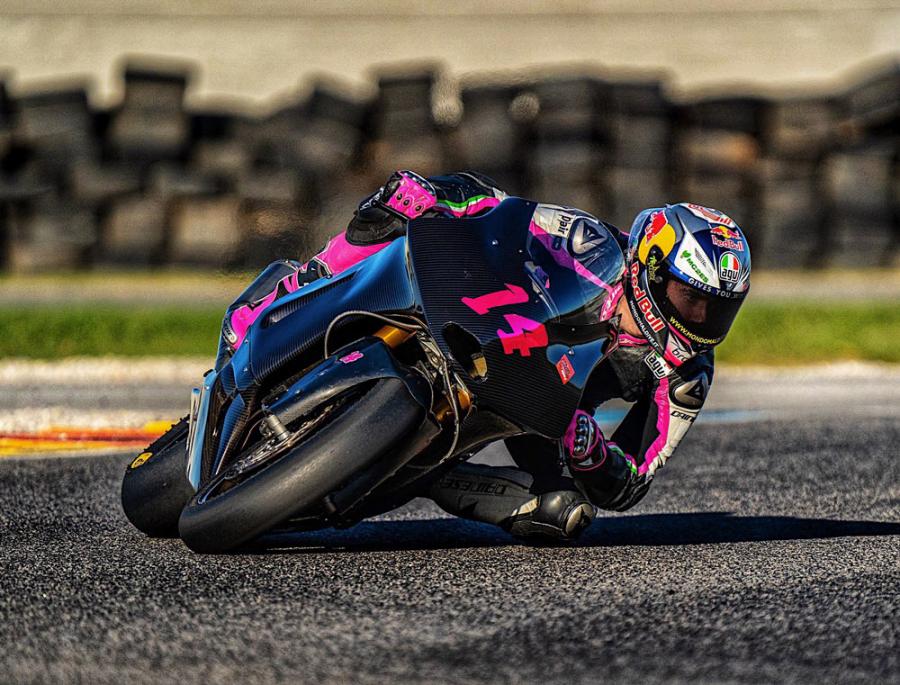 Now is the time to think about Moto2, what is your approach to this leap?
"When I talk to my dad and the people close to me, I always say that this is the most important step of my life, of my career, because it will decide my future. I will give everything to get 100% in shape at the first race, even physically. However, it will be difficult, in the first race weekend I will have to understand how the tyres are used, what the pace is. It won't be easy and when I take a beating, maybe already in the tests, I will have to react by working twice as hard. I think I can do good races, I have the right qualities and the team is very serious, I like it, but at the same time there are very nice people, I feel good. I hope to give the team a lot of satisfaction ".
In Moto2 next year there will be all the top 5 riders in this season's Moto3 World Championship…
"The title of rookie of the year is important because it gives you confidence for the following year. Given the level, in my opinion the rider who wins it will also score podiums ".
Who could be the most dangerous rival out of all the other rookies?
"In my opinion Fernandez will be strong and I think Vietti won't go badly either. We are all fast riders, we all have desire and quality, the one who adapts first will win ".
Moto2 is the last step before MotoGP. Riders like Vinales and Rins were only there for a year…
"It really depends on your performance. If you go strong already in the first year then everyone wants you and that's what I have to aim for. I think the sooner you go to MotoGP the better, so you have more time to get to the top ".
The last question is again about Moto3, who is the favourite?
"I think Jauma Masia".